Sico paint reveals trending seasonal colours for 2017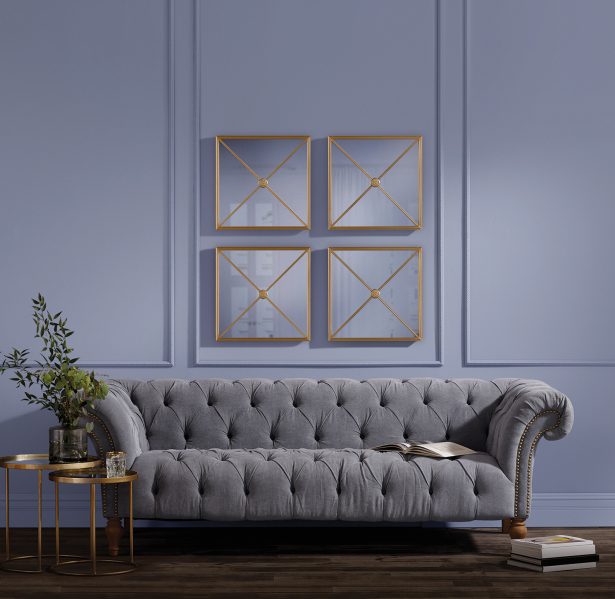 Sico paint has unveiled a seasonal palette of trending colours for 2017, featuring options for walls that capture the feeling of Canada's four seasons.
"From wintery rich purple and slate, to spring-like nature-based midtones, to saturated summery lights, to autumnal reds, yellows and greens, the colours trending for 2017 are reflective of both the changing landscape and people's increased desire for change and empowerment in today's non-stop world," said Geneviève Paiement, brand manager for the Sico paint brand of PPG.
"Next year's colour palette is more complex than we've seen in the last few years, with a mix of both charged and subdued tones, building on consumers' growing willingness to try new things," Paiement explained. "Energetic brights sit next to muted midtones; classic reds and blues bump into mixed blue-greens and green-yellows; and clean colours join greyed ones."
Topping the list of the Sico paint brand's 2017 colours is purple, particularly shades of blue-grey violet that can be adapted to any room, gender and season, Paiement said. Providing a creative backdrop for self-expression, purple blends nicely with a wide range of colours, such as neutrals and white for a more spring-like or summery look, or onyx and greyed greens for an autumnal or wintery feeling.
According to Paiement, other trending paint colours for the year ahead, divided by season, are:
Winter features slate and black. Used as accents on a feature wall, behind a bookcase or painted on furniture, the dramatic deep tone of black contrasts well with trending greyed-off purple to create a striking, sophisticated decor.
Spring offers earthy rich midtones. More saturated and nature-infused than last year's popular pastels, these shades deliver a rich yet laid-back feel to rooms and work well in both country and contemporary settings.
Summer shines with pale golden yellow, soft violet and white. Light and airy, these tones bring freshness to a decor and can be warmed up with coffee brown or cooled down with blue-green or grey.
Fall highlights leafy orange, terra cotta and olive green tones. Fiery and passion-infused, these shades – which work well on an accent wall or painted on alternating walls in a room – bring out the best of stone and wood floors. 
"Everyone has a favourite season, and by grouping our 2017 colours according to time of year, we are making it easy for fashion-minded consumers to capture a seasonal look they like and express their passion through their decor," Paiement said.
To view the Sico paint brand's 2017 paint palette, get design inspiration from top home decor bloggers, and use a virtual tool to try colours in your own – or sample – room settings, visit www.sico.ca.