Teknion celebrates international launch of new brands and collections at ORGATEC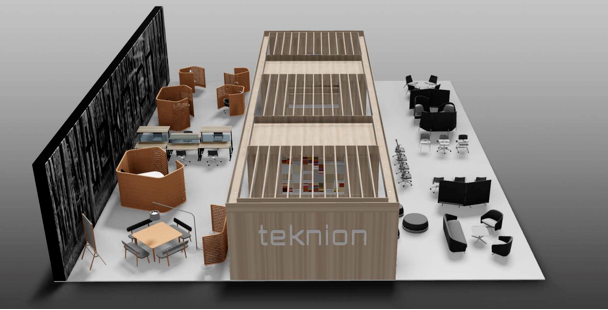 Teknion Corporation has announced the worldwide launch of several new workplace furnishings collections and new brands Studio TK and Luum Textiles, during ORGATEC, which runs this week in Cologne, Germany.
Teknion will showcase Zones, a new furniture collection that garnered multiple awards, including Best of Competition, during its North American debut at NeoCon in June. Designed in partnership with London-based PearsonLloyd, Zones is a comprehensive series of furniture that transforms the office, challenging convention and changing the way people experience work. The breadth of offering across multiple workplace applications with a consistent design language makes it unique. The collection is comprised of seating, tables, screens, easels and semi-private enclosures which can be used as either intimate collaborative settings or a place of retreat for privacy. Zones also encompasses lighting and accessories.
In addition to the new products and collections, Studio TK and Luum Textiles are making their global debut at ORGATEC.
Studio TK creates social applications that are shaping office culture and changing the culture of work. The company offers contemporary office furniture to the corporate, hospitality and academic markets and is introducing a number of new and enhanced products to its Cover, Fractals, Keele, Lite Wall, Qui and Spectrum collections. Influenced by the growing demand for social settings in the workplace, these collections offer architects and designers residentially inspired products that help bridge the gap between task-driven and culture-drive workspaces.
Luum Textiles seeks to elevate the role of the design process, pairing it with performance intent to create textiles that transform any interior space. Established for its dedication to craft, Luum Textiles provides architects and designers with curated selections of textiles designed to work together across multiple surfaces and bring cohesion to every project. Each product in the collection descends from a common origin story: pre-digital analog processes, particularly the art of hand-weaving. Starting Point, the inaugural collection, was designed by Luum Textiles Creative Director Suzanne Tick.
"At ORGATEC 2016, we are celebrating a fresh beginning for Teknion internationally," said David Feldberg, president and CEO. "We are launching several new products and brands designed to maximize workplace performance on a worldwide scale. Our ORGATEC showing also marks a renewed commitment to manufacturing internationally. A stronger manufacturing supply chain in Europe will ensure a strong global brand presence, viable relationships with clients and customers internationally, and fast delivery times."
In addition to Zones, Studio TK and Luum Textiles offerings, Teknion will also be showing the new Around Task Chair, Teknion Community Table, Teknion Sanna Light Collection by Pablo, Highspace Sit/Stand Counterbalance Bench and Variable seating at its stand designed by Vanderbyl Design.
Held bi-annually, ORGATEC is the commercial industry's leading international trade fair for the modern working environments.