Index-Design announces guest speakers for fourth annual Master Class series
On January 17, Index-Design will kick off its fourth annual series of Master Classes in Montreal. The new season, presented by Ciot, Haworth and Subzero & Wolf will feature Färg & Blanche, Dror, Partisans, Studiopepe.
Presented at the W Montreal Hotel, the classes' mission is to inspire design and architecture professionals through encounters with top leaders of the industry. The Master Classes are held in an interview format, with a moderator active in the field asking the guest open-ended questions. Each session gives audience members the opportunity to broaden their horizons and make new contacts both within and outside Quebec's creative circles.
The guest speakers for the 2017 Master Classes will include:
17th January 2017 : Färg & Blanche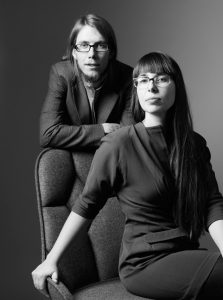 Stockholm based design studio Färg & Blanche was founded in 2010 by Fredrik Färg and Emma Marga Blanche. Known for their experimental stance, where each expression informs the other, they effortlessly move between the exclusive hand made one off and the industrially produced, without ever losing their distinctive touch.
1st February 2017 : Dror
Dror creates ideas as a vehicle for change. Founded in 2002 by artist, designer and inventor Dror Benshetrit, the New York-based practice is devoted to improving people's well-being through holistic design. Each of the studio's projects is guided by a core concept; an idea that, at once, reflects its boundless imagination, experimental spirit, and desire to form authentic connections. Working across varying disciplines and scales, Dror partners with leading brands and organizations that share its commitment innovation, including Alessi, Bentley, Cappellini, Target and TUMI, alongside a global roster of real estate developers.
15th March 2017 : Partisans
Winner of the 2015 OAA Awards in the categories "Best Emerging Practice" and "Design Excellence", the Toronto-based firm, Partisans formed by Alex Josephson (co-founder) and Nicola Spunt (Director of Content & Culture) proposes a committed approach to architecture that combines narrativity and theory. Its mission is to put forward the political and poetic power of architecture through unconventional projects.
12th April 2017 : Studiopepe
Arianna Lelli Mami and Chiara Di Pinto, founders of the Milan design agency Studiopepe, offer a versatile service that includes interior design, exhibition and showcase design, creative consultation and trendsetting. Studiopepe's projects are characterized by their emotional and aesthetic impact, melding rigour with vision, and the continuous search for contaminations of contemporary codes and languages.
For more information and to purchase tickets, visit the event's website.