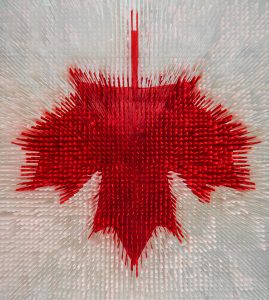 Some professions you choose; others choose you. For Olena Kassian, co-partner in Toronto's BARKAS Productions, the impetus was her architect-father. From a very early age, her playthings were the pencils, watercolours and paper he'd leave lying around their Toronto home. The creative passion followed her through high school, a degree from the Ontario College of Art (now OCAD University) and fine art studies at Guelph University. For many years afterwards, she worked as a high-realism illustrator – until the rise of the internet kicked the props out from under that career. From then on, she worked at art for art's sake, producing abstract portraits, metalwork, shadowboxes and, more recently, powdered-graphite-on-Mylar drawings. And then, in 2012, she met Ann Bartok.
Bartok grew up in England, with art-supportive parents; however, it was a secondary-school art teacher (an all-but-vanished breed in today' s educational system) who spurred her on, not to mention got her into the Nottingham College of Fine Arts at the tender age of 15. Her professional work consisted mostly of 3-D commercial graphics and sculptures both before and after she emigrated to Toronto in the Swinging Sixties. Her roster of Canadian commercial clients includes Cadillac Fairview, the Royal Ontario Museum, Parks Canada and the Hockey Hall of Fame.
Four years ago, she connected with Kassian after the two were hired to repair another artist' s work in Brazil. "We had fun," Kassian says, "and we worked well together." So, at a time in their lives when most people retire, or at least slow down, the pair teamed up to form BARKAS.
Growing up in the picturesque Humber Valley, west of Toronto, Deborah Moss says she always knew she'd be an artist. Her brother was one; so too was her great-uncle. Artwork and books on art history imbued the family home, a place tastefully decorated by her mother, who inclined towards interior design. Although her father was a banker by day, he loved to whittle and carve in his off-hours, and he, too, encouraged his daughter's own artistic direction.
The future co-founder (in 1989) of Etobicoke's Moss & Lam studio studied practical and historical art in high school and at the University of Toronto. On the recommendation of a friend, Deborah then moved on to OCA. That friend, who ended up becoming both her personal and professional partner, was the brilliant Edward Lam, who died tragically in 2013, aged 54, of an unsuspected brain aneurysm. Deborah now manages her company's new 13,000-sq-.ft. studio and 17 employees with the assistance of Jamie Stagnitta, director of operations and an artist in his own right. Moss & Lam's extensive client list includes several Four Seasons Hotels, the Lotte department store in Seoul, Hong Kong's Dalloyau Restaurant, and New York's W Hotel Times Square.
The company's most recent project – producing ceiling installations for the Canada Olympic House in Rio – came from the renowned Toronto-based design firm, Yabu Pushelberg. The job turned out to be unusual in more ways than one. It was pro bono, and it had crazy timelines that allowed only a handful of weeks to conceptualize, create, ship and install the pieces. "We were a bit shell-shocked," Moss says, "but we thought ' we have to do this.'" The clincher for her was that all materials had to be sourced at Canadian Tire, an Olympic sponsor. "We love Canadian Tire! We get a lot of our studio stuff there."
The entire studio dedicated itself to working on the project, a three-part harmony consisting of a mobile of red-and-white painted paddles suspended in spirals over the main entrance lobby; a series of birch-frame canoes scrimmed with translucent cloth and lit from within hanging above the lounge and dining area; and a fantastic deconstructed Canadian flag made from hundreds of strips of painted canvas cloth stretched across the ceiling of the Celebration Lounge broadcast venue. Despite intense timing issues and the distances involved, the entire project came off beautifully: "We had a very happy reaction from the sponsors, and the Canadian Olympic Committee was thrilled."
Special events like the Olympics aside, Moss has some words of wisdom in general for interior designers and artists trying to work together to achieve something great. Common pitfalls include tight budgets and due dates, lack of important details on such things as elevations and installation requirements, and diverging or unrealistic expectations from different stakeholders. Management styles, too, can come into play: "A creative person sometimes finds it hard to be micro-managed – told to use this colour, this shape or pattern. The most successful relationships have an openness to them, an open-ended dialogue. What' s the story? What ties this all together?"
Then too, Moss says: "There' s a perception out there that what you do is not as valid as 'real art' that hangs in galleries, so sometimes the respect is not given to you." Artists must therefore retain respect for themselves, and for their artistic process. "Know what you want to make and do," Moss counsels. "Keep your head above water, and listen to your inner voice." She adds, only partly in jest: "If you've broken even at the end of the project, you'll have done well."
BARKAS Productions may be a relatively new entity on the design scene, but its co-partners have long, independent experience with many aspects of the commercial art market. Olena Kassian shares her and Ann Bartok' s ideas on how fine art can best mesh with interior design. "First, art should, whenever possible, be integrated into the planning and design stages, not as an afterthought. And there should be budget allocation at this point. Art is usually what the visitor sees first, and remembers last – it humanizes the space."
The artist's responsibility to the client, she says, should be to work towards the client' s vision. "Sometimes our insights inform a project in such a way that it influences an alteration, for the better. In an ideal situation, all parties strive together to create a whole that is sometimes even greater than the initial intent."
The intent of their most recent client, designer Louise Dupont of Montreal-based LEMAYMICHAUD Architecture and Design, was to upgrade Le Germain Hotel Toronto, to make the space both inviting and contemporary. This was achieved through the creation of 120 sculptures in a series called Cloud 9, which anchor each room and elevate the hotel chain's new contemporary atmosphere. Perhaps even more telling of the project's success is the amount of photos posted on hotel visitors' Instagram accounts. (Indeed, BARKAS has already received a commission from a new client, after she spotted the artwork online.)
The partners claim to be the only artists to use their special recycled material, made from bleached softwood fibre, in the same sculptural way. Their recipe is secret, but they will reveal that it involves several different types of kitchen appliances and implements. The result is something that resembles a thick, soft felt with feathered edges, imprinted with repeating patterns as the artists see fit. The Cloud 9 pieces, though each is unique, collectively resemble an assemblage of white wings swirling together in serene unity.
Back down to earth and the more mundane dealings of artists and designers, Kassian and Bartok echo Deborah Moss's frustration with budgeting, especially when it comes to fee structures. Because art is habitually included under construction costs, designers often look to artists to help them reduce the bottom line. As Kassian puts it: "Spend too much on carpeting? Cut the artist's fee. It makes us feel that our work is not as valued as, say, the accountant's, or the lawyer's. Are these contributors asked for a 'deal' ?
"We have been asked to do large, important jobs for paltry sums, and our answer now is to list the exact service we will deliver for the named price. More work costs more. We think this is eminently reasonable."
The lesson learned? Your profession may choose you, but it's up to you to approach it professionally.