Stelios Mousarris│Wave City Coffee Table
Clearly someone really likes Christopher Nolan's mind-bending 2010 film Inception. The Wave City table by Cypriot conceptual designer Stelios Mousarris depicts a city skyline transformed into functional design, created with the use of 3D printing technology. www.mousarris.com
Pierre Renars | Mobius Desk
In partnership with Maison Parisienne, the Territoire (s) exhibit brought examples of French contemporary design to the Middle East, including both French heritage brands and emerging artists experimenting with said brands, such as Renars's Mobius Desk and Geraldine Gonzales's sparkling, over-sized Flying Chair.
Philip Michael Wolfson│Eruption
Part of the Twisted Series collection that Wolfson displayed in conjunction with the grander Britain Takes Shape exhibit, the Eruption table is made of white acrylic stone. Wolfson is an American ex-pat who was "discovered" by Zaha Hadid while studying in England, after which he spent the next 10 years as head of design with her. www.wolfsondesign.com
Coalesce Design Studio│JorJuk
The JorJuk glass coffee table by Hassan Feroze Lakdawala, part of the Pakistan-based Coalesce Design Studio collective, cleverly challenges ideas of tension and stability by placing an oversized powder-coated steel lattice on the tip of a rosewood pyramid. www.coalesce.pk
Vezzini & Chen│Close Up
Part of a larger U.K. Crafts Council exhibit, the Close Up lamp (available in both table and pendant versions) is inspired by Vezzini's fascination with seeds, natural forms and their interaction with light. Here that interaction is explored using bone china "seeds" encapsulated within a blown glass container. www.vezziniandchen.com
Os & Oos│Primary Fluorescents
Oskar Peet and Sophie Mensen experimented with ways to blend light and Styrofoam while studying at the Design Academy Eindhoven, and after graduating in 2011 started the firm Os & Oos to turn those experiments into actual products. www.osandoos.com
Apercu Designs│Sky Drops
Jordanian designers Farah Kayyal and Tarek Hreish split their interests at their firm Apercu Designs between interior and product design. Sky Drops is part of a larger furniture collection composed of a set of side tables, lighting fixtures, and a stool made from wood, resin, and supported by steel. www.apercudesigns.com
Geraldine Gonzales | Flying Chair
Sculptress Geraldine Gonzales' sparkling, over-sized Flying Chair (or Ceci N'est Pas Une Chaise) light installation headlined an exhibition of limited-edition French collectibles curated by Territoire(s).
Made in Ratio│Cowrie Trio
An award-winning, London-based Australian designer, Brodie Neill founded contemporary furniture and lighting brand Made in Ratio in 2013 to create custom-made chairs, tables and storage solutions imbued with the spirit of innovation. www.brodieneill.com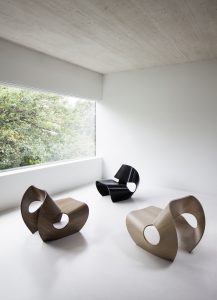 Dahr│Qaws
Qaws, from the Arabic meaning of "arch," is an attempt to illustrate what would happen if a stool got into a fight with a table — it starts off with being a seat rotated to be a high table, rotated again to be a coffee table. www.dahrdesign.com
Kas Oosterhuis│Body Chair
The Dutch Creative Industry presented three versions of the Body Chair designed by Kas Oosterhuis, one in metal, one in wood, and the other upholstered in fabric designed by Ilona Lénárd. The chair itself consists of 28 pairs of 56 triangular base components, parametrically designed as to allow for endless geometric variations. www.dutchcreativeindustry.nl
Fredrikson Stallard│ Species IV chaise
An ongoing study, Species puts at odds ideas of furniture design with those of comfort or human contact. The pieces — hand-carved polyurethane supported by raw steel elements — are amorphous structures at once inviting by the nature of its materials, yet repellent in its aesthetic. www.fredriksonstallard.com