Forma by Zaha Hadid | Alessi
Forma, the last project for Alessi by the late great Zaha Hadid, is inspired by nature. Consisting of two elements — a sculptural black base holding a mirror-polished stainless steel grater — Forma has an ergonomic shape designed to fit comfortably in the palm of your hand. The asymmetrical pattern of holes, like pebbles in a river bed, creates a unique and irregular grating texture. www.alessi.com
InFino Drain System | Blanco
Intended to prevent its users from reaching into dirty dishwater, Blanco's new InFino Drain System is at once handy and smart. Acting as a button next to the faucet, the system opens and closes the drain externally, offering a high-tech mechanism in a variety of finishes and styles. www.blanco-germany.com
Essentials | Girsberger
Designed by carpenter Dieter Stierli, Girsberger's new Essentials product line highlights the furniture manufacturer's talent in handcrafting solid wood. The collection features chopping and cutting boards, table boards, platters, trays, bowls and trolleys in hard and durable oak and walnut wood. www.girsberger.com
Bottom Mount Refrigerator | Haier
Haier has broken into the Canadian market, bringing with it a focus on the condo segment and offering a variety of appliances tailored to everyday small spaces. Its Bottom Mount Refrigerator, for example, packs ample storage space in a seemingly compact package — with recessed or side pocket handles, a stainless finish, and 10.2 or 15-cu.-ft. capacities. www.haieramerica.com
Kitchen Sink Combinations | Hansgrohe
Developed with the Phoenix Design Studio in Stuttgart, Hansgrohe's new built-in kitchen sink combinations feature intuitive controls and modern designs. Available in single or double models, the stainless steel sinks have innovative buttons for controlling water flow, temperature and drainage, improving accessibility for a variety of users while enhancing its clean and minimalist design. www.hansgrohe.com
Oven Ranges | Küppersbusch
In 1875, Küppersbusch launched the first stove on the market, and 142 years later, continues to impress with its designs by Marcus Keichel. The company's newest ovens feature intuitive controls and impressive functionality, including a K-Connect App that enables appliances to be controlled remotely, and recipes to be selected and sent to the oven via Wi-Fi. www.kuppersbusch.com
SmartLine | Miele
Versatile and multifaceted – this is how the new SmartLine units from Miele present themselves to customers, who can choose freely from induction hob, barbecue grill, Teppan Yaki, gas ring, induction wok and countertop extractor. As an ensemble, they form a cooking centre with an appeal that aims to break down the boundaries between kitchen and living spaces. www.miele.ca
Airfryer | Philips
Philips' new Airfryer uses TurboStar technology to facilitate air circulation and evenly distribute heat, allowing for frying, baking, roasting and grilling without the need for oil. Non-stick and dishwasher safe, the Airfryer requires no preheating, and contains timer, auto-shut off and temperature control options. www.philips.ca
Diesel Open Workshop | Scavolini
Scavolini and Diesel have teamed up to introduce Diesel Open Workshop, a collection of industrial-inspired furnishings for the kitchen and bathroom. With modern structures made of metallic tubular iron, matte shades and aluminum details, the collection features wash basins, shelving systems, taps, mirrors and more. www.scavolini.com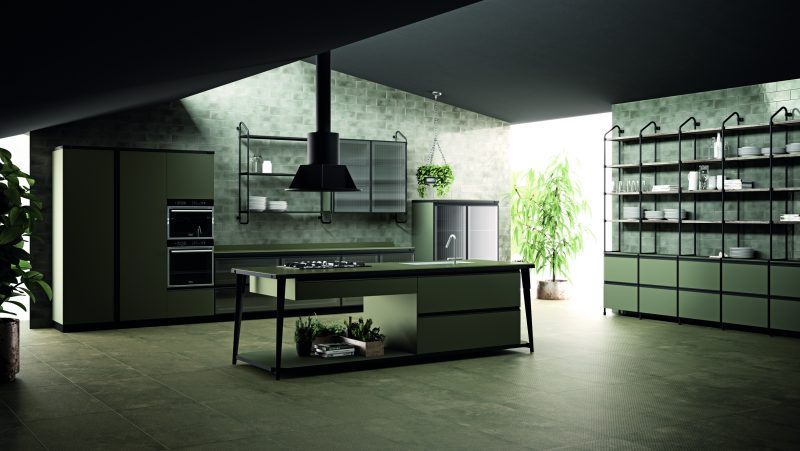 CUBI | AyA Kitchens and Baths
Designed in partnership with Toronto-based Partisans, AyA's CUBI collection is a response to urban expansion and densification. The modular shelving and space divider enhances livability and optimizes functionality through a series of sculptural, cubic geometries. Recognizing the individualistic nature of each homeowner, the units offer a customized approach to storage, walls, benches, cooking and dining surfaces, as well as trusses for planting or lighting. www.ayakitchens.com
Home Connect Built-In Coffee Machine | Bosch
Bosch's new Home Connect Built-In Coffee Machine allows users to brew coffee at the touch of a button from their tablet or smartphone, creating a customized cup of coffee. The machine can be installed without a direct connection to a waterline, and even features a grinding system for both light and dark roasts. www.bosch-home.ca
Rugged Concrete | Caesarstone
Caesarstone has unveiled five new colours to its Classico and Supernatural collections for 2017, including a Rugged Concrete line that presents a shift towards industrial interiors. The rugged look is accentuated by its unique imperfections, achieved for the first time ever in a quartz material, while maintaining the ease of care and maintenance synonymous with Caesarstone. www.caesarstone.ca
Kennon Sink with Neoroc | Kohler
Kohler's Kennon Sink is at once striking and durable, constructed using the composite material Neoroc that is engineered to resist scratches and stains. Able to withstand heat up to 750 degrees F, the sink — which is available in single and double configurations — is constructed with built-in UV inhibitors to prevent fading. ca.kohler.com
Eternal Collection | Silestone by Cosentino
Silestone's new Eternal Collection combines seven hues that pay homage to the world's most sought-after marbles and stones. The collection is manufactured with N-Boost technology, a system patented by Cosentino that modifies the surface of the material at a molecular level and helps to attain a greater intensity of colour. The collection's patterns are also repeated with precision during each round of production, maintaining the original essence of the design and ensuring consistency upon installation. ca.silestone.com
TEAM 7
TEAM 7 has combined traditional production techniques with modern language to establish a specialty in solid wood kitchens. The Austrian furniture manufacturer offers its kitchens in seven wood types and a variety of styles from classical to puristic with elements made exclusively from fine solid wood. www.team7.at
Foodie Faucet | Danze
Danze's Foodie Faucet, available in chrome, stainless steel or satin black, features a 360 degree swivel, spring-action wand similar to products found in commercial-grade kitchens. The faucet head is designed to help avoid the transfer of heat when the water is hot, while the rubber nozzles helps to prevent the buildup of kitchen grime and hard water deposits. www.danze.com
Miniki Slimline | Miniki
Tobias Schwarzer of Miniki has offered a design solution for small homes where the kitchen and living areas are combined as one. The Slimline is a multi-purpose kitchen system that resembles a module or sideboard, offering a full range of amenities while maintaining a discreet and elegant feel. www.miniki.eu
Esque Kitchen Collection | Delta
Available in chrome, Arctic stainless, Venetian bronze and matte black, Delta's Esque faucet offers a clean, modern look as an affordable option to consumers seeking a high-performing design. The faucet can be turned on or off with the simple touch of a button, and features an LED light to signal when the water has reached its desired temperature.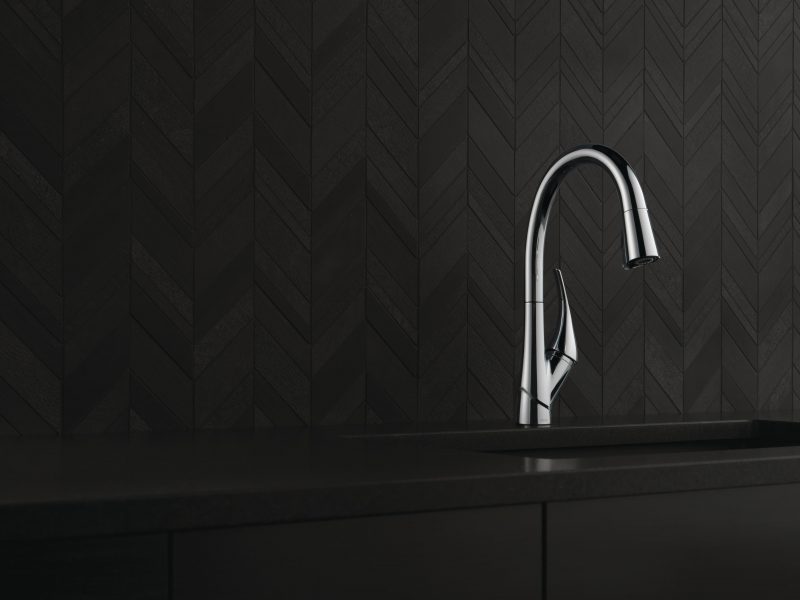 Revolving Column | Dada
A concealed but accessible space, Dada's revolving column storage system offers up to five shelves based on a central pillar, featuring a patented mechanism. The shelves rotate 360 degrees, allowing full access while effectively hiding the corner pantry when the door is closed. www.dada-kitchens.com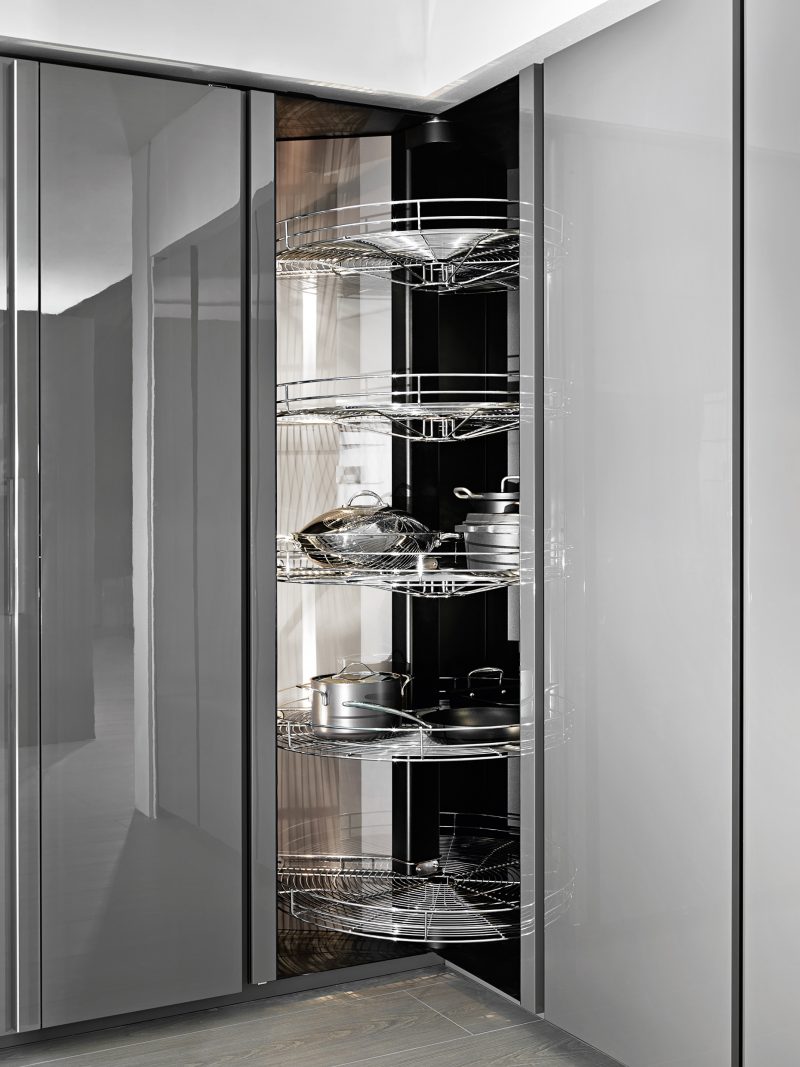 Bread Bin | Hutch
Hutch's European-inspired kitchen collection features products designed specifically for space and size-conscious consumers. Its eco-sustainable bamboo and stainless steel bread bin, for example, doubles as a cutting board and serving tray, with a roomy interior perfect for storage. www.hutchkitchen.com
Delivery Robot | PuduBOT
Winner of a Red Dot: Best of the Best 2017 Award, the PuduBOT robot by Shenzhen Pudu Technology in China assists restaurant servers, delivering orders to tables and interacting with guests through facial expressions and audio. Using high-precision laser radar technology, the PuduBOT is available in classic black and white.
French Door Refrigerator│LG
The new 36-inch Black Stainless Steel French Door Refrigerator is the flagship showcasing the super-cool new InstaView Door-in-Door. Knock twice on the tinted glass panel to see inside the easy-access door without letting the cold air out, while the Door-in-Door feature allows you to get in and get out providing easy access to beverages and snacks. www.lg.com