Studio TK + Alki develop bioplastic Kuskoa Bi chair
The first chair to be manufactured in bioplastics has been introduced to the market by Studio TK and Alki. Designed by Jean Louis Irtazoki and Anders Lizaso of Alki and offered through a partnership with Studio TK, Kuskoa Bi is made of fully recyclable materials derived from plant-based renewable resources. Though plastic proved to be the best material for the chair, the material's production runs contrary to Alki's fundamental principles on sustainable development, and thus the bioplastic material was created.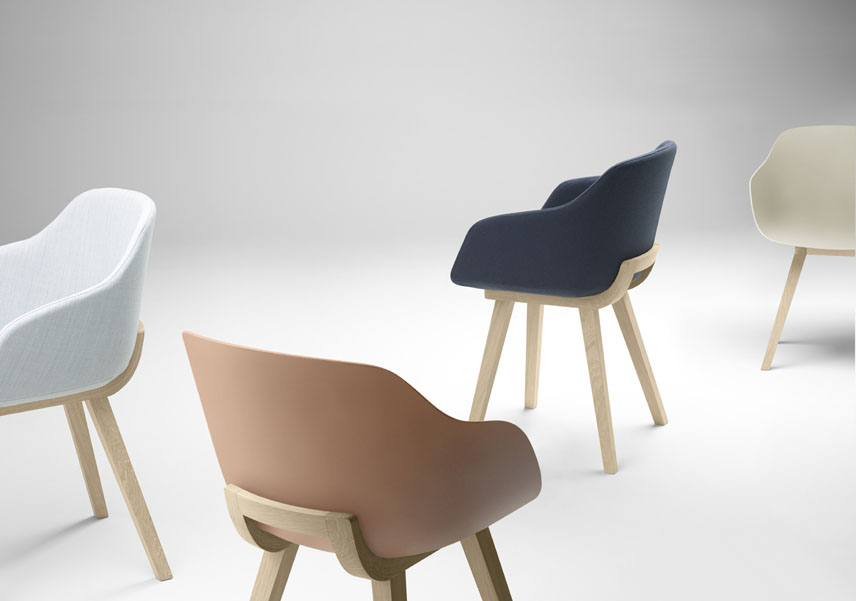 The rugged shell is purposefully shaped to optimize back and arm support for long stretches of time while sitting. Configured in a wood leg, 4-star swivel and 5-star caster, either fully upholstered, in the original bioplastic shell or with an upholstered seat pad, it allows for use in high-traffic areas, such as collaborative spaces in the office and university classrooms.
According to the Alki website, the chair's unique design — and one of a kind materiality — was inspired by the drive to create a comfortable and environmentally friendly chair: "We decided that the Kuskoa Bi had to be a comfortable, enveloping chair and to achieve this we opted for a semi-concave shell. The material that best enables this shape to be created is plastic. However, the production of plastic is contrary to our fundamental principles on sustainable development. To find a solution to this dilemma, we carried 1 out in-depth investigative research and found a new material: bioplastic."