The Present through a Rear-View Mirror
Perhaps Marshall McLuhan's second most famous — but equally prophetic — aphorism is "We look at the present through a rear-view mirror. We march backwards into the future." It is wisdom most economists and politicians ignore despite the implications of the digital, demographic and third industrial revolutions underway. An intriguing cultural application asks the question: why do hi-tech firms frequently gravitate to historic industrial buildings? For example, Apple's bizarre new silver donut notwithstanding, Waterloo Region has seen its vibrant tech sector clustering in Kitchener's old downtown industrial enclave, including Google's new Canadian headquarters. Three recent projects, two in Toronto and one in Ottawa, suggest that while the reasons for this preference may vary, sustaining a connection with and celebration of the history of craft is a narrative that links all three.
Slack
Slack is a multinational, San Francisco-based firm that offers a communication "ecosystem" of over a thousand apps that allow clients to connect their conversations and messaging. Toronto-based Dubbeldam Architecture + Design recently completed what principal Heather Dubbeldam calls a "light touch" intervention for the firm's 23,000-sq.-ft. Canadian headquarters in Toronto's historic, five-storey Quality Knitting Building. The firm's three floors had already had their structural wood columns, beams, ceilings and brick walls cleaned and exposed but was previously configured into more traditional private offices.
Slack wanted employees to enjoy access to natural light so the scheme ensures open plan, non-hierarchical work stations sit next to windows. In the centre, a walled core houses washrooms, a kitchenette, storage, server and the entire backup house. But into this solid core, notches were then "carved-out," providing telephone booths to accommodate one-on-one international conversations using Zoom, informal break away areas so employees can work away from their desks and informal meeting rooms. The last employs three colour schemes for the chairs, carpets and acoustic wall materials. "The real flexibility," says project architect Scott Sampson, "is the ability to choose where you work, whether in the breakout rooms, phone booths or lounges. If you are tired of your chair you can use a sofa."   
Each floor boasts a focal space. These include reception on the fifth floor, a lounge on the fourth and a café on the third. With so much wood, augmented by warm yellowy-orange brick, the original space was somewhat mono-tonal. For contrast "we punched it up with dark gray and with little pops of colour in the carved out spaces," says Dubbeldam.  Five principles underlying her office design approach focus on an office's unique needs, comfort, collaboration, flexibility and evolvability. While there is playfulness throughout, says Sampson, there are no de rigour ping pong or pool tables. "Work hard and go home [could] be the company motto because if you have a quality of life you are going to bring something to your job." 
But why an old building? Following our interview, Dubbeldam discussed with Slack's directors why they were attracted to the old knitting mill. Slack's company values, they said, are empathy, solidarity and craftsmanship. They like historic buildings, she reported back, because Slack enjoys honouring their legacy and making them productive again. Slack loves spaces that have history, particularly in manufacturing, industry and hand making. "I think it is because of the contrast with what they do which is so ethereal, all about communication, all done over the network, to something that is real and tangible," says Dubbeldam. This ethos is evident in places like meeting rooms, which carry names related to knitting, fabrics like cotton and equipment like looms as well as action verbs like knit, weave, warp and pearl. 
Craft plays a role in the new fit-up, as well. In the reception area, local artist Kathryn Walter of Felt Studio drapes the space in a striking, handcrafted cloak that not incidentally employs the very tactile fabric of felt. Referencing historic images of old knitting mills with looms, winders and streams of thread running "all over the place, through the ceiling and in all different colours," Dubbeldam set about employing the idea of "threads of communication" to reflect Slacks messaging apps. "It is all about putting groups of people on different threads and then multiple threads of communication to create more efficient means of working." This idea is translated through exposed electrical wires, lines of felt, continuous light fixtures and coloured (albeit decorative) cables that duplicate the colours in pop out spaces. These cables "do fun things like run through the ceiling and down walls to tie the three floors together," says Dubbeldam. 
Stereo D 
If you saw a summer blockbuster movie you know the work of Stereo D, a high-tech media firm (part of the Deluxe Entertainment Services Group) that renders stereoscopic 3D content for major motion pictures (and will soon add animation to its new Canadian unit). Its sprawling 46,000-sq.-ft. digital studio, with help from Toronto-based Quadrangle, is now up and running in half of what was (until five years ago) the Canada Bread Factory, located in the heart of Liberty Village, a mix of century-old industrial plants and new residential buildings that the company describes as appropriated by creative and tech agencies based on a predominantly youthful demographic. 
An early 1900s single-storey heritage-listed factory, it has been transformed from a functioning industrial bakery into a now less aromatic high-tech workplace with some very unique requirements. The greatest challenge, according to Quadrangle principal Ted Shore, was to design space for 450 staff that would be comfortable even while working in near darkness.  In addition, as an extremely competitive industry where studios are audited by both clients and an independent watchdog for creative espionage security, even sightlines through windows are a consideration. On both counts, Quadrangle's usual commitment to "the democracy of light" was literally out the window. Yet a working environment able to attract and retain talented, expensive-to-train staff was a priority.  
Stereo D's half of the bakery stretches north from a mammoth, sky lit public spine and primarily consists of one level but with a partially sunken section earmarked for its animation component. Quadrangle's "punk industrial" approach largely involved stripping the building back to its muscular steel structure augmented for seismic considerations. Despite extensive wiring requirements, the ceiling has been kept as clean as possible. Through "block planning" using broad defining axes, different functional spaces are demarcated. Light-protected work areas are internalized while meeting and breakout rooms – with added windows – are on the periphery. This includes the bakery's double height boiler room, now a comfortable light-filled café rendered in 1940s industrial chic. 
Also locked in the interior is "central park," a large rectangular retreat lounge topped with a gridded skylight that floods the area with natural light. Volumes of theatrical drapes screen this common area from the dark workstations. Brown, overstuffed leather chesterfields and massive clock faces constructed from salvaged steel ends of the bakery's boilers and other found industrial objects only adds to the sense of a retro theatre set. The two ends of "central park," however, are terminated in white to act as a projection screen and a monitor. 
 Careful attention was paid to workstations. "While most animation studios have ad-hoc desks," says Quadrangle senior associate Vera Gisarov, "we felt there would be great impact by providing each person with a spacious personal area, a comfortable chair [SAYL by Herman Miller], and a new, ergonomic workstation [BIVI by Steelcase]." The latter includes shelving and drawers for workers' personal effects. The desks are a relatively new product but they were adapted to meet workers' specific interface with their screens. "We switched out finishes to give them a non-glare finish. We did not want white surfaces glowing in the space," says Gisarov. Part of the appeal of the desk system was its vertical elements that provide visual relief while allowing workers to personalize their assigned workplaces. In working areas there are no white walls, no white furniture, and no white ceilings: everything is charcoal, black or light green.  
 But why an old bakery? According to Stephen Gallop, vice president and general manager for Stereo D Canada, the sheer operational functionality of a single sprawling level means greater connectivity and "creates a different kind of synergy, which is wonderful." But the artists, he adds, love it. "Typically the people that are working here are very young, very creative and don't necessarily want to work in a glossy TD or Scotia Tower," says Gisarov.  A New York City-based work place psychology firm, reports Shore, has suggested today's more mobile workers want a sense of place that has "very solid memorable pieces." For Stereo D creatives "you are basically talking about computers on desks, relatively impermanent." And the word "ephemeral" pops up again.  "My own theory," interjects Gallop, "[is that] film is now dead, and it is all digital. There is not even anything physical left except 0 and 1." History provides rootedness. 
The Innovation Centre at Bayview Yards  
Ottawa's Innovation Centre at Bayview Yards is a different kettle of fish. Now 46,000 square feet of renovated and new space, its extant core was the abandoned City of Ottawa's Workshop Building, circa 1941. It has now been adapted and expanded as a multi-purpose tech hub. While Invest Ottawa is its anchor tenant, the Centre is more importantly a not-for-profit enterprise (NGO) constituting the city's first – and long overdue – step towards creating the "triple helix" approach popular in Europe. The idea is to stimulate government, business and academia collaboration to facilitate a robust creative, digital economy.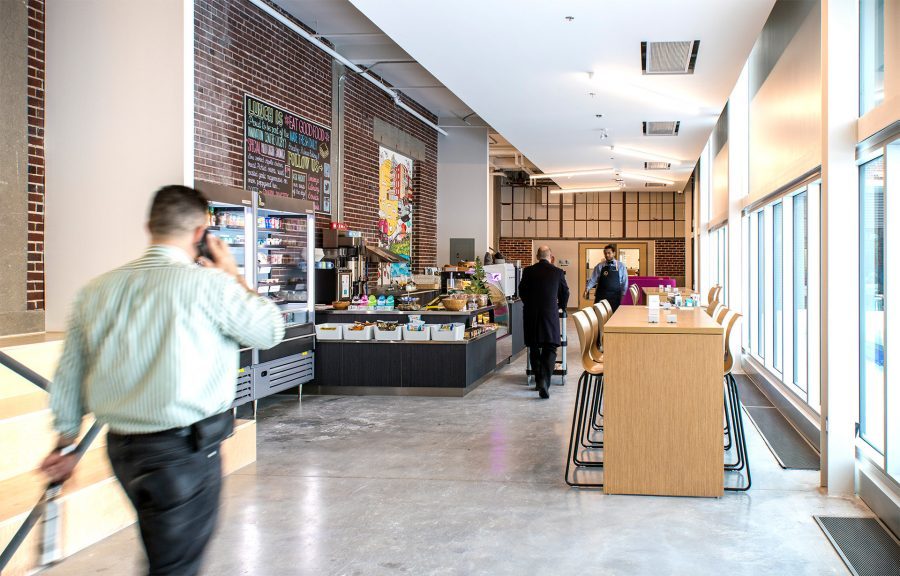 The Centre is located next to the proposed $2.4 billion mixed-use development on Le Breton Flats, as well as adjacent to new LRT/O-train stations ensuring easy linkage with Carleton University, University of Ottawa and Algonquin College. "It is the ultimate one-stop business acceleration shop and 'mash-up' of technical, business and market services, resources and expertise that helps entrepreneurs and companies launch, grow and thrive, and compete with anyone in the world," says its promo material.  
 Built on a 20-ft. structural grid of concrete infilled with brick walls and mammoth wood and glass doors in the old machinery service bays, the original building was H-shaped. Its south wing's east end was a double height machinery service bay: its west end was two-storeys of work areas. The north wing was two storeys although most of its eastern component was a single-storey shed. Connecting the two was a recessed single level entrance structure paralleling the street. The program called for corporate offices for the NGO and Invest Ottawa as well as separate incubator and accelerator components and a maker space.
According to Sandy Davis, partner at the firm responsible for the renovation, Ottawa-based Hobin Architecture, the placement of program elements was dictated by the existing spatial layout. "The south wing's first level was always the incubator, the second level the accelerator while the other side was always administration and NGO corporate." The maker space was fit into the north shed wing. Without compromising business area security, says principal Barry Hobin, the city also wanted interactive community space for public events. "It's a cool thing because it gets politicians out of City Hall and into a community space," he says. 
 To achieve the last objective, a second storey was added to the centre block providing both a link between the two wings as well as meeting and classroom space. Left of the Centre's entrance, a significant change of levels existed because the basement electrical room pushes up from its bedrock footing. A big challenge, therefore, was ensuing barrier free circulation on the entry level. Instead of removing this impediment, a single storey was added across the back that now connects all first level operative spaces. It also hosts a café facing a glazed wall with doors opening onto a landscaped courtyard with a small community garden. The retained, raised concrete floor, reached by maple terrace stairs and an elevator operates as a large event space with maple bleacher seating. For sight lines, one concrete column was removed.  
 At reception, part of the concrete roof of the original one-storey centre wing was removed to create an atrium, through which a muscular, sculpted red steel staircase twists up to the second level. A skylight in the new second level roof floods light down into all the public spaces. 
 The south wing's first level hosts the short-term and highly flexible incubator hub, where most of the space is two-storeys (over 18 feet) with doorway bays now filled with glazing. The bay's original, huge wooden doors have been reinserted as space defining screens. Moveable, raw wood trellises help define discrete work areas for the usual one-to-three person firms, and the concrete floors were leveled with wiring concealed in the new layer. The space's single storey west end contains informal common areas and "phone booth" spaces. The different functional components, says Hobin, work with the building's volumetrically different spaces into which different aesthetic treatments are applied depending on their function. "The rough and ready aesthetic of the incubator space," adds Davis, "gives way to more polished finishing in the second storey accelerator space."  
 The north wing contains the corporate office as well as rented hoteling desks. Here, the finishes are again even more refined. For example, private offices and refined work/meeting spaces are glass panelled and the original hardwood floor has been elegantly refinished. 
 While the original and added wood and steel reflects the industrial heritage of the surrounding area, the use of an old industrial building reflects more serendipity than a complex intellectual web between two industrial revolutions.  The Workshop Building was a handy — and parsimonious — contribution by the city with the province providing renovation capital. This said, and the users seem to agree, it just seems to fit into the creative ethos of an Innovation Centre.