TO DO's International Guest of Honour – or, rather, Guests of Honour – are David Chambers and Kevin Haley, co-founders of the London-based multi-disciplinary firm, Aberrant Architecture. Aberrant is a rising star in Europe's theatre of the applied arts, with a hand in every jam jar, from retail pop-up shops to worker's dining halls. It focuses not so much on imposing  design from above, but on collaborative creation that speaks to a varied user experience, and fun. One of Aberrant's specialities lies in re-interpreting and interweaving the richness of history through modern design, something North Americans tend not to focus on, given our continent's relatively youthful chronology.
"[We're] fascinated by history and how the most successful lessons from the past can inspire new work to address our present and future conditions," Chambers said in a 2014 interview with Blueprint magazine. "People are our inspiration. [We] examine the way people live and interact with one another, researching hidden desires and unforeseen dilemmas that impact on our world."
Chambers, 36, studied architecture at Bath University, where he won the Barton Willmore Prize for Innovative Design in 2004. He continued his training at T.U. Delft in the Netherlands, and London's Royal College of Art. His CV includes stints at Ronald Janssen Architecten, Amsterdam, as well as in the London offices of Lifschutz Davidson Sandilands, SCABAL Architects, Richard Mitzman Architects and LOM Architecture & Design. In addition to his design career, Chambers leads architecture studios for graduates and undergraduates at Central Saint Martins art school in London.
His partner, Kevin Haley, 36, studied interior design and environmental architecture at Ravensbourne College, where he won the New Designers Future of Design Award in 2003. He also studied architecture at the Royal College of Art, where he was awarded the architecture prize in 2006. Haley's resume includes positions with the London firms of Greig & Stephenson, Portland Design Associates, Foster + Partners, and Softroom Architects. He currently teaches architectural design at London's Central Saint Martins and MA Interiors at the Royal College of Art.
The pair found they had ideas in sync while on a university trip to Tokyo in 2007. For the next three years, they worked after-hours to make their own shop a reality. Their choice of name reflects both their iconoclastic approach to a new, multi-faceted brand of architectural design ("aberrant" is defined as "deviating from the norm") and the practical consideration of placement at the top of any alphabetical list. The firm officially launched in 2010, when it was awarded the Victoria and Albert Museum's inaugural architecture residency, co-sponsored by the Royal Institute of British Architects. Being set loose amongst one of the world's greatest collections of documents, art and artifacts brought to the fore the partners' love of history, and allowed them to see first-hand how people over the centuries have utilized space, from workplaces to public forums to social meeting-rooms. They then turned that knowledge and their honed research skills to cultural architecture projects.
A good example of all this in action is Aberrant's Tiny Travelling Theatre, a mobile installation built for central London's Clerkenwell Design Week in 2012. Towed to different exhibition locales by a vintage split-window VW camper van, the bright-red box seats up to six people inside, where they are treated to intimate theatrical, comedy and musical performances.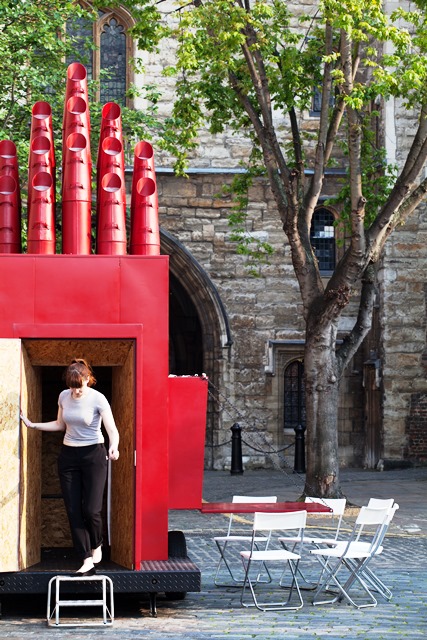 The idea and name pay tribute to Thomas Britton, a 17th-century small-coal-man (small-coal is similar in size to charcoal briquettes), amateur musician and sometime impresario, who used found materials to construct a concert hall atop his coal-shed, complete with a working harpsichord and five-stop organ. Audiences of all classes visited to enjoy acts that ranged from talent-hour types to the famed baroque composer George Frideric Handel. Aberrant's own painted steel box is kitted out with coal scuttle "organ pipes" on its roof that let in shafts of light, as well as a large megaphone to one side that broadcasts performances to outsiders, who can also view the interior action via peephole windows cut into the walls.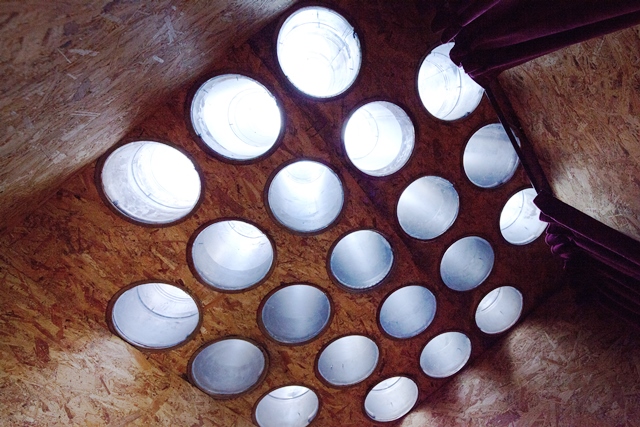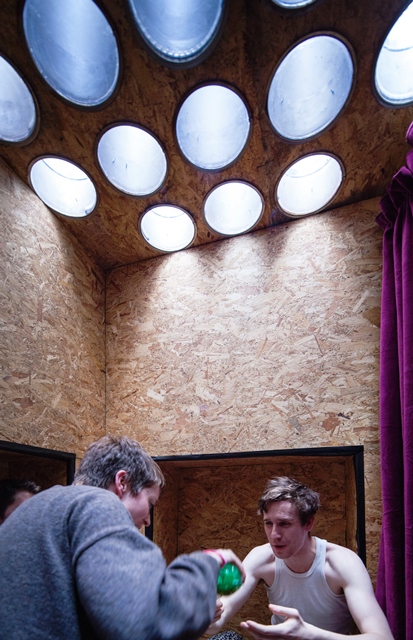 That delicious spying aspect got greater play a year earlier, with the firm's cheeky Peeping Tom interactive exhibit for the Gwangju Design Biennale in South Korea. Viewers were presented with an abstract housing block, where they could look through a series of windows at snippets of other peoples' lives. As Alfred Hitchcock showed us in 1954's Rear Window – and as Facebook is proving to us every day – voyeurism  is an enduring, if morally bereft, human trait. This fits neatly with Chamber's assertion that: "The greatest creative pressure on a designer is to come to terms with normality and the everyday issues that affect us all."
The success of the Tiny Travelling Theatre led to another mobile installation, the Roaming Market Kit. Constructed in 2013 for the Borough of Lambeth's Lower Marsh Market, this bright blue steel stall on wheels was designed for multiple use. Insert some balustrades and the upper level, reached by a steel staircase, provides an overview of the marketplace as well as doubling as a performance platform. Above this, a round "totem" sign of a chicken references the ancient practice of alectryomancy, or the divination of the future by means of a chicken pecking at piles of grain representing different letters: a nod to Lambeth's history as London's 16th-century home to mystics and fortune-tellers. The stalls' sides unfold to offer a small seating area with a built-in chessboard. Additional seating made from upside-down chicken feed containers is stored in wheeled tables that can be rolled out and put to instant use.
Aberrant's gift for storytelling, both old and new, its playful spirit, and its sense of mobility and impermanence heavily informs their work. One thing that has fascinated the two partners from the start is the adaptability of modern life and its furnishings. In particular, "working is becoming more flexible and the space where it occurs more diverse," Chambers says. "A dining table is also a desk, a coffee shop is for trade as well as for socializing, and a train carriage is now an office."
The pair have an affinity for what one reviewer called "humble materials," the reimaging of found objects such as cork, flakeboard and unfinished wood. They also delve deeply into the day-to-day lives of ordinary people. As Haley observes: "Our work and research is neither inert nor carried out in a vacuum. We immerse ourselves in dialogue, discussion and collaboration with a wide variety of everyday people, not just artists and creative professionals, to facilitate a balanced outcome."
Their unique design methodology came full circle in 2014's redesign of London's Rosemary Works School ground and first floor. The late-Edwardian building, added to over the years on an ad hoc basis, was not gutted for complete renovation. Instead, Chambers and Haley chose to go hybrid, keeping some features for heritage purposes, removing others of lesser importance, reimagining the way the space could be used. Throughout it all, the pair worked in close collaboration with the school directors, teachers, parents and pupils.
The first thing you notice is the riot of colour set against a neutral cream. As Aberrant's website explains: "Each area of the school [is] painted in a range of complementary colours that pull you from one room to another. This approach was linked to late Edwardian colour theory, which suggested that light complementary colours are to be used in areas of the interior where there was plenty of natural light and to use rich complementary colours in areas where natural light was not so dominant."
The colour story continues with parallel curtain rails, one hung with brightly shaded curtains, the other with opaque gauze sheers. The reference is to make-shift room dividers of the WWII era, an idea whose time apparently has come round again. Teachers and students can at will create open and closed spaces of various dimensions, as well as refract natural and artificial lighting, plus provide a measure of sound-proofing.
Haley and Chambers obviously had fun transforming found space into under-stair nooks, inserting an odd window seat here and there, crafting custom cubbyholes, padding the ground-floor support posts as if in anticipation of rough play ahead, and using a special magnetic plaster to create a "magic sticky wall" for showcasing children's art projects. Their emphasis on mobility led to brightly painted shipping boxes on wheels for book and toy storage, a wooden "master's wheelhouse" for play, and a rolling bookcase shaped like a giant "B."
Assuredly, there will be much more work to come from the still-young designer- architects. In a relatively short space of time, Aberrant Architecture had made a real name for itself, both at home in the U.K. and abroad. Its unique projects have been prominently featured in several prestigious magazines, and the co-founders have become sought-after speakers in the design community. In addition, from time to time, Chambers and Haley curate London-area exhibits. Their latest venture is a book, Wherever You Find People: The Radical Schools of Oscar Niemeyer, Darcy Ribeiro, and Leonel Brizola, published by Park Books in 2017.