Alessi celebrates Italian maestros of design
Alessi has unveiled a rich selection of table and kitchenware for 2018 that inspires with colour, form and innovation in fabrication. Supplementing a collection that features a wide-ranging array of products – from high-performance kitchen knives to playful children's dinnerware in fine bone china – pieces by design heavyweights Alessandro Mendini and the late Achille Castiglioni emerge as highlights.
Mendini delights us with "Tegamino," a frying pan he designed with Alex Mocika and in consultation with Alberto Gozzi. This small stainless-steel pan measures just 6.75 inches in diameter, and is embellished with two playfully wavy handles that evoke the outline of a fried egg – which is the perfect item to cook in this vessel. Complemented with a lid that helps cook the eggs efficiently, "Tegamino" is sufficiently attractive that eating directly out of the pan is not only convenient but encouraged.
Another offering from the prolific 86-year-old designer is the "Alessini" line, which is geared primarily to children, but adults with a whimsical bent will find plenty of use for the plates, bowls and tumblers in fine bone china. A round melamine tray is embellished with colourful concentric circles, and along with a stainless-steel cutlery set designed for small hands, completes the delightful collection.
2018 also marks an important anniversary for the late Achille Castiglioni, a legend of Italian design who has had an extraordinary partnership with Alessi since 1980. Best known for the elegantly curved "Arco" floor lamp, Castiglioni is honoured by Alessi this year, the centennial of his birth, with a special edition of the historic "Dry" flatware set that was originally released in 1982. A limited edition comprised of 999 numbered units of the "AC04" fruit bowl/colander has also been manufactured; both flatware and bowl are fabricated in stainless steel and feature a warm copper PVD coating.
"Barknest" is a compelling lacy round basket designed – in 18/10 stainless steel by husband-and-wife team Michel Boucquillon and Doonia Maaoui. Its form is inspired by a bird's nest, and its texture by tree bark – their way of saying thanks to nature. Alessi's consummate skill in working with metals is perfectly exemplified in this product, which is part of the "Bark" series which started with a centrepiece in 2015. The fabrication process begins with the careful choice of raw materials, and continues through the meticulous cutting and manufacturing of the objects. The stainless-steel basket measures 8.25" in diameter, and is available in three finishes: polished steel, or matte black and white.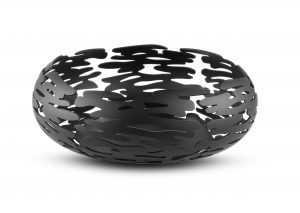 Alessi's "Mami" kitchen knives will equip any home cook with the requisite tools to prepare the most complex of meals. Originally designed by Stefano Giovannoni in 2002, they return in 2018 in forged steel with a matte finish. The new line – which includes a utility knife, cook's knife, bread knife and two new Japanese Santoku knives used for cutting, filleting and deboning – is paired with a knife block called, appropriately, "K-Block". First designed by Anna and Gianfranco Gasparini in 2011, the wooden knife block very much resembles a book, and can be displayed in an open position to showcase the beauty of the knives, or in a closed position to conceal the sharp, gleaming blades.
For more information on Alessi products, please visit www.alessi.com.