Show floor, North Building, Metro Toronto Convention Centre; Wednesday, November 29, 1:00 p.m. Just as I was wondering what had become of my beloved IIDEXCanada (Where is the contract furniture? Why so many manufacturers from China?), the word came down from above: it was the end of IIDEX, Canada's National Design + Architecture Exposition, as we knew it. Operated under The Buildings Show (TBS) for a second year in a row, IIDEX would – effective January 2019 – join the Interior Design Show (IDS) roster as IDSContract. Moving forward, IDS Contract will be a "hyper-curated" event to showcase the contract sector within architecture and design, and will run simultaneously with IDS Toronto, which focuses on interior design.  
To replace IIDEX in the North Building, the booming TBS will expand with the addition of STONEX Canada, Canada's first event dedicated to the stone, terrazzo, ceramic and tile industries. It will join TBS's current lineup of Construct Canada, HomeBuilder & Renovator Expo, PM Expo and World of Concrete Pavilion.  
I would hope that IIDEX Woodshop, in a new iteration, will be part of the new IDS Contract, as it has become a highlight of the show (see Good Wood below). I look forward to the launch of IDS Contract in January 2019. In the meantime, here are five items at IIDEXCanada that caught my attention.             
Kimbretta│Suite 22
The Kimbretta chair from Suite 22 Contract features a metal frame with cold-injected polyurethane foam. Available in different covering materials and structure, this small chair is ideal for breakout and reception areas, meeting spaces and boardrooms, lounge spaces and hotel rooms. www.suite22contract.com  
Architek│Peerless Contract  
From Canadian carpet manufacturer Peerless Contract comes the Architek collection of broadloom carpet, inspired by the concepts of math and geometry. Its dye-injected design, with a masculine edge, features hard lines with underlying transparency and accent colour. www.peerlesscontract.com  
Good Wood 
Toronto has a vibrant urban-wood industry, but pests like the Emerald Ash Borer, as well as old age and natural disasters, are threatening the industry and destroying North American forests. To respond, Economic Development and Culture at the City of Toronto launched the Urban Wood Industry Development Initiative in order to encourage homeowners and industries to salvage and re-use trees felled in the Greater Toronto Area. Working with Ontario Wood and the City of Toronto, IIDEX has included the Woodshop exhibition, now in its fifth year, to demonstrate how this valuable resource can be used to create innovative, market-ready commercial and consumer prototypes – thereby diverting approximately 100,000 trees lost each year in Toronto due to old age, storms and disease from city landfills. This iteration showcased 13 innovative wood prototypes by emerging and established designers, including: 
Split Lamp│James Clarke-Hicks and Isabel Ochoa  
Made possible by the process of steam bending (best realized with ash and freshly reclaimed "green" woods), the lamp rests in closed configuration as two semi-circular tubes running parallel to one another, with ambient light emerging as a thin slit between the two forms. When the forms are pulled apart, light is more freely dispersed.  www.jamesclarkehicks.com; www.isabeloc.com 
Ollie│Curtis Dwyer
You might say the Ollie stool began life on the move: it's constructed from a single steel bicycle frame and a Canadian maple skateboard. Surprisingly comfortable, Ollie has height-adjustability incorporated in the steel tube's quick-release function.  @curtisdwyer_design 
Notch│Henry Lin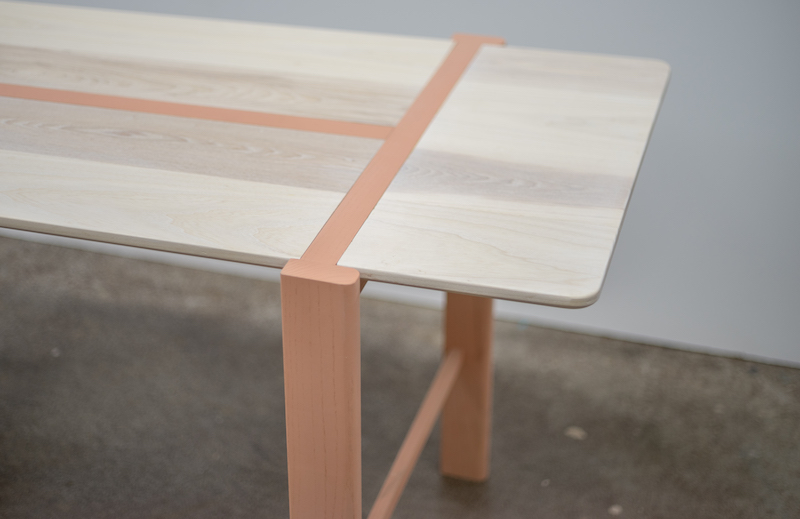 Notch brings the "skeleton" substructure of a table right up to the surface, showcasing craftsmanship and joinery details. Because Notch is split into sections, the designer was able to use diseased lumber, offers and shorts that are not "furniture grade," sourcing such materials locally and responsibly. www.thisorthatstudio.com