'Cabin Fever' design exhibition coming to Vancouver Art Gallery
The Vancouver Art Gallery is pleased to present Cabin Fever, a new exhibition tracing the history of the North American cabin as an architectural form and a cultural construct, on view June 9 to September 30, 2018. Assembling renderings, artworks and commercial products as well as architectural models, plans and full-scale interventions, Cabin Fever surveys this iconic yet humble lodging's utility, adulation and prevalence in Canada and the US.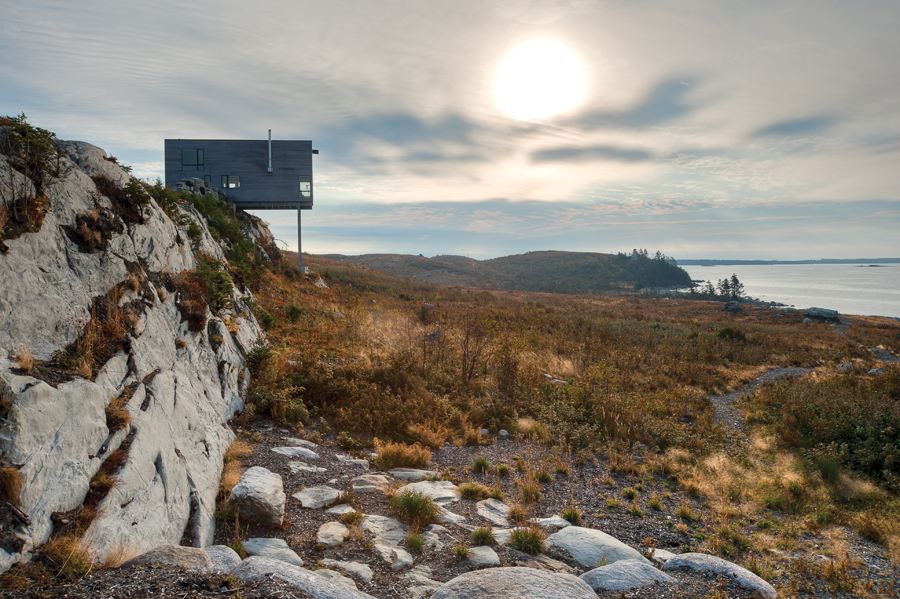 From rustic sanctuary of the kind Henry David Thoreau wrote about in his book Walden (1854), to minimalist homesteads popularized by coffee table books Rock the Shack, Hide and Seek, and websites such as Cabin Porn, the cabin and its connotations have evolved over centuries. Cabin Fever explores this evolution through three key themes: "Shelter", which introduces the cabin as a practical solution to patterns of westward expansion and emergency relief; "Utopia", which examines the cabin as the ideal locale to practice introspection or to escape the conventions of society; and "Porn," which positions the cabin as an idea fully integrated into popular culture.
Spanning the second floor of the Gallery, Cabin Fever features architectural models, drawings and plans, photography, historical documents, literature, video and ephemera. As the centerpiece of this exhibition, a collection of seventeen architectural models installed in chronological order showcase the cultural influences that have informed cabin design in North America since the seventeenth century. In addition, two full-scale installations by American artist and filmmaker James Benning and a full-size cabin by Canadian artist Liz Magor will be mounted in the Gallery space.
"Cabin Fever is conceived as part of the Gallery's ongoing commitment to the presentation of visual culture in its myriad forms," says Kathleen S. Bartels, Director of the Vancouver Art Gallery. "A follow up to the Gallery exhibition Grand Hotel: Redesigning Modern Life (2013), which looked at the cultural impact of the hotel, Cabin Fever is the first-ever exhibition investigating the cabin's architectural typology and influence on contemporary culture. The idea for this exhibition originated with independent curator and writer Jennifer M. Volland, who we are thrilled to work with again. The Gallery hopes to capture the imagination of visitors as they become reacquainted with the cabin and its storied history."
Cabin Fever will include works by Vikky Alexander, Anshen & Allen, Ant Farm, Steve Baer, James Benning, BIG (Bjarke Ingels Group), Marcel Breuer, Henrik Bull, John Campbell, Camp Brand Goods, College of Architecture, Texas Tech University, Colorado Building Workshop, University of Colorado Denver, Walker Evans, Filson, R. Buckminster Fuller, Andrew Geller, Mattie Gunterman, Herschel Supply Co., Bo Helliwell & Michael McNamara, Lloyd House, Ken Isaacs, A.Y. Jackson, Richard Johnson, Olson Kundig, Dorothea Lange, John Lautner, MacKay-Lyons Sweetapple Architects, Jock Macdonald, Liz Magor, PARTISANS, Patkau Architects, Pendleton, George Rockrise, Arthur Rothstein, Lee Russell, Eero Saarinen, Rudolph Schindler, Scott & Scott Architects, Jack Shadbolt, Sitka, Henry David Thoreau, UUfie, John Vachon, Frederick Varley, Frank Lloyd Wright, and John Lloyd Wright.
This exhibition is organized by the Vancouver Art Gallery and curated by Jennifer M. Volland, Guest Curator, Bruce Grenville, Senior Curator and Stephanie Rebick, Associate Curator.
---
More information is available via the Vancouver Art Gallery website, linked here.