Studio TK to debut Merchandise Mart Chicago showroom ahead of NeoCon
Studio TK today announced the opening of its first-ever standalone showroom. Designed by Tolleson, showroom #1041 is located on the tenth floor of The Merchandise Mart in Chicago. Its opening coincides with NeoCon, which runs from June 11 to 13 at The Mart.
"These are exciting times for Studio TK," said Charlie Bell, President, Studio TK. "In addition to our showroom opening in Chicago, we recently announced a new partnership with Artifort that enables us to distribute select furnishings in North America by the renowned Dutch firm. We will be exhibiting Artifort furnishings in our showroom. We will also be launching Borough and Cesto – our latest two Studio TK collections at NeoCon."
The space was designed to embrace the Studio TK philosophy that "It's okay to be human" and that, as humans, we desire choice and the ability to work how we want. The entrance conveys a gallery experience. Divided into two rooms, it serves as a vestibule where new products are introduced in a formal, gallery-like setting. The first new product encountered is the Cesto interactive collection of seating and table elements designed by Khodi Feiz. To the right, visitors encounter another NeoCon introduction – the Borough modular seating collection from Christophe Pillet.
A small opening connects to a second, more dynamic room, with artwork and installations suggestive of the power of social engagement and interaction. This central space is devoted to a Studio TK brand exposition. Throughout this inner brand experience, visitors find more residential finishes and colours. The transition from the blank gallery into a warm, vibrant experience is complete.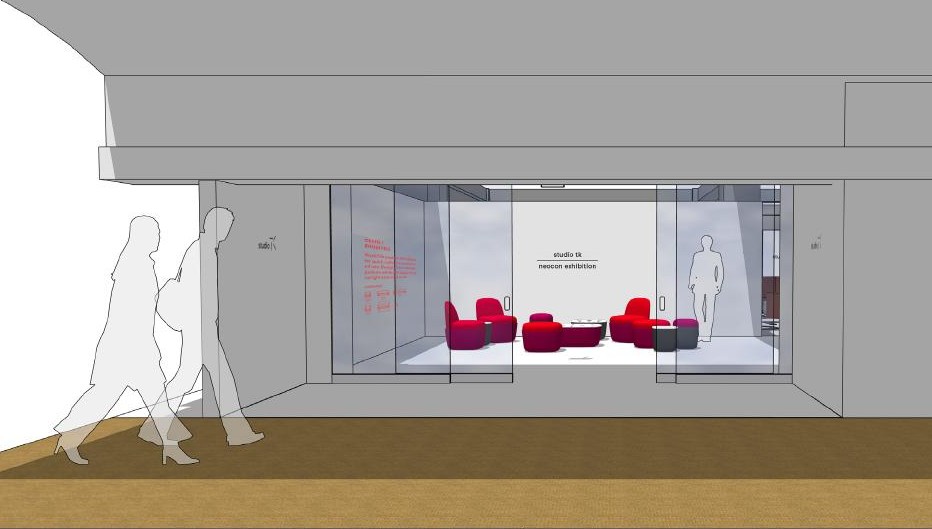 Here, one also experiences a collaborative environment with Cesto poufs that create more casual spaces that could be used in break-out rooms or areas of ideation. An alcove to the right highlights the new agreement with Artifort and includes a collection of four products celebrating the new partnership – Beso seating collection, Pala lounge, Kalm lounge and Nina seating.
The rear of the exhibition is home to a small café space with full product map showcasing the depth and breadth of the Studio TK line. A hospitality lounge welcomes groups to meet in a very relaxed environment.