For 25 years, LoyaltyOne has changed the landscape of rewards programs through innovation, technology, and building relationships, using data and analytics to pursue business strategies. Gensler's analysis and design of its workplace empowered LoyaltyOne with boundless choice and variety to foster a cultural shift and new, positive business outcomes.
The goal for the design and relocation of LoyaltyOne's headquarters was based upon a comprehensive workplace strategy that sought to optimize the experience of the space to drive performance, while understanding the company culture. The new design reflects one of LoyaltyOne's core beliefs: that innovation is fuelled by open dialogue and exchange between employees, even in informal or chance encounters. As a result of shifting to a 100% activity-based and unassigned ecosystem with a 1.25:1 sharing ratio, the Toronto headquarters' workplace strategy has been implemented across its locations worldwide, including its Gensler-designed Montreal and Toronto offices.
LoyaltyOne's burgeoning workforce includes programmers, analysts, brand managers, and UX designers. Its headquarters—previously characterized by high-partitioned cubicles and private offices for executives—required a design to attract and retain top talent.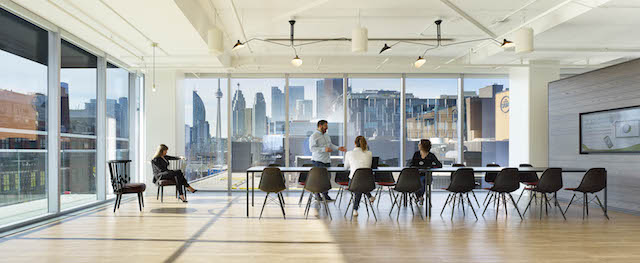 As a data-driven business, LoyaltyOne grounded their decisions for its future workplace in information and analysis. A study of its 12 lines of business included a detailed space analysis that encompassed activity analyses, security card reader analyses, camera journaling, sensor time utilization studies, and electronic surveys about employees' work habits. Additional qualitative insight was captured through vision sessions, focus groups, and interviews.
From this initial data, Gensler designed a 5,000-square-foot pilot work space to further test and refine different design ideas and planning strategies. Each of LoyaltyOne's brand groups spent four to six weeks working in the pilot space. The groups completed pre-surveys, as well as post- occupancy evaluations. Gensler used the resulting data to tweak each iteration of the pilot workspace, making on-going improvements even as the experiment was being conducted. The pilot space program and strategy was a tremendous success informing the subsequent phases of the headquarters as well as a worldwide workplace strategy as LoyaltyOne adopted a 100% open plan and 100% unassigned workplace.
Seeking to inspire open dialogue, unity, and collaboration among its associates, LoyaltyOne's working environment is diverse and dynamic, allowing for maximum flexibility and variety upon its six floors.
Upon entering the space, guests and employees are drawn towards the double-height atrium featuring oak bleacher seating. Fostering immediate connection and communication, the atrium is the focal point of the office for Town Hall meetings, events, and spontaneous gatherings. At its far end, the atrium showcases LoyaltyOne's internal brand messaging on a grand video wall.
Beyond, the workplace ecosystem offers choice, balance, and focus. Individual work settings include phone rooms, height-adjustable workstations, focus pods, high tops, and booths to offer employees a wide choice of postures and privacy levels. Group work settings include large and small enclosed meeting rooms—bookable and non-bookable—as well as open collaborative areas. Community spaces, best exemplified by the atrium's bleacher-stair, include the Berkeley Kitchen (a communal bistro), three outdoor patios, the Taddle Creek barista bar and catering kitchen, and on-floor collaboration cafés. The overall space is accentuated with a natural aesthetic theme of wood slat ceilings and screens to cohesively unify the six floors.
To bolster the company's tech-savvy culture, a plug-and-play interface allows connectivity throughout the office, between regional offices, and in unassigned settings at any time. Their technology integration unexpectedly resulted in a reduction of paper use with 48% fewer black-and-white prints and 61% fewer color prints.
After several months in their new space, the initial feedback from both leadership and staff has been overwhelmingly positive. The post-occupancy survey is scheduled for completion soon, but the company's social media channels are already buzzing with the excitement of their new space and new ways of working. Staffers are posting their new workplace experience to places like Instagram, which is already helping LoyaltyOne meet their talent attraction objectives and gain position at the top of its industry