Despite its small size relative to other Canadian cities (with a population of slightly over one and a half million, according to the most recent figures), Calgary's restaurant scene has a level of sophistication that rivals international cities many times its size. From tiny boîtes to hotel lounges and high-end restaurants that offer up every kind of cuisine you might desire (and a sizeable number of innovative or simply offbeat concepts you may never have thought of), hospitality has become one of the most competitive and dynamic industries in the city.
Great restaurants ultimately live or die by the quality of their food, of course, but great design is a key part of what makes it a place you'll want to try, stay in, and come back to. And no less than the cuisine, the design of some of the best restaurants here could compare favourably with those in New York or London.
What does it take to design a memorable interior in this demanding atmosphere? We asked three of Calgary's top restaurant design specialists to describe their process, and offer some insights on how the city attained its rep as one of the trendiest restaurant destinations in Canada.
McKinley Burkart
"Nowadays in town, if you don't have a great restaurant design you're in trouble," says Walker McKinley, who with partner Mark Burkart launched McKinley Burkart about 20 years ago. McKinley believes that at heart, what's driving the city's hospitality industry is a population that's overwhelmingly white-collar, well-educated and well-heeled. "Because of the oil and gas industry, which drives a lot of the city's economy, it's always been a wealthy city, and a well-travelled one. So they're very international, and have well-developed tastes."
McKinley Burkart is one of the elder statesmen of the Calgary restaurant design scene, despite the relative youth of its proprietors. The partners started working together while still undergraduates, and began specializing in resto design at the very start: one of their first commissions, while still in school, was to design a couple of new restaurants for some friends. The friends' enterprise eventually morphed into the Concorde Group, today one of Calgary's largest and most successful restaurant groups, and continues to work with the designers as the fortunes of both firms have advanced.
"A restaurant is really a form of theatre, where you can set up a whole experience," observes McKinley. Creating an entire narrative inside the world of the restaurant is in some ways as complex as dramaturgy, he says. "We are really very collaborative with the clients from the beginning, at every level: from the owners to the front of house people, the chefs, everyone who will be involved. We get into the entire program, with the geography, the cuisine, the site, the overall atmosphere, in order to develop a cohesive theme."
One the firm's newer projects, The Wednesday Room, illustrates this immersive approach. "We wanted to take a 'nostalgic approach to something never experienced,'" says McKinley. "That may sound strange, but it's a typical experience for many Millennials, who have been deeply exposed to the past, but never actually lived it." Located in the basement of an older office block, the lounge evokes a'60s rec room, or a clandestine hideaway where Don Draper might rendezvous with a mistress, midweek. Exposed-stone and wood-panelled walls, furnished with retro groupings next to a fireplace, make it feel like a mid-century home – or, as he says, your uncle's basement, complete with Stanley Kubrick movie memorabilia. "But it's also a celebration of the whole idea of the lounge," says McKinley. "This kind of 'mashup' is very typical of our work."
Along with the design proper, the company operates three in-house supplementary divisions that work with the clients and the design team to build a complete, self-contained package encompassing every aspect of a restaurant's visual presentation. Little Sister, an in-house branding and graphic design department, produces the imagery, logos, menus and physical manifestation of the theme; Tableau, its furniture procurement, design and manufacturing arm, manifests the physical creation of the interior.
There's also a third division called Black Chamber, which McKinley describes as a "think tank," focused on the softer, blue-sky aspects of design theory, which conducts research across an eclectic range of sources: from international design and other influences to chefs, deejays, economists, and even lawyers, seeking to find clues to the future in ideas, trends and tastes. "It's very experimental, seeking new ideas from wherever they may be," he says. The collective result is a strong narrative that resonates with target patrons from the moment they step inside, or perhaps even from the moment they alight from a cab out front.
Sarah Ward Interiors
Designer Sarah Ward acknowledges that Calgary's general population, which skews towards young, energetic and well-educated restaurant patrons, tends to attract restaurateurs who are interested in pushing the envelope in both cuisine and design, and who find a ready, and demanding, audience. "The scene has quite rapidly exploded; we have a very sophisticated group of restaurant owners here who are really interested in advancing the level of design in the city."
Ward spent the early years of her career working in every aspect of design from retail to residential to commercial design, excellent groundwork for her eventual focus on hospitality. "Once you get started in this area, it's hard to pull away," she says. "They're fantastic projects to get consumed by."
The initial approach from the client may consist of a fully-fledged concept, or merely samples of an atmosphere or idea that needs development. The first and most critical stage happens long before Ward and her team begins to sketch out ideas, with a series of in-depth interviews and brainstorming sessions with the client. "You have to be very aware at this stage. We spend a lot of time just listening." Germs of ideas begin to emerge, and are developed further through wide-ranging research from a variety of sources: inspirations from cuisine, design history, and cultural and iconographic details that will help the concept coalesce into a visual theme.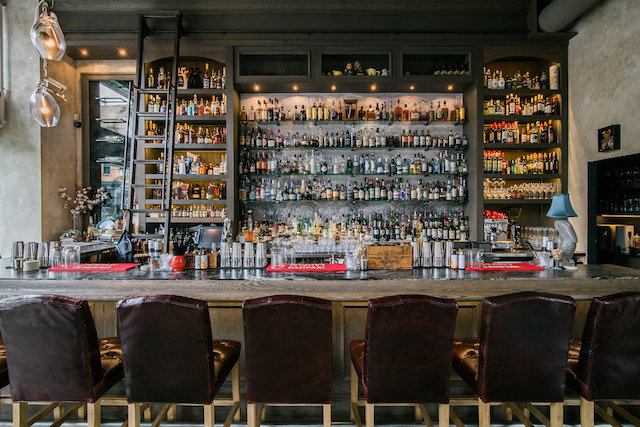 "Sometimes it's guided by a regional cuisine, or it might be a certain narrative. A good example of this is Proof Cocktail Bar, where we wanted the space to feel like a local bar on a street corner, or even the basement of a home." With its concrete walls and floor, exposed ducts and moody, industrial-inspired lighting, Proof looks the way Miles Davis' trumpet sounds.
Implementing the concept of a new restaurant is at least as closely controlled a process as developing the theme in the first place, she explains, even down to details such as the design of the tableware. "In hospitality, you expect to work more closely with trades and millworkers because of the nature of the interiors, but sometimes it might even be to the point of re-educating the trades to certain textures or details that we want: installing tiles just slightly crooked, or finishes that are slightly rougher, to make it feel less perfect, more relaxed."
Frank Architecture
"When you're a young, fresh firm, you bring a lot to the table," says Kelly Morrison, who along with Kristen Lien and Kate Allen, form the three-woman team of Frank Architecture and Interiors. Morrison dates the genesis of Calgary's blossoming restaurant scene to a cultural shift that coincided with the economic downturn of 2008-9. "There was a big drop in oil prices, which of course affected us directly, so smaller restaurants became very chef-driven. They had to try and push harder, just to survive. So they became seen as not just a food experience, but a whole experience."
Around the same time, adds Lien, Calgary began to become aware of — and to celebrate — its entire local culture, spurred by its energetic and charismatic young mayor, Naheed Nenshi. "It's become a city of mostly young entrepreneurs, bringing a strong influence to the local culture. And a lot of these young entrepreneurs are seeking out smaller design firms like ours, since we're young entrepreneurs ourselves."
Architecture school classmates, the three partners cut their teeth on early Concorde Group projects such as Model Milk, National and Clive Burger, getting an early sense of the restaurant-as-stage-set and a wholly conceived experience. "Model Milk is a great example of that," explains Morrison. "The open kitchen at one end is like the stage, with all the seating like the audience, where you can look over at any time and watch the chefs in action."
Like designers in every idiom, the trio aver that the concept starts with the client's idea — "We have a very open door when it comes to new ideas" — but in practice sometimes that requires imagination and a bit of sleuthing as well as a keen sense for what will bring in an audience. "We like to take an idea and dive down into it to see what we can relate it to. A good example would be Bridgette [another Concorde Group project, which opened last year]. The client came to us wanting an approachable space where people would feel welcome, enjoy good food, great music, a friendly atmosphere." An inviting idea for a new restaurant perhaps, but not much for a designer to hang her hat on. "So we thought, what can we compare that to? We kept coming back to the idea of a backyard barbecue, so we conceived the idea of a neighbour's house. It's in a great older building with lots of character, so we set that off with a soft mid-century colour palette, casual furnishings and materials, and a welcoming character generally."
The designers also note that in the competitive Calgary scene, innovation and a keen awareness of what's happening internationally is compulsory. "Hospitality is a very dynamic industry; we do a lot of research on projects all over the world to keep current on what's going on elsewhere," Morrison observes. "Our clients in the hospitality field have been to restaurants and hotels everywhere internationally, so they expect that level of design from us."
"We're also constantly researching new products and new materialities," says Lien. "There are so many new types of cooking, customer experiences, and design innovations. That's actually what keeps our jobs fun and constantly interesting.