élément de base launches Old Montreal pop-up space
Montreal online furniture brand, élément de base, launches another new pop-up experience in Old Montreal until September 30, 2018. Nestled for a limited time at 395 Notre-Dame St. West, élément de base unveils a selection of fresh new sofas in an immersive and unconventional creative space, alongside notable design collaborators.
Montreal light fixtures designer duo, D'Armes, exhibits a selection of handmade, clean, modern and minimalist lamps. Artist Jade Rude enhances visitors' visual experience with a trompe-l'œil sculpture that explores the relationship between space and perception. Last but not least, an independent magazine, The Fine Print, reveals its latest publication "WEALTH," curating the best in fashion, art, photography, design and innovation.
The 4th élément de base pop up edition will immerse visitors in a charming and futuristic universe made by the creative duo, Creative Flats. The display includes mirrors, chrome materials and natural shades of velvet, from sand to mustard and brown, which triggers a state of contemplation. At the heart of the space reigns affordable élément de base furniture designed in Montreal, well known for its unique and functional aesthetic.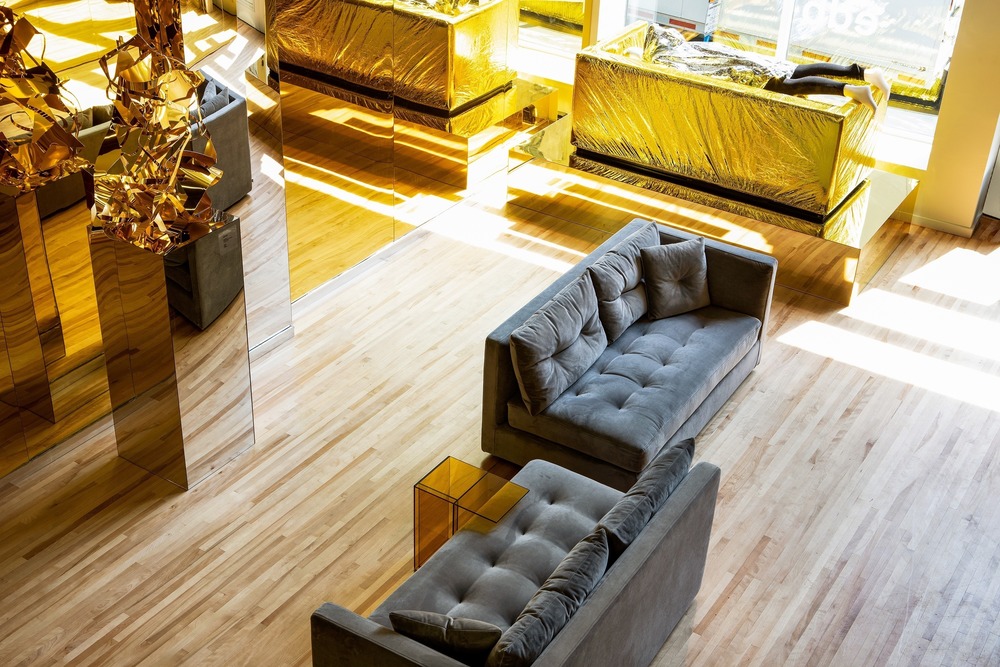 The Dive sectional, now available in new shades, aims to seduce with its audacity and an 80s je-ne-sais-quoi. The Stripes model, with its vertical quilt pattern, sports a new espresso colour. Featured furniture also includes: new beanbags, the amber Perplexe side table and the steel grey Piqué modular sectional.
The list of partners for this 4th edition
Creative Flats
D'Armes luminaires
Jade Rude
The Fine Print
Opening hours
Mon-Wed: 11:30-6 pm
Thu-Fri: 11:30-8 pm
Sat: 12:00-6 pm
Sun: 12:00-5 pm
Now until September 30, 2018
Pop-up address: 395 Notre-Dame West, Montreal, Quebec, Canada