Circo Lounge Chair│Ames Sala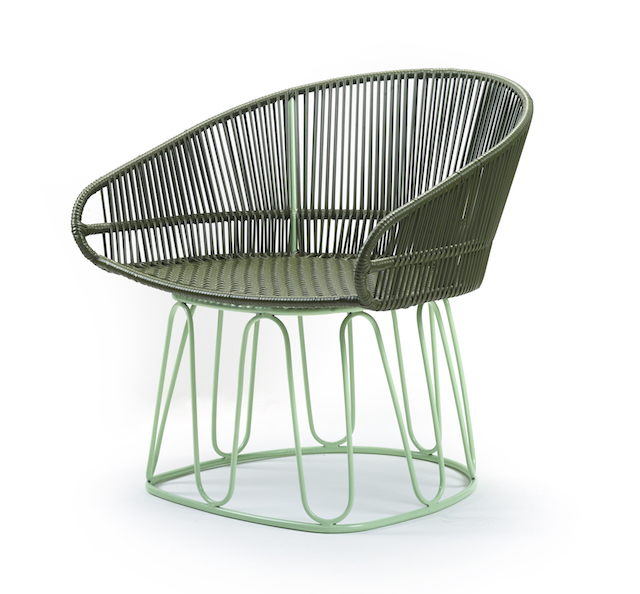 This funky German furniture label founded in 2006 with Colombian roots tapped German mega-star designer Sebastian Herkner for the Circo. Handcrafted in Colombia for both indoor and outdoor use, it is made from a combination of powder-coated tubular steel and colourful synthetic weave. www.ames-shop.de 
DS1000│de Sede 
Forget names: for the Swiss it's all numbers. The DS1000 lounger, designed by Ulrich Kössl and the de Sede Design Team, combines a piping frame with a free floating canvas cushioned lounger matt, held together by leather belts which also enables the user to adjust the softness of the matt. The end result of this material medley is surprisingly comfortable. www.desede.ch 
 Rope Light│AKTTEM Studio Verena 
Designed by Verena Hennig, this simple, fully dimmable modular lighting system with LEDs encased in a technical mesh is a uniquely versatile architectural lighting solution. The illuminated line can be arranged with multiple hanging strings to create a light curtain or simply put up to resemble a chandelier: adaptability options are almost endless. www.akttem.com 
 Lantern Copper Light│Classicon 
Designed by Shanghai-based Neri & Hu, Classicon's Copper Lantern is an updated version of a previous incarnation, and is available in both table and floor versions. The trick achieved here is giving the light a unique and unconventional look that is both modern and traditional. www.classicon.com 
 Nomad Bamboo│Norr11 
Wicker chairs aren't usually something designers get excited about, but the Nomad's classic Scandinavian design of a traditional Moroccan wicker chair might very well change your mind.  Built with a bamboo frame and inlaid with French semi-transparent bamboo mesh, the Nomad is finished off with a rich cognac leather neck pillow and seat cushion, a warm accent complimenting the design by Kristian Sofus Hansen and Tommy Hyldahl. www.norr11.com 
 Ivy│Brokis S.R.O. 
Although best known for the beautifully coloured and hand-blown Muffins and Knot glass lights, Brokis' decorative Ivy lights have a very organic feel resembling lit leaves hanging from a willow tree. Designed by Lucie Koldova (of Das Haus fame), the modular Ivy system is available in three sizes and opal or smoked glass. www.brand-kiosk.com  
 Marble Wing│Draenert Sudio 
Designed by architect and designer Hadi Teherani, the marble wing is a chaise longue crafted from a single natural stone block of Carrara marble. With its timeless modern design and clean lines, solid jagged textured base and its polished seating surface, this limited edition museum piece makes the perfect showpiece for any large contemporary space. www.draenert.de 
 Limpid Light│hollandslicht (Eikelenboom) 
Designed by Eindhoven's VANTOT design collective and manufactured in the Czech Republic, the Limpid collection consist of traditional mouth-blow glass shades and an inventive pulley system which enable the LED module's position to be adjusted up and down within the shade to offer a variety of lighting conditions. www.hollandslicht.eu 
 Bundle Sofa│Walter K. 
A treat to sit on, the Bundle has a sculptured, floating and airy feel due to its delicate and unobtrusive base, soft upholstery and clean lines. Designed by Austrian stars EOOS, the extraordinary comfort was accomplished through turning and folding the fabrics as part of the design concept. www.walter-k.com 
Bay│B&B Italia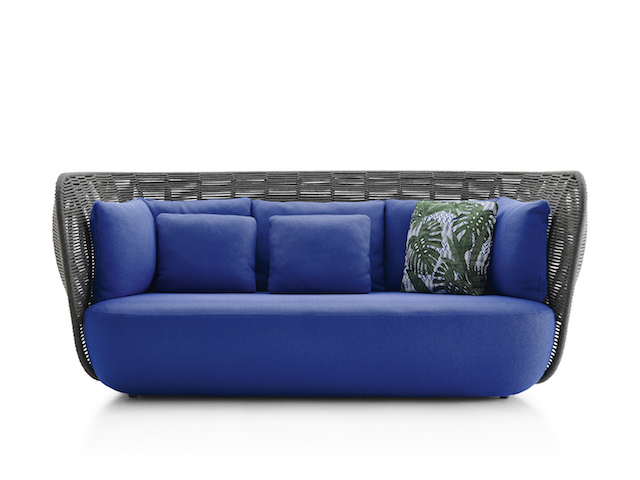 Designers Nipa Doshi and Jonathan Levien have added B&B Italia's iconic design to outdoor seating with this collection. Made from fibre braided on a tubular steel frame, the oversized, high backrest armchair and sofa collection is designed for comfort and elegance. www.bebitalia.com