"Ultra-rich property investors drawn to Singapore" was the main headline of The Straits Times' business section on day one of IFFS, perhaps explaining why Giulio Cappellini was seen meticulously primping his already-pristine exhibit on opening day. The Milanese designer wasn't the only household name who boarded the Orient Express: Paola Antonelli, Tom Dixon, and Patricia Urquiola (en route to represent Cassina at a fair in Ho Chi Minh City) were also spotted during the annual design week in the 'Little Red Dot.'
Across 40,000 square metres of the Singapore EXPO, 374 IFFS exhibitors from 26 regions—including local favourites Nathan Yong and Lanzavecchia + Wai—played host to 19,196 visitors from over 100 countries. To accommodate the rapidly growing interest in the third-most favoured country for Asian investors (after Britain and the U.S.— based on a wealth report by real estate experts Knight Frank), the 2019 edition will be migrating to the city's Marina Bay Sands hotel: a pinnacle of Asian luxury, complete with Instagram-worthy rooftop infinity pool.
So, why Singapore—and why now? During the fair, Cappellini disclosed that 70 per cent of his business currently comprises commercial—particularly hospitality—properties, an area Singapore appears to know no bounds. Take for example its over 500 hotels (including iconic Raffles being revamped with Alexandra Champalimaud interiors); approximately 2,500 restaurants (47 Michelin stars to-date); and almost 700 bars (six of which are ranked in the world's top 50) that pervade the tiny island, merely two-thirds the size of Manhattan.
Despite these thousands of hospitality outlets, Singapore has an entrenched culture of extravagance and an increasingly liberal view. So naturally, it's hungry for more. Positioned as the third richest nation, this modern 53-year-old finally possesses a progressive mindset combined with deep-enough pockets to compete on the global contemporary design stage. Let the games begin.
"The Italian Hospitality"│Giulio Cappellini 
For his second year as an IFFS exhibitor, the creative director invited nine contemporary and innovative Italian manufacturers to incorporate their products into his gallery-like space that emulated an apartment in Milan's sophisticated Corso Como district. Alongside leading brands in ceramic (Cedit by Florim, Casamood), bathroom (Olympia, Vismaravetro), and lighting (Icone Luce, La Murrina), Cappellini showcased Roberto Beltrami, a young glass master from Murano who has also caught the eye of Roche Bobois. 
Carte Blanche│Chantal Hamaide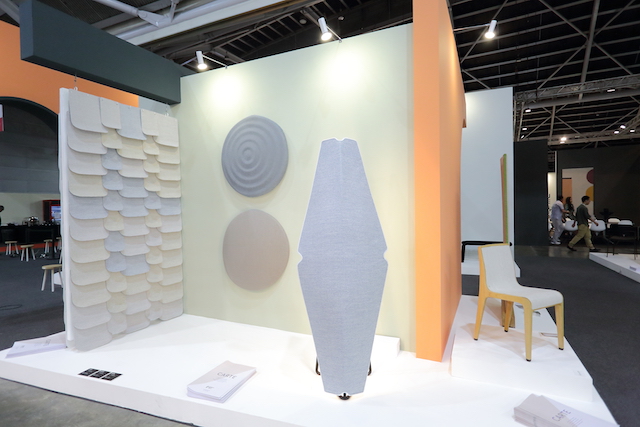 The founder of French magazine Intramuros was selected by design consultancy Tanke. London to curate the main exhibit that took centre stage in Singapore EXPO. Within a deconstructed villa-like setting choreographed by Paris's Arro Studio, Hamaide displayed 18 European and Asian brands including: Sancal, Pierre Frey, Moustache, Petite Friture, Coedition, and local favourite Grafunkt (headed by Singaporean Nathan Yong) in a west-meets-east theme of 'New Traditions.' 
 Mesa│District Eight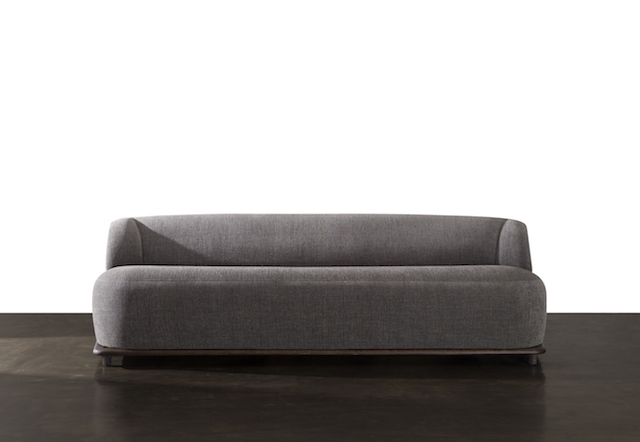 This eight-year-old Vietnamese studio oozes industrial cool. Defined by bold, raw, and handcrafted furnishings, District Eight of Ho Chi Minh City launched its Mesa collection that features a stain-resistant grey squirrel tweed sofa and a blackened oak-and-glass coffee table, both available in various configurations. Several new dining tables and chairs, plush seating, and bedroom furniture were also introduced, mostly in a dark and neutral palette. www.districteight.com 
 Peranakan Moderne│Ipse Ipsa Ipsum 
Launched in 2016, this homegrown furniture and accessories brand collaborated with Singapore's Peranakan Museum to produce a line inspired by the city-state's unique culture that mixes Chinese and Malaysian traditions and aesthetics. Ipse Ipsa Ipsum (meaning "himself, herself and itself" in Latin) worked with local designers Jeremy Sun and Nicholas Paul to create ornate yet pared-back pieces that reference the museum's vibrant and exquisite artefacts. www.ipseipsaipsum.com 
 Spot│Jattamon Buddharee 
In the emerging designers section, Thailand's Jattamon Buddharee—who is inspired by tech visionaries Tim Brown and Elon Musk—displayed her marble and wood coffee table that resolves the conflict of decorative objects taking up valuable space (it originally began as a wastebasket beneath a table). Spot features a movable tray that doubles as a drinks transporter or small items storage; once removed, the void reveals a shelf below that can secure taller pieces such as vases or bottles. 
 Diamond│Koda 
This local furniture manufacturer with locations across Singapore, Malaysia, Vietnam, and China, was founded by in 1972 by IFFS chairman Ernie Koh. In its large and leafy booth that resembled the lush urban jungles found throughout the Lion City, Koda introduced two new lines: Diamond (a blackened wood chest, a sideboard, and a coffee table featuring a faceted-look façade); and Lideal (a TV unit and a sideboard), defined by thin strips of rubberwood in monochromatic shades. www.kodaonline.com 
 La Lampe Couture│Maori 
The latest addition to this Hong Kong/Paris-based outdoor furniture company is a collection of solar lamps by French duo Normal Studio. Taking inspiration from traditional Asian lanterns floating in the sky, Couture is made from recycled aluminum and Batyline Alphalia: a tight mesh by French manufacturer Serge Ferrari which also maximizes the LED's capacity while emitting a soft, diffused light. www.maiorifurniture.com 
 Kitsune│Natadora 
The Hong Kong manufacturer presented seven elegant lines with design led by Japanese and Portuguese designers aimed at residential, hospitality, and co-working space including a line of sofas and armchairs defined by pinched corners, stitched detailing, and spindly metal legs. Produced in Ho Chi Minh City under Danish management, the refined pieces are available in fine fabrics or leather from names like Kvadrat and Sorensen, and appear to draw influence from the soft forms and muted palettes of Scandinavia. www.natadora.com 
 Folks│Nathan Yong 
"Being a designer doesn't mean you earn a living drawing sofas and coat stands. You are required to answer as many questions as possible." From interviews to business meetings, the Singapore native was spotted everywhere on the show floor. Against painted walls in vibrant yellow and pastel shades, Yong showcased his signature slatted style and affinity for wood through his latest collection. His Grafunkt x Star Wars collection of sculptural stools and side tables —released last year in collaboration with Disney—also appeared in Carte Blanche. www.nathanyongdesign.com