STACKLAB installation a finalist for SBID International Design Excellence Award
STACKLAB's Wild Abode installation is a finalist in the 2018 SBID International Design Excellence Award in the Public Spaces category. The competition, based in London, England, ranks among the most prestigious interior design award events on the global design calendar. Winners will be announced at a ceremony at London's iconic Dorchester hotel on Oct. 26.
"We're thrilled to receive this nomination, says STACKLAB Founder and Creative Director Jeffrey Forrest. "The quality of the experience and the strength of the message ultimately tie back to conscientious multidisciplinary design and collaboration. This is the brainchild of a team of developers, designers and skilled manufacturers who want to contribute to innovation in our built environment."
The original concept and commission for Wild Abode came from developer Great Gulf; STACKLAB collaborated on its design with branding firm Community Agency, the project's primary experiential design consultant.
The 13-feet-tall, 625-square-feet Wild Abode installation was a highlight at the inaugural Expo for Design, Innovation & Technology (EDIT), a 10-day event showcasing innovations in healthcare, housing, education and food. Toronto's Design Exchange and the United Nations Development Program sponsored the expo, which was held at the old Lever Brothers soap factory, dating from 1890, in Toronto's east end in September 2017.
The exhibit featured the public launch of Lightframe, a flexible, programmable lighting structure created by STACKLAB and Boston-based architect Jonathan Enns in 2015, when Great Gulf requested a lighting system for trade shows and events. Lightframe's prefabricated, stackable elements are assembled on site, which serves as a metaphor for Great Gulf's efficient, waste-minimizing method for building homes.
"Standard aluminum light segments reference our love of smart integrated modular systems, which we believe play a critical role in the future of design and construction," Forrest says.
The mission at EDIT was to use Lightframe to convey—artfully and educationally—how Great Gulf is a pioneer in environmentally friendly wood-construction systems. Great Gulf sees them as the future of building technology. A crew of approximately 35 designers, engineers and artisans installed 65 LED segments and 4,870 pine seedlings over six days.
The exhibit presented an abstracted image of a house being gradually overgrown by a nascent pine forest. At the centre, salvaged twigs were zip-tied together and wrapped around an existing structural column serving as the figurative tree trunk. Arrayed around it, at varying heights, were metaphoric leaves—the seedlings and soil in test tubes—hanging from a black-painted, CNC-milled poplar-plywood lattice trellis bolted to the existing concrete ceiling.
Lightframe integrates programmable multicolour LEDs within reconfigurable structural aluminum modules, allowing for infinitely customizable spatial forms and lighting patterns. This attribute was exploited to make Wild Abode an immersive, multi-sensory experience, with slowly undulating waves of light from the LEDs timed to simulate a body's breathing and heartbeat.
The scale of the Lightframe module's 8 by 8-foot bay relates comfortably to the human body. The dimensions permit easy, IKEA-style flat-pack shipping, and hauling inside a standard elevator. All the Wild Abode exhibit components fit inside an 18-wheeler (the standard trucking rig consisting of a tractor and a trailer, typically having 18 wheels).
The square Lightframe bay was topped by a triangular form rising four feet that engaged in semiotics, the language of signs. Here, it referenced a roof gable, the atavistic archetype for "house," a totemic image for children and one of the first things they learn to draw. Upon seeing this easily recognizable symbol, visitors intuitively made the connection that the exhibit pertained to housing. This connection generated an emotional response that an exhibit structure comprising cubes alone would not have evoked.
As for exhibit circulation, a desk-height railing with signage displaying information about renewable construction delineated a serpentine path for visitors. They meandered along the floor made of softwood (pine, redwood and spruce) mulch.
The fresh pine scent from the thousands of saplings evoked forests and pine nurseries. The fragrance wafted over the show floor, helping to make the exhibit an EDIT popular favourite.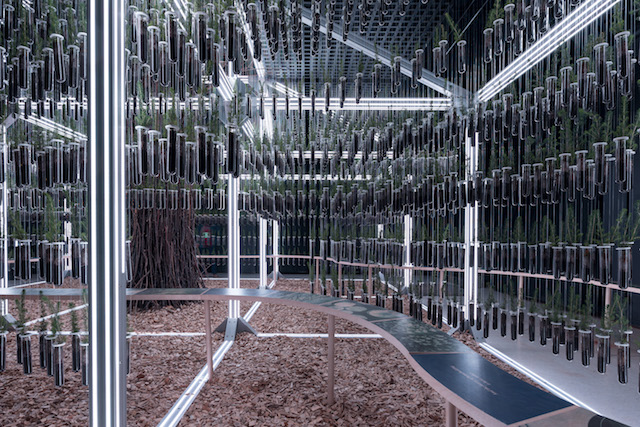 STACKLAB was founded by designer Jeffrey Forrest in 2013. The award-winning, Toronto-based multidisciplinary art-and-design studio experiments extensively with materials and fabrication techniques while pursuing a critical approach to form.
---
More information about the SBID International Design Excellence Awards is available here.
Images via STACKLAB / David Lasker Communications.