Mosaïque Surface launches eclectic French Quarter collection
Showcasing over 30 different mosaic patterns, available in nearly 100 natural stones, 16 colours of Venetian glass and various metal inlay options, the French Quarter Collection by Montreal-based Mosaïque Surface is by far the most sophisticated and biggest collection Mosaïque Surface has created so far.
The French Quarter Collection comes together in four stories, all inspired by the sweetness of the south and lux interiors that once were.
American Bistro serves a taste of modern vs traditional fare transpired into ageless trendsetting mosaic patterns, all steaming from century-old restaurant floors and tabletop linens from some of America's most outstanding restaurants.
On the waterfront, dancing wavelets deliver a sense of calm and blissfulness. Watery patterns, through a careful material assignment and bespoke design, are energized through the Gulf's Shores.
While iconic ironwork adorns the streets of the French Quarter, Architectural Preservation pays tribute to the artistic, contextual, and informative values of the French Quarter's cultural heritage.
Finally, walk through the Garden District on a Sunday afternoon and savour the some of America's best-preserved historic mansions. All beautifully adorned with a multitude of flowers and gardens, enough to beautify any home, old or new.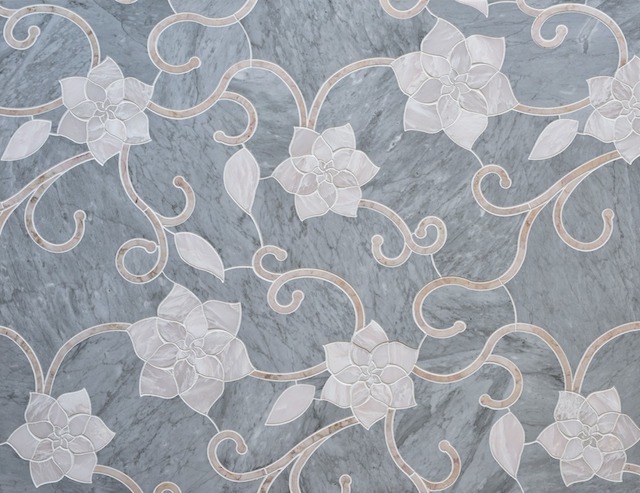 Since its founding in 1992, Quebec's Mosaïque Surface has specialized in custom stone mosaics and is recognized in the surfacing industry as a design-oriented company, they deliver top-quality mosaic products for both the commercial and residential markets.
---
The collection is available in over 250 showrooms worldwide and can be seen in its entirety at the Mosaïque Surface website, linked here.