SickKids is an internationally renowned tertiary paediatric facility. Since 1974, the Hospital for Sick Children Women's Auxiliary (WAV) has operated the Play Park as a place of respite and play for siblings of SickKids' patients, children visiting clinics, and families. The service is free, and parents can drop their children off knowing they will be cared for by Registered Early Childhood Educators and Volunteers.
Designed by Stantec, the Play Park provides entertainment for children ranging in age from toddlers to adolescents, providing much needed distraction and break. The care and diversion provided within the Play Park helps build positive associations and memories of hospital visits.
SickKids Hospital engaged the design team to provide planning/design services to renovate the existing WAV Play Park located on the Main Level, adjacent to the atrium. At SickKids, the priority is always "kids-first". The challenge here was to improve the user experience for children, family members, and staff, through better and more creative use of 1250 SF. With accessibility, safety and security in mind, the design creates opportunities for exploration, relaxation and engagement for a wide age range of children.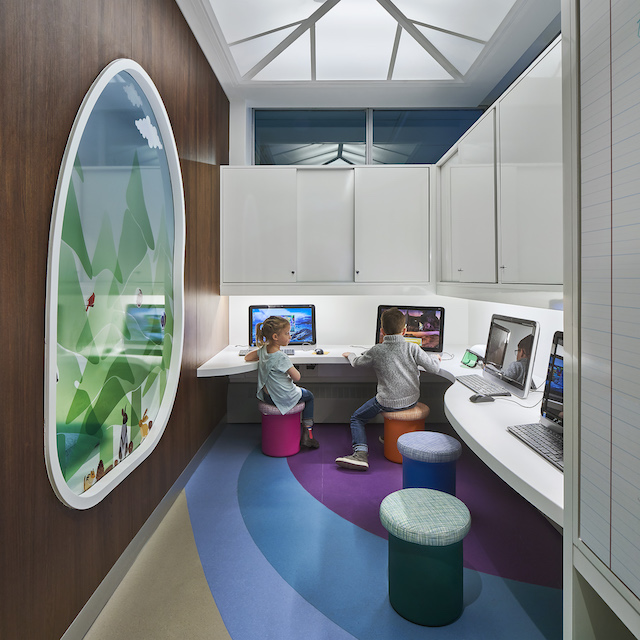 Building upon the idea of park, the space is subdivided into landscape features including lake, hill, cave, meadow, forest, and canyon, all of which have a specific design expression providing varied visual and interactive experiences. The central desk overlooks all spaces. The proximity of each zone allows for an uninterrupted view through the entire space maximizing openness, interconnectivity, and most importantly, safety.
One of the greatest strengths of children is their vivid imagination. The WAV space keeps this at the forefront by providing a variety of spaces for relaxation/quiet, creativity/art, exploration/active play, and performance/make-believe. Given this mix of activities and the very limited square footage of the space, there was a very real need to creatively address storage.
Books, toys, art supplies, costumes/dress up, kids' personal belongings/backpacks and ride-on toys like tricycles, and typical administrative/staff items are organized within invisible storage spaces throughout. By following this approach, the Play Park remains a light, bright and uplifting place, allowing the children to actively engage, create and imagine within the space. Custom art and graphics, by a local artist and design team member, further enliven the space and make it truly unique to the SickKids experience.
Flexibility and multiple functions are built into every element of the design. Millwork and walls are clad in a warm white writable/magnetic surface, so children can showcase their art. Translucent panels in the art area hide supplies, but also create opportunity for colour theory practice as one colour slides across one another.
Horizontal surfaces are flexible—designed for sitting, lounging, playing, creating, and climbing. Storage boxes for toys can be pulled out to create new surfaces for play, and then neatly tucked away.
Using these strategies, the new Play Park is infused with creativity, imagination and wonder, reflecting the joy of childhood, and also the wonderful contribution of the Women's Auxiliary to improving the lives of so many families facing childhood illnesses.