A brand that is instantly recognizable is an envious item to have. Companies spend millions to achieve such a thing, on elements ranging from logos to tag lines to merchandise to retail spaces and beyond. Travel Centre has such a thing. Most people know of and recognize the travel agency's sidewalk and mall presences by the bold red-and-white corporate colours, the whiteboards with hand-written prices of the day's flight deals, and a peek through the glass window of the oversized wall map of the world inside, beckoning to those who are perpetually bitten by the travel bug.
That storefront branding still exists, but Travel Centre actually does a lot more than just book flights and resort stays for you. Their business strategy includes corporate and professional travel, event management and similar entities, and a decision was made to experiment with a physical environment that blends these multiple brands into one location, merging a storefront retail area and event space with united offices for Flight Centre's products: an ambitious goal for which Toronto-based Quadrangle was tapped to pull off.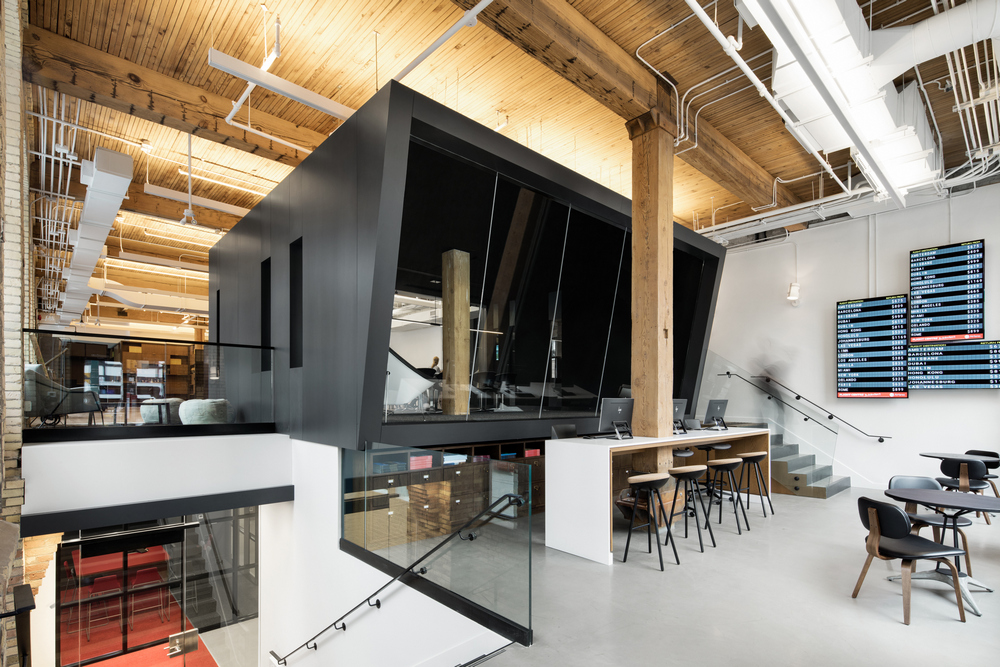 "A key challenge of this project was to design a workplace that easily accommodates and unifies the multi-use spaces from day to night, while bringing together all the entities within the Flight Centre brand," says George Foussias, Design Director at Quadrangle. "We started by locating an anchor, vintage building, into which we fit a boutique retail store, a signature event space, and a state-of-the-art work environment that speaks of travel, wonder, and adventure."
The vintage building of which he references is located at the intersection of King Street West and Spadina Avenue in downtown Toronto, originally built as a 19th century garment factory. It was important to Quadrangle to remain sensitive to both the historic quality of the building and rapidly intensifying area, and did so by keeping the scale and heritage quality of the façade intact and creating an interior using a materials palette that matches the bones of the building while capturing the attention of passersby.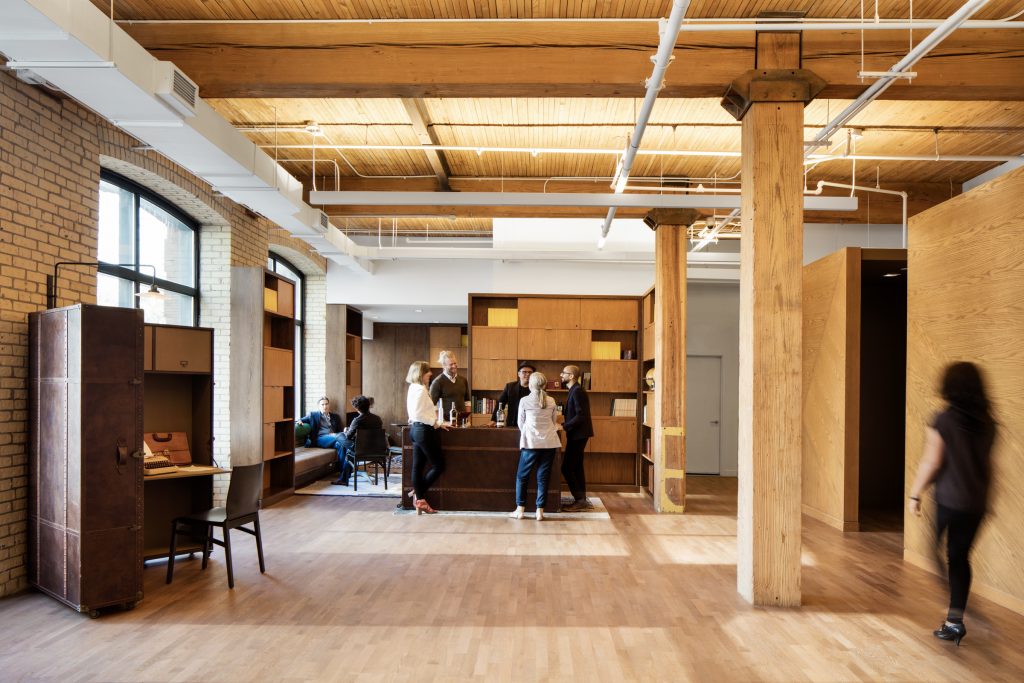 From the outset it was known that this three-storey, 10,000-sq.-ft. space would not be the new home for Flight Centre's head office (that is elsewhere in the city). Instead, it became an opportunity for Quadrangle to work with the client on a larger plan "to create narratives that would inspire people to travel, that Flight Centre can then put on various platforms," says Foussias. And the interior narrative that Quadrangle concocted — influenced by 19th century explorers' clubs and movies about fantasy travel including The Life Aquatic with Steve Zissou –is both unique to this location and truly delightful
When entering the double-height retail lobby the first thing to grab one's attention is the angled black box boardroom. This futuristic element, which Foussias calls "an object, not a room," hovers over a dual retail counter and reception desk and is glazed at both ends. This "fishbowl for all the brands," as Foussias puts it, provides transparency deep into the space while also framing views to the street. This retail space includes tables, casual chairs and banquette window benches beside brochure racks, the floor is decorated with a pattern of oversized passport stamps, and in a nod to the old whiteboards, digital monitors display the days' best travel deals in a style reminiscent of airport arrival/departure signs.
On the upper level, an event space dubbed the Explorers Club serves as a drop-in workspace for visiting executives and a backdrop for social media broadcasts, all serviced by an open-concept kitchen and bar. Informal gatherings can take place in the Map & Charts Room or the Travel Library, and desks concealed in oversized travel trunks on casters can be opened to provide personal workspaces.
The lower level workplace area brings the various Flight Centre brands together in a single location. The brick walls were painted white to optimize reflected daylight in the space, while each brand is demarcated by its own colour scheme. Open-style benching workstations are organized into departmental pods while individual desks are unassigned, allowing teams to ebb and flow as demand requires.
In the Wes Anderson film that served as partial inspiration for this project, The Life Aquatic with Steve Zissou, the title character explains that his goal is to set out to find the shark that ate his friend and destroy it. "Nobody knows what's going to happen. And then we film it. That's the whole concept," says Zissou. And in a way that seems to be at work here, too: you may not know what you're looking for when you walk in off the street, but it will most likely be an adventure.
---
Photography by Adrien Williams