Delight│Lea Ceramiche
The new marble effect laminated stoneware slab collection is part of the ceramic tile heavyweight's Slimtech range and comes in four different concepts that re-interpret the ancient material with a post-modern imprint, and is available in six millimetre thickness, three sizes and four different textures from a classical marble-type finish to a soft and velvety matt finish.
Pietra d'Iseo│Cotto d'Este
This new collection is inspired by a Lombard stone known as Ceppo di Grè, which was used to build the palaces, villas and monuments that characterize the historical appearance of the city of Milan. The surface is irregular in design with a unique tone-on-tone grey, and comes in a variety of sizes and thickness that make it applicable for both surface and floor applications.
Revolution│Cir
This new collection by one of the members of the Gruppo Romani family offers an interesting interpretation of the urban charm of oxidized metals, and in a sea of marble it reminds us why we have such an affinity for old industrial atmospheres. A mixture of tones is used to create five colour options in iron, copper, steel, lead and platinum and of course come in an array of sizes suitable for residential and commercial construction.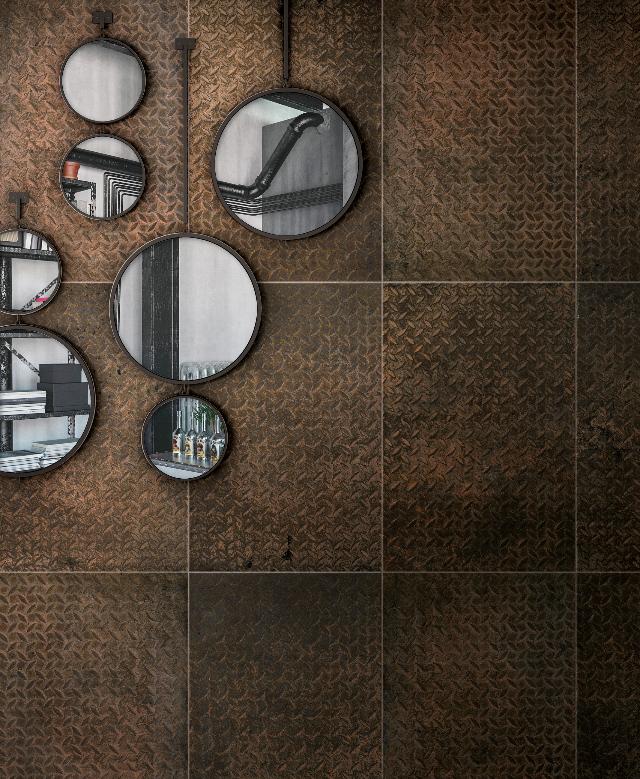 Arbor│Atlas Concorde
While mimicking the visual and tactile characteristics of wood in porcelain tiles is not new, this new collection is one of several where wood effects in ceramics are becoming increasingly realistic in appearance. Here, rectified monocaliber tiles replicate the knots and visible grain of oak planks in five colors: almond, tobacco, cognac (shown), natural, and grey.
Lines│Ceramica Bardelli
This rectified porcelain tiles collection applies clever concrete floor effects to both walls and floors. Designed by Storagemilano, the collection uses no-reflex glazes and comes in two versions – flat or three-dimensional with a brick effect – married to brass or steel strips which help creating eye-catching contrasts between the rough surface of cement and the decorated surface of metal.
Native│ABK
Debuting at Cersaie and inspired by the primordial appeal of porphyry quarried from the mountains of Italy's Trentino region, this agglomerate-effect collection is part of a broader trend towards interior design applications involving the use of fine-grained stones such as granites, including varieties that are most commonly used in outdoor applications. The dry pressed porcelain slabs come in five colours and can be used on indoor and outdoor floors and walls in residential and commercial buildings.
Freedom│ Ceramiche Piemme
The tiles in the Freedom collection recreate natural effects similar to a European limestone called Hautville, which has been used on the façade of the Empire State Building and the base of the Statue of Liberty (and hence the name of the collection). The colour palette contains five shades ranging from white through hazelnut to dark anthracite, and can be used as a wall covering and indoor and outdoor flooring.
Diamond│Mosaico+
Mixing the architecture of places of worship, such as cathedral glass with vein patterns, with references to modern architecture, such as the Art Deco of the Chrysler Building or the pure geometry of Frank Lloyd Wright, Diamond is all about acute angles, colour and grout. Yes, grout: this is an example of a collection that uses every material aspect of the ceramic tile as part of the overall vision.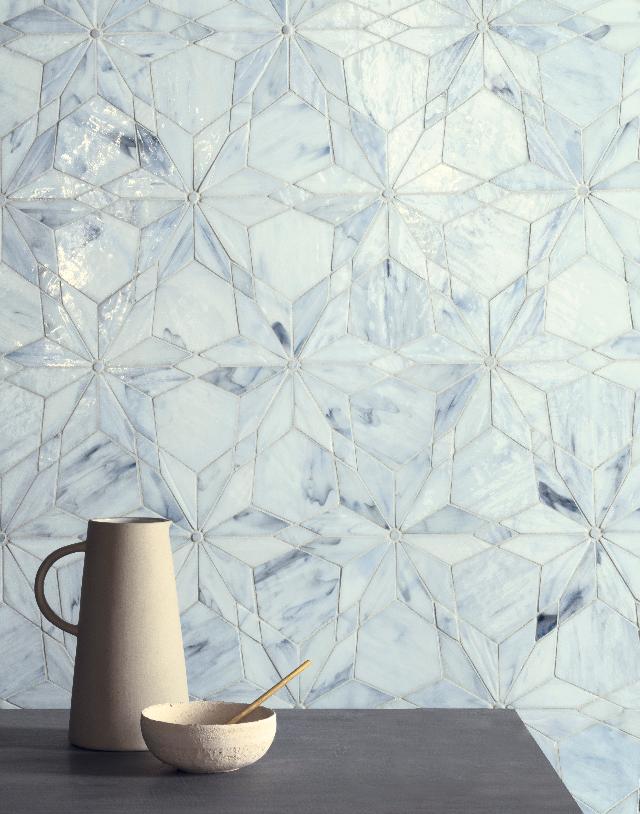 Gem Glass│Sicis
A Cersaie visit is not complete without a peek at what Sicis is up to. Always good for an eyeful, this year the venerable mosaic brand did not disappoint, rolling out new giant glass slabs made of polymers that mimic and amplify the look of precious jewels, turning walls into the stuff of a lapidarist's dreams.
Mosaic Patterns│ Bisazza
Bisazza's booth was exploding with trees, hedges and shrubs to form not just a nice oasis on the show floor, but also a backdrop for 20 new mosaics all inspired by outdoor greenery. Designer Carlo Dal Bianco took his inspirations mostly from famous French gardens, castles and palaces, such as Malmaison, a collection of oversized monumental roses taken from Joséphine Bonaparte's gardens at Chateau de Malmaison.