Felt Series | STACKLAB
The new colourful, candy-inspired Felt Series makes a stylish statement about material reuse. The benches and stool/side tables feature a plush seating surface made of layers of natural Merino wool, sourced from an online database of offcuts and end-of-bolt material. Held together by STACKLAB's plated-steel clamping hardware, the felt layers can be easily tightened or reordered to create unique patterns. The furniture is available in three heights: quarter (18 felt layers), half (48 felt layers) and full (80 felt layers).
Globe Trotter Collection | Roche Bobois
The new collection, designed by Marcel Wanders, is inspired by legendary adventurers, explorers and inventors such as the 18th century Montgolfier brothers, best known for inventing the hot air balloon. The collection features rugs, sofas, chairs, tables, cushions, lighting fixtures and bookcases adorned in colours, characters and patterns from history pages around the world; telling fascinating stories through their whimsical and worldly designs.
N01 | Fritz Hansen
The N01 chair by design studio Nendo for Fritz Hansen merges Danish and Japanese aesthetics to achieve a pure, natural design. Constructed by hand like a puzzle, the chair consists of 23 solid wood and veneer pieces with noiseless joints that barely seem to touch. The finished product is available in black coloured or natural oak and beech, with optional seat cushions in fabric or leather.
Stairs | Ethnicraft
The new Stairs collection by Alain van Havre deliberately distances itself from traditionally flat, static surfaces. The collection uses an angular face on its drawers and doors to establish a voluminous effect, giving movement and depth to its otherwise solid oak surfaces. The resulting cupboards, sideboards and chests look different from every angle, casting shadows and catching light in any room of the house.
Fullerton Chair | m.a.d. Furniture Design
Meant to fill a space without overpowering it, the chair's epoxy-coated steel frame and plywood shell create a sleek, monochromatic look, while its curved back — which blends seamlessly into its legs — adds interest and support. The stackable chair is available in slate blue, sage green, white and black.
Fulton Lounge | HBF
Previously only available as a rocking chair, HBF's Fulton has been reimagined as a lounge chair with new metal legs, an upholstered inner shell and a gently cushioned, ergonomic back and seat. Designed by MNML's Scott Wilson, the lounge chair cocoons the user ever-so-slightly to minimize audible and visual distractions, making it equally perfect for the workplace as the home.
Ideation | Luum Textiles
The newest collection by Suzanne Tick provides fresh perspectives on classic materials, allowing colour and texture to drive the aesthetic of four new upholstery patterns: the architectural and topographic "Seismic Shift," the muted and multi-coloured "Heather Tech," the brickwork-patterned "Modulus," and the honest and natural "Digi Tweed." Each upholstery option is made of recycled content, including polyester and cotton, and is stain repellant.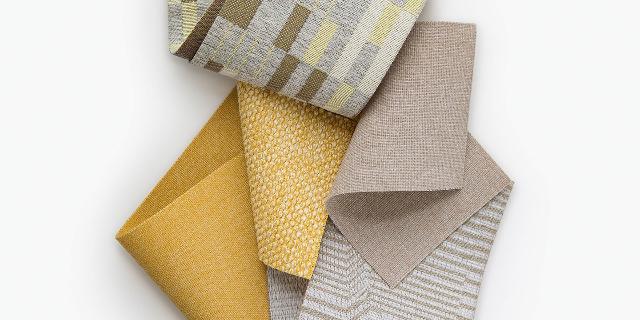 Emerson and Kura | Keilhauer
Made of 80 per cent post-consumer polyester from recycled plastic bottles, the Emerson is available in 15 colours — including deeply saturated blues and gentle neutrals — with a soft texture and understated horizontal rib. By contrast, Kura makes a bold statement by blending Alpaca mohair with virgin wool and polyamide. The resulting velvety texture is backed by durability and abrasion resistance, and is available in 12 colours, from pale silvers to blue inky black.
Tango Table | Beaufurn
Small but functional, the Tango Table is perfect for commercial cafes, tiny dining spaces, kitchen nooks, college dorm rooms and more. Its circular (or square) steel top swivels to folding position for easy storage, while its three-footed, tubular steel base ensures stability. The table is available in seven colours, with dining and bar height options.
Tinseltown | Architex
Tinseltown is every bit as glittery and glamorous as it sounds. Made of 100 per cent polyester, the gilded velvet is embedded with metallic yarns to create a playful sparkle. Each colourway even has its own famous name, from the red Dolby Theatre to the blue Melrose Avenue, bronze Sunset Strip, and grey Walk of Fame. Tinseltown is part of Architex's LJH II Solids & Textures collection.
Chaucer | Architex
Naturally hypoallergenic, flame resistant and eco-friendly, Architext's Chaucer upholstery line blends soft wool with twist boucle yarn to create a rich and dimensional pattern. The wool tartan plaids pay tribute to British heritage, and are available in five colourways, from bright yellow to rust orange and turquoise blue. Chaucer is part of Architex's Loom and Mercer collection.
Line Art | Carnegie X Gensler
Line Art, an upholstery collection by Carnegie in collaboration with Gensler, is inspired by the tactility and flexibility of active sportswear. Four different knitted textiles — including geometric patterns and neon, texturized or bulky stripes — can stand on their own or be layered together, and are equally suitable for indoor and outdoor applications. Together, the dynamic upholstery styles form a collection that celebrates the comfort of sportswear alongside the time-honoured stripe.
Nuez Chair | Andreu World
Born from the idea of creating a modular seat as if it were a sheet of paper, the Nuez Chair by Andreu World is at once comfortable, unassuming and enveloping. The design consists of a thermoplastic shell paired with an upholstered backrest and fixed seat (or seat cushion). Four different bases in wooden legs, aluminum four-stair, five casters or cantilever, as well as seven colour options make the chair suitable for any interior space.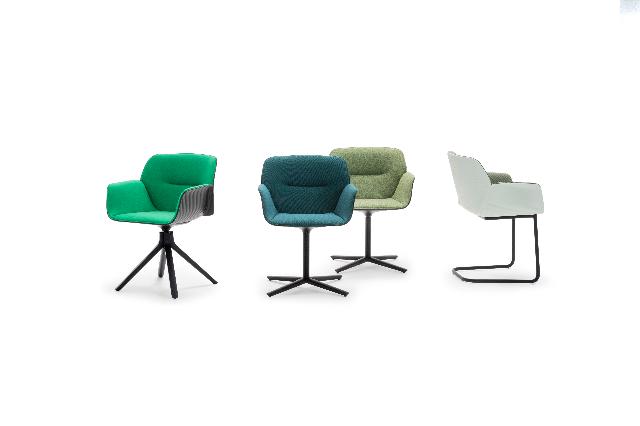 Transparency Collection | Alendel
Alendel recently rebranded and increased its product assortment, moving heavily into upholstered fabric markets with versatile textures, jacquerds and velvets. The Transparency Collection, for example, launches this January with more than 100 skus of decorative sheers. Both delicate and feminine, highlights from the collection include Glitz, an embroidered geometric polyester and cotton fabric accented with subtle yarn; Sparkle, featuring vertical stripes and micro sequins on polyacrylic and linen; and Spirit, a lyocell, polyester and wool blend with a natural wrinkle effect.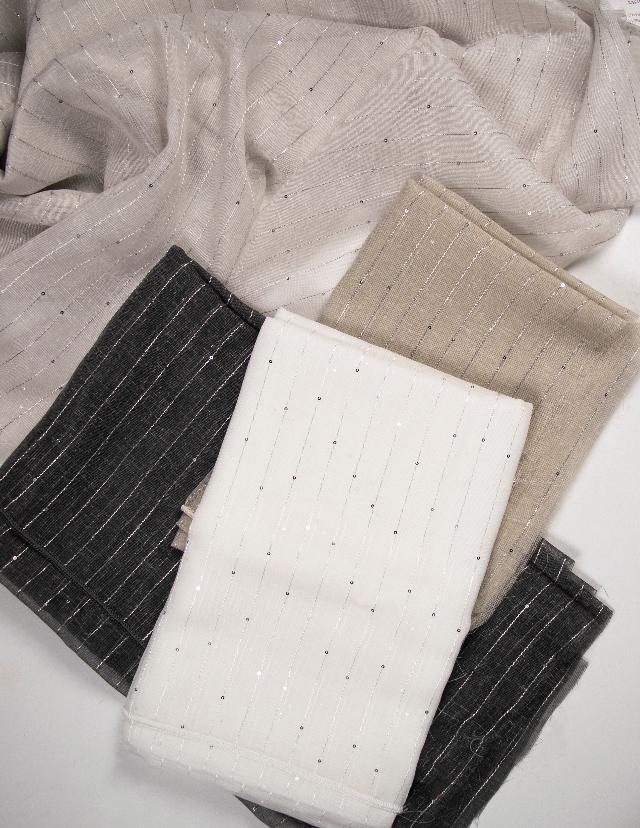 Brut Collection│Magis
Designer Konstantin Grcic drew inspiration for Brut from the industrial use of the cast iron alloy. He embraces this hard, heavy material while contrasting it with negative space and soft, textured upholstery.