DesignAgency breathes new life into Toronto's Sassafraz
Sassafraz, "the little house in the village," is pleased to reveal its renewal this holiday season. After a two-year planning process, the re-imagined restaurant builds on Sassafraz's reputation as a community landmark in Toronto's historic Yorkville neighbourhood.
Partnering with DesignAgency, Sassafraz chose an aesthetic that is SoHo-inspired – timeless and elegant, with a subtle New York edge. With a fresh look for its exterior, dining room and S-Café, the new restaurant is truly a reflection of life in the village.
The redesign announces itself with a bold change that's hard to miss: the sophisticated sage green exterior replaces the previous bright yellow exterior, a more historical and sophisticated colour that shifts subtly throughout the day. Only the doors remain an iconic yellow, an homage to the restaurant's 20-year history.
Inside Sassafraz, the S-Café is lively and bright. A vintage-style window offers a free-spirited informality to the space. Entering the dining room, sparkling hurricane lamps and artisanal column tiles magically reflect the light around the room. The pale sage banquettes echo the building's exterior, while walnut tables and clustered seating provide a warm and relaxed setting for intimate conversation.
In keeping with the spirit of the new design, chef Geoff Webb has re-created the Sassafraz menu. Guests can look forward to internationally inspired dishes such as Cape d'Or salmon with chilled soba noodles and ponzu dressing, and classic dishes such as Fogo Island cod and chips. "Fish and chips are an institution in Canada – everyone loves them. For the best fish and chips, you have to start with the finest fish," said Webb.
Sassafraz takes pride in sourcing world-class products from boutique suppliers in Canada to create dishes with fresh, delicious and sustainable ingredients.
The restaurant's location, its architecture and Yorkville's reputation as a haven for artists in the 1960s all contributed to the new design aesthetic. "What really inspired us, though, was our guests," said founding partner Zoran Kocovski. "We spent two years talking to people, conducting formal interviews and poring over Bloor/Yorkville demographic studies before we even looked at design."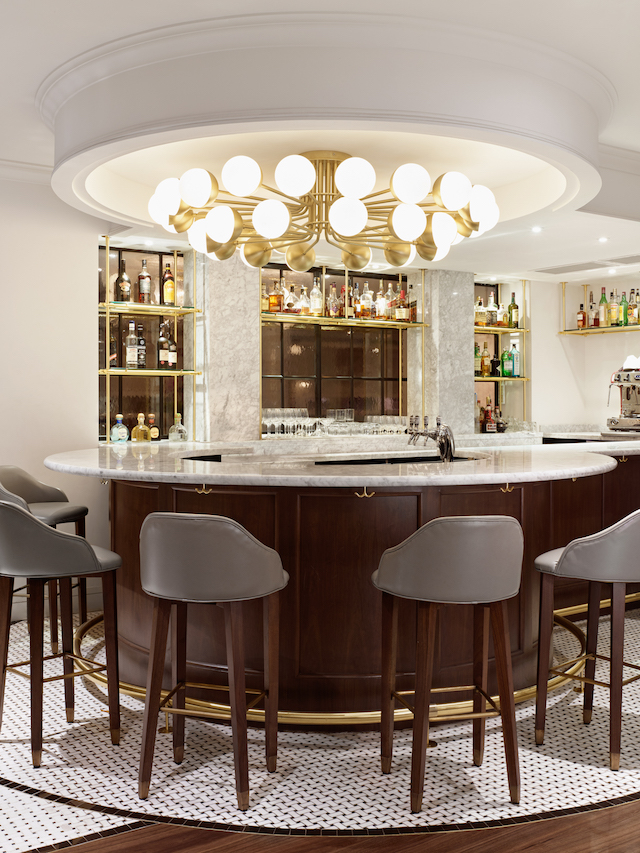 "It is the guests, the shopkeepers and the local community that give Sassafraz its character and life. Our new space is a reflection of that character – it's all about life in the village".
The cool SoHo vibe is brought to life with elegant silhouette artwork – which represents street life in the city – created by Canadian artist Ryan Dineen.
---
Photos by Ben Rahn/A-Frame via DesignAgency.