beSpoke Collection│Innovant
Intended for ever-evolving modern office, the beSpoke Collection offers a host of versatile elements that can be grouped together or stand alone. Originally conceived as an L-shaped workstation or bench, the collection now features fully customizable components and finishes for an elevated take on modern desking systems.
Tailored Twist│Tarkett
This year's NeoCon debut was a vibrant, tailored modular carpet collection that combines design with sustainability using the company's Ethos Modular with Omnicoat Technology backing. Produced by Tandus Centiva, the collection features 162 possible combinations in its palette and patterns.
Cerebro│Teknion
Teknion had a good show this year. Really good, actually, with a pair of its new products nabbing three awards, including Cerebro, a new workplace concept connecting comfortable lighting levels and monitor eye heights when using three integrated workplace products: a Navigate electric height-adjustable table; Sanna Lightbar IC (Integrated Cerebro) task light; and Swerv Monitor Arm IC.
Varya│Sandler Seating
Designed by Simon Pengelley, the collection includes chairs, armchairs, barstools and counter stools, which are available on a range of metal or wooden bases. The durable polypropylene shell is reinforced with glass fiber and comes in 12 matte finishes with the option to add a padded seat panel, which can be upholstered in all the Sandler Seating graded-in fabrics and leathers or COM.
Cesto│Studio TK
Spanish for "basket," this collection of seating and table elements designed by Khodi Feiz is entirely meant to capitalize on offices where collaborative and social behaviours permeate the environment. "The flexibility to gather spontaneously," says Feiz. "This freedom also extends into the different functional typologies, into the colouring and material choices and their compositions."
Agile Townhall│Allsteel
For this new collection of movable soft seating, tables and accessories, L.A.-based studio Rainlight were inspired by human-centric design and took cues from real-life work situations  to come up with "a system of  components that create agile micro-environments with  individual  objects that complement and add variety to the landscape." They want to be clear, however: the collection is "movable, but not mobile." We'll let you figure out what that means.
Matter│Wolf-Gordon 
By Dutch designer Mae Engelgeer, an interplay of high loft wool blend yarns with chic metallic filaments makes for a visually rich and tactile collection, complemented by intricate detailing, geometric and organic forms. Three patterns—Mass, Merge and Points— all achieved 100,000 double rubs on the Wyzenbeek abrasion test.
Xorel Vue Collection│Carnegie
Created using crochet and embroidery techniques, this new collection of architectural textiles blurs the line between artful craft and commercial functionality. Flexible, lightweight, and usable at the window or as a vertical partition, privacy panel or space divider, Vue provides degrees of visual privacy while allowing light to filter through.
Wēv│Barbican
This new collection of washable, woven fiberglass fixtures is available in a variety of shapes, sizes and colours. For example the Icicle, a one-inch diameter glass tube wrapped in fiberglass strands, they can be hung horizontally or vertically as individual pendants, or in clusters of different lengths to form a unique focal point.
Untucked│Keilhauer
The new soft contract collection designed by EOOS features 10 different choices of seating and tables that have a comfortable, casual at-home style intended for today's casual workplace. Although each individual piece is designed to fulfill one specific need, they are intended to be clustered in vignettes, be it conferencing and team break-outs, to one-on-one's and solo work, to support whatever work needs doing.
Rothko Collection│Koleksiyon
Designed by Studio Kairos as single elements defined by simple and unique geometric shapes that can easily be composed into complex systems using a very simple leg connection made with aluminum injection fittings, this collection deliver the ability to reconfigure with great simplicity without incurring extra costs.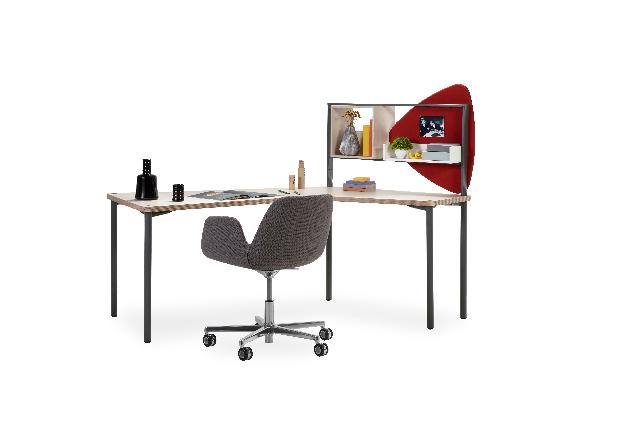 Smart Ocean│Humanscale
An adaption of their well-known Diffrient Smart chair, this version incorporates almost two pounds of recycled fishing net material (NetPlus). Sourced from Bureo, an emerging venture developing solutions to prevent ocean plastic pollution, this is the first tangible product of its new partnership and marks the first product available to purchase from the consortium of companies under the NextWave initiative.
Trench Collection│Nienkämper
The first collaboration with Favaretto & Partners Design Studio was inspired by the craftsmanship and material selection that characterize the world of luxury cars, and pays homage to their opulent textures, forms and finishes. This can be seen primarily in the inside seatback with distinctive pleats to create an instantly recognizable aesthetic of classic luxury cars from the 1970s.
Juice Mobile Power│Bretford
This category-creating mobile power system, with proprietary FLI Charge technology, changes the game for IT and facility managers by delivering a safe, flexible way to turn a single outlet into a power source for the entire classroom or office, at a fraction of the cost of a retrofit and eliminating the tangled web of non-compliant, overloaded extensions cords.
NapQ│Framery
It seems inevitable that when privacy pods were introduced a few years back, people would be using them for more than just phone calls, catching little cat naps when they could. In a smart move, Framery has launched something that addresses that: NapQ, the newest layout to their Q line equipped with reclining sofas.
Bower│ICF
Open, organic, and gentle, this collection of work pods, lounge chairs, and adjustable screens was inspired by the rambling-style nests created by the bowerbird of designer Adam Goodrum's native Australia. Entirely modular, the Bower is designed for visual and acoustical privacy as well as ease of assembling on-site.