If You Build It, pt. 1: for those in the physical world
Taking a page from those in the construction game—plain-spoken, not fond of frills or ornamentation—let's get right to it. What follows are three offices that, while reflecting the no-nonsense character of those who work there, challenge their way of working and point them confidently toward the future. One is in Québec; two are in Ontario; all three are two-storey knockouts.
Pomerleau (Lévis)
With offices spread from Vancouver to St. John's, Québec-based Pomerleau is a major player in the Canadian construction industry, with over 2,000 projects to its name. To create the architecture, interior design and landscape architecture for its from-scratch office in Lévis, across the St. Lawrence River from Québec City, the company chose Montréal-based Lemay.
"This was a huge opportunity for us, as Pomerleau is one of the major builders in Québec," says Eric Pelletier, Lemay partner and design principal. Pelletier found management open to a design that is decidedly sleek and sophisticated. "They were sensitive to how architecture can illustrate the kind of work they do. A lot of people come to the office and the design reflects the culture. Also, it needs to be interesting for the people work there."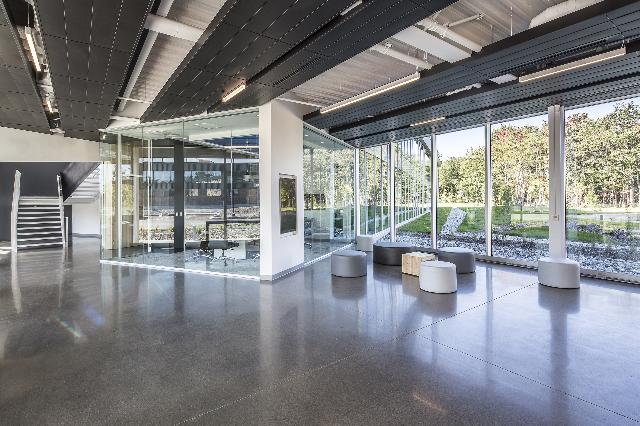 The two-storey project is located between a highway and a forest. To minimize the former, Lemay chose to make the latter a special feature, with both landscape architecture and interior decor serving as an extension of the natural environment. To highlight Pomerleau's role as a builder, Lemay made raw materials —pine, polished concrete and steel—key to the interior design. The building itself, its wood and steel structural framing resembling construction framework, reinforces the primacy of raw materials.
Massive windows of the building's three distinct wings frame the woodland. The intersection of two of the wings creates an open hall, overlooking the courtyard and the forest beyond. Encompassing the reception area and main staircase, this sunny, generous gathering space is Ground Central. One of the wings encompasses meeting rooms and a cafeteria; another wing consists of closed offices at the centre, with open-area workstations on the periphery, allowing for penetration of natural light as well as pleasing views. "Initially we wanted the offices to be all glass," notes Pelletier, "but as management needs privacy for negotiations, they asked for a little less glass."
One of the most striking elements of the office, encompassing 34,767 square feet, is unfinished steel plates. Used as railings for internal stairwells, they unfold in space like ribbons connecting the two floors.
PCL Construction
Founded in Saskatchewan as Poole Construction in 1906, PCL Construction is a group of independent construction companies that carries out work across Canada, the United States, the Caribbean and Australia. To create a home base for its Greater Toronto Area operations (PCL's largest district, employing 600 professionals), the company chose a firm with which it has shared a long history of collaboration: B+H Architects.
For the past 25 years, PCL Toronto's departmental teams had been siloed and segmented over several floors of a building in Mississauga; the new, 51,000-sq.-ft. office brings everyone together on two floors of a LEED-Silver building in Oakville, Ont. B+H conducted extensive research and visioning exercises with PCL's leadership team. As far as the overall look and feel, "They didn't want it too fussy or overly detailed. They are the least glitzy people you could know," says Peter Heys, B+H principal, Interior Design. "They wanted to use typical construction materials—wood, brick, concrete, steel, glass and stone—in their natural state."
A key challenge was to create an appropriate balance between open and private areas. To facilitate senior staff's propensity for closed-door conversations, B+H placed their offices at the centre of the plan, but used all-glass fronts for visual connection to the rest of the office; switchable glass allows for instant privacy. Various social spaces, including the 1,000-sq.-ft. Work Café and strategically placed "collision zones," foster spontaneous interaction and collaboration. In all areas, "acoustics are so important," says B+H senior associate Adrian Barry. "Technology throughout allows for an ability to connect. PCL agreed to spend extra money on good acoustics to go behind the technology."
Another key element of the office is sustainability. "PCL's commitment to sustainability is truly evidenced in the new Toronto office, where they pushed the boundaries to lead the industry through early adoption of LEED v4," says Alan Murphy, principal of Green Reason, who acted as the project's sustainability consultant. "By utilizing the project as a living lab for this new, rigorous set of standards, we explored the challenging ratings system together for application on future client projects."
"Our new space is an important investment in our employees and our partners, and sets the stage for PCL to recruit and retain the best people in the industry," says Todd Craigen, senior vice-president and district manager, PCL Constructors Canada (Toronto).
GHD
Founded in Melbourne in 1928, GHD is a privately owned multinational firm with over 9,000 people employed providing engineering, architecture, environmental and construction services to private- and public-sector clients. In 2015, GHD acquired Waterloo, Ont.–based Conestoga Rovers & Associates. As such, to design its Ontario headquarters, which would become GHD's largest office in North America, the company chose Waterloo-based ABA Architects.
"I've been involved with a lot of projects for construction and engineering firms, so I was somewhat leery," recalls Lorelie Ratz, ABA principal, Interiors. "They tend to want traditional private offices." Tasked with fitting over 500 employees spread over six separate Kitchener/Waterloo locations into 100,000 square feet—in a two-storey building in Waterloo's Idea Quarter, home at one time to the once-untouchable tech giant BlackBerry—ABA had to convince GHD to, as Ratz explains, "make a major cultural shift": rethink the way they had been working and plan for the next generation of leaders and for the future of the company. To Ratz's surprise, GHD management quickly came on board.
And so it was goodbye private offices, hello marvel of an open plan (allowing daylight to penetrate fully) encompassing increased amenity and ancillary areas. The two vast floor plates (50,000 square feet each) are organized into neighbourhoods, loosely based around GHD teams, each with its own identity. As one looks across the space, visual clues such as primarily lighting and colour help locate main corridors, open collaboration areas and service zones.
Employees are encouraged to work in different areas all equipped with technology throughout the office environment; almost all closed spaces are bookable. At the centre of each floor is a welcoming Hub, offering a variety of areas to collaborate, unwind, share a catered lunch, or simply relax along the glazed rear facade.
"Our staff have adapted and flourished in the space. On any given weekend you see staff members giving tours of the office to their family and friends," says John Ferguson, GHD principal and principal in charge of real estate in North America. What's more, GHD has committed to bring the same level of design excellence to its facilities around the world.
---
Photos by Jonathan Robert (Pomerleau); Doublespace Photography (PCL Construction); ABA Architects (GHD).