If You Build It, pt. 2: for those in the digital world
More than two decades ago, the rapid proliferation of digitally-based technology firms helped disrupt the idea of productive office design. Often led by young CEOs who had never seen the inside of an MBA program, these firms challenged the wisdom of rigid workplace assignments, formal meetings and the physical expression of hierarchy. As well, they introduced an oft-reported propensity for playfulness. If the last frequently appeared like well-appointed adult daycares — and many still do — the more serious focus was on enhancing collaboration and ensuring environments stimulated creativity and imagination. Functionality was expanded to include attracting and holding scarce talent by emphasizing the well-being of employees, marked by diverse personalities and working styles. On a darker side perhaps, this also meant blurring the line between home and work space enticing workers to put in long hours on fixed salaries.
Today, even historically staid audit firms have embraced many of these same attributes. But there has also been recognition that digital firms have their own unique needs and proclivities. Some continue to prefer historic industrial loft conversions while others look to new builds, particularly if it means staying in or migrating to the city core. While still a youth-based industry, some firms are looking for less clutter and more elegance. Some, for example the design team at Montréal's Ubisoft, are using big data to test out the accepted wisdom about the popularity of spaces and who uses them.
Three recent digital office expansions in Calgary (Benevity), London, Ont. (Digital Extremes) and Montréal (Ubisoft) provide examples of how firms' office designs are evolving.
Benevity
When Calgary-based Benevity moved from a much-loved historic building in the city's character-infused old district, they didn't leave kicking and screaming…although just about. When the client—a firm that supports corporate philanthropy and charity initiatives—first saw the raw three floors in a new mid-rise office building on the northeast side of the Bow River, they had difficulty envisaging a space supportive of the company's unique culture including a flat hierarchy. "Here [hierarchy] is really quite flat, everyone does have a voice," says Andrea Freeman, founding partner at Calgary-based Make Design Lab. "The best idea, the best solution wins out rather than coming from a title."
What Freeman and design partner Dorian Zubko did see was the location's generous windows, natural light and panoramic views of the river valley, city core and Calgary's emerging East Village. But how exactly to meet the firm's stated objective of reflecting "goodness" was a challenge.  "We walked out of the initial meeting, looked at each other and asked: what does goodness look like?" says Zubko. The answer, they decided, meant reflecting authenticity. But again, how do you ensure authenticity?
The answer was through using expressive materials and differing colour palettes to create a sense of linked but adaptable neighbourhoods within each 25,000-sq.-ft. floor plate. The other part of authenticity was really listening to the client and staff. "They didn't want to look like design that was attempting to be [signature design]," says Freeman. "They just wanted their space to look like it is the way it is because, well that's just the way it is." Avoiding pretentiousness, given the work they do, was important. Likewise, for example, giving a high level of transparency to the boardrooms reflects the firm's culture of flat hierarchy and "nothing to hide."
But there are also nostalgic touches, nods to the older building such as wooden beams, interior brick walls, open ceilings and an industrial-look staircase dropping from the top reception floor to the level below. "Familiarity was definitely important, again because of where the company started there was a sense of legacy," says Zubko. And familiarity helps sustain this engrained culture.
Distinct neighbourhoods where created with unique colour palettes augmented by varied lighting and furniture styles. "The idea," says Freeman, "is that you don't feel you're in a repetitive state, like an endless hallway of repeating spaces." Eight different carpet colours play on spatial geometry through shifting angles and variations in ceiling treatments also help create differentiation between "neighbourhoods." Ceiling blades of different coloured felt over hard surfaces both define spatially while responding to acoustic issues. Graffiti-type murals—one with a Banksy-look, one akin to a Chagall—provide whimsy and were created by in-house teams open to all staff.
Given employees differing moods and styles of work, the designers point to elements that provide sensory cues that reflect this divergence of personalities. "A lot of the sensory cues," says Freeman, "are organized around the views and the light. People have taken over the many informal collaborative work areas … and they tend to chase the sun or the shade throughout the day. They have the right to work anywhere if they do not want to be at their desks."
Digital Extremes
An early (1993) and successful entrant to the gaming software market (the brains behind BioShock, for one), Digital Extremes jumped at the opportunity to take over the expansive ground floor of a vacated Sears in London, Ont.'s downtown Citi Plaza. The latest 26,000-sq.-ft. expansion in the old galleria mall is local firm L360 Architecture's third iteration for the digital firm. As one of three founders of the Canada BIM Council, principal Paul Loreto believes "they live in the 3D world and we create 3D BIM modeling…. Digital Extremes found [our approach] very powerful during the development of their corporate offices."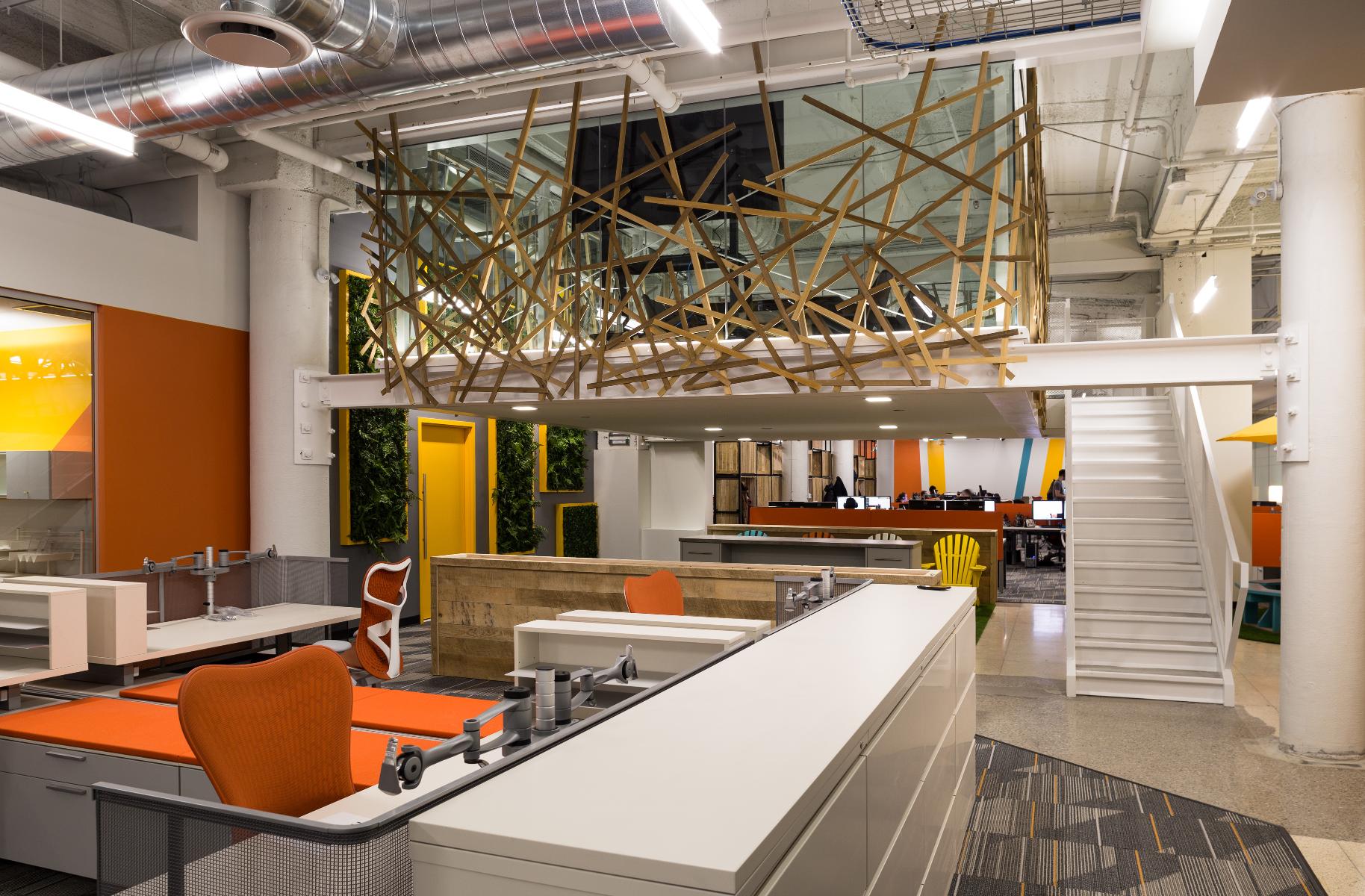 But in the end it is the product not the process that ensures repeat engagements. Previously, Digital Extremes had sought and received functionally laid out spaces in their preferred one-floor location that were also capable of stimulating collaborative work in an environment conducive to creativity and imagination. Attracting and holding scarce talent required such design. Unlike Benevity, however, exposure to the exterior is not a preferred option. Instead, the new work stations stretch along a central core, separated from peripheral supporting spaces by rows of "box crate screens," steel frames punctuated with open wooden boxes.
Given the space's 17-ft. ceiling, Loreto inserted a raised mezzanine boardroom across the centre of the workstation corridor. A crisscross of "sticks" engulfing this glass box gives the space its moniker, The Birds Nest. "It is a nest for nurturing ideas, for the birth of inspiration and it is about daring to soar, to fly higher, all the things a nest should be," he says poetically. Immediately below is the open informal collaborative space, replete with colourful Muskoka chairs and a green wall.
Included in the multiple breakout spaces are themed meeting rooms. The Forest Room, with walls and ceiling clad in natural pine boards, is dominated by a massive wood slab conference table held together with large butterfly joints while another mixes a stylized chandelier with bold wall graphics in south seas colours. A third, The Northern Room, features a wall of stacked log ends counterpointed with a glass wall overlooking work stations. A more open congregation and event area near reception is defined by an undulating white wall while the minimalist reception desk itself sits in front of another curved wall screen created with reclaimed wood boards that evoke the porous wall of an old Southern Ontario barn.
Perhaps the most unique space is the Rail Car, designed as a Pullman-like sleeper rail car with bunk beds for recharging creative batteries. "Whether the individual creatively is about to depart on a journey," Loreto has written, "or whether it has just arrived, the rail car will take the creative mind anywhere it wants to go."
Ubisoft Montréal
Montréal's international videogame powerhouse recently added 56,300 square feet to its Mile-End operation. Located on the ninth and 10th floors of the south tower of a converted industrial complex, it is connected at level 10 by a passarella to the firm's existing north tower offices. From its beginning, the use of an in-house design team reflects the importance ascribed to the work environment. "At Ubisoft, the workspace is considered an experience in itself and the experience provided by great spaces impacts on and engages the people and their emotions while promoting social connections and team collaboration," says Ubisoft Design Department Head Isabelle Dery.
The team's two core mission words are "function" and "entertainment" with the former a priority because it impacts productivity and influences vital creative collaboration. "When we create a space, we want to reduce as much as possible the irritants by focusing on flexibility," she says. However flexibility is not defined corporately but focuses on employees' individual and multiple differing needs. "The more people are able to modulate their own work environment the better," Dery adds. Individual and team autonomy is facilitated by custom multipurpose steel units on wheels allowing for quick team changes and by multiple writable wall surfaces.
Second, functionality means appropriate space performance, whether it is with circulation that ensures fluidity or good workstation ergonomics. The floors' space organization focuses on progressions and convergences, not unlike the movement within the virtual reality of a video game. In Ubisoft, this means employee engagement is facilitated by a cycle of moving around as a group or by oneself. This is all very abstract, admits Sandra Schmitke, who along with Mélanie Bélisle co-led the project while part of Ubisoft Montreal's Design Department (Schmitke is now with Inside Studio, and Bélisle is with Provencher_Roy, both in Montréal), together with Montréal-based Smith Vigeant architectes as co-designers (Smith Vigeant were also lead architects for the project and for the passarella).
So how does one turn this into a physical space? Traffic fluidity is facilitated by generous circulation corridors interspersed with informal "touchdown spaces" to encourage teamwork and accidental exchanges. Such multifunctional spaces ensure employees can select between concentration, collaboration, relaxation and play. "We also created very specific colour coded window corners that introduce soft curves defining both enclosed and open collaboration spaces," says Schmitke. These rhythmic curves mediate the linearity of the industrial building, add pops of colour and provide orientation cues. A ninth floor corner cafeteria is dominated by a huge communal dining table to encourage gatherings and exchanges of ideas at varying scales. A vibrant green staircase framed in steel slats connects the two floors and is located at the end of a short tunnel extending from the passarella's 10th storey entrance. The tunnel, animated with vertical wall lights and an angled, perforated ceiling helps define a large training/meeting area serving both towers.
Finally, in addition to introducing a "biophilic laboratory" based on multiple plants, work stations are located next to windows. "We think it is really important to give the premier light spaces to the people," Schmitke says. Even while walking down a main corridor, brilliantly coloured acrylic fins provide a mediated view of the city outside.
Entertainment means ensuring that spaces reflect the company's raison-d'etre. This translated previously into transforming some areas into gaming showcases, spaces where anyone can go and play. But in this particular project, this role is less evident and playfulness gives way to a more refined, cleaner look. Earlier projects had created disparate styles, Schmitke says, so one way to bring these together was to opt for a simpler, more streamlined floor plan although with some earlier elements repeated. For example, the coloured vertical slats hint at similar elements from older designs. The project therefore serves to give the Mile-End facility a sense of a coherent complex, not just a bunch of disparate floors.
---
Photography by: MJay Photography (Benevity); Jesse Gibb – Carve Design (Digital Extremes); Adrien Williams (Ubisoft Montreal).