Some things are worth the price of admission: the view going up the Eiffel Tower; MOMA's art collection; all 2½ Deadpool movies.
For flyers of the frequent kind, achieving maximum comfort and convenience in today's treat-'em-like-cattle airport scene is a goal infinitely desired, even though it comes at a premium price. Yet who could really put a value on a NEXUS pass that lets you scurry through an otherwise three-hour customs line? Or executive plane seating that allows you to stretch your legs while gently quaffing a flute of sparkling wine? Or, indeed, the sane, calming oasis that is the elite passengers' airport lounge, tucked away from hoi polloi, representing the best features of one's own house or office?
Two premier airport lounges, recently opened, demonstrate how this latter feat can be accomplished, as well as how the Canada brand can be subtly showcased to travellers both from home and abroad.
This past December, Air Canada debuted its latest Maple Leaf Lounge, the 23rd in its international portfolio and the first elite lounge to open in New York City's new LaGuardia Terminal B Eastern Concourse. Designed by the American firm HOK, the 7,015-sq.-ft. lounge nevertheless had a strong commitment to highlighting Canadian-made furnishings and artwork, thanks to Air Canada's Can-Con mandate. (With upcoming Maple Leaf Lounges planned for San Francisco and other world-wide destinations, this should be good news for our country's product design and manufacturing industry.)
Oak, walnut, and our iconic maple echo in lounge's "live log" side-tables, the slatted screen dividing the servery from seating, and more wooden slats in partial ceiling treatments and walls. Floors are carpeted in granite-shaded tiles; cozy armchairs come in a mix of maple tan and "Air Canada" red reminiscent of classic Maple Leaf tartan. And in the business seating section, an enclosing grey wall juts out like a slab of Maritime cliff-face, hung with a triptych of ocean-scapes.
All comforts for the travel-weary are here: a self-serve bar featuring a wide selection of food and beverages, including Canadian wines and Lavazza specialty coffees; electronics charging and free Wi-fi; group and individual seating arrangements; even a business centre complete with PC access and colour printers. But arguably the best thing about the new Maple Leaf Lounge is the way it makes you plum forget you're in the middle of Queens in one of the world's grittiest airports.
The vista from Swissport's Aspire Lounge at Calgary International's new billion dollar expansion beats La Guardia's (and most other airports) by a mile: a foreground of flat tarmac shifts into billowing prairie grasses as the sightline stretches back into a magnificent Rocky Mountain ridge.
Passengers can take this scene in from behind the terminal's glazed curtain wall that rises a full 65 feet to the ceiling, or they can choose to view it from the relaxing depths of one of Steelcase's new Brody chairs in Aspire's two-storey lounge: the Transborder level for Canadian and American flights and the International level for flights elsewhere. Both lounges employ the same design language and colour schemes that include the client's signature aubergine accents.
The 7,000-sq.-ft. lounge had to be fitted into an elongated diamond shape as defined by the client. "The footprint is quite odd," says designer David Milne, president and creative director of Toronto's DMD Retail Design. "Nothing was parallel or aligned." The curtain wall too, although visually stunning, presented its own set of challenges, particularly since natural light on the Prairies varies widely from season to season. "There are also huge, dramatic changes from sun up to sun down," Milne continues. "The airport has  some sun control on the curtain wall, which is vitally necessary given its western exposure, especially at sunset." While on the subject of challenges, Milne points to the limitations of the huge building's HVAC system, which led to supplemental climate control in the lounge itself through three dedicated fan-coil units.
The terminal's echoing acoustics also demanded employment of several sound abatement techniques, including sections of oak-slatted drop ceiling that reduce the ceiling height to 12 feet and a series of free-floating canopies stretched out below. These canopies make a design virtue out of practical necessity: delineating different seating areas; adding eye interest and intimacy; as well as shading when needed and lighting through inset LEDs when required. At night, as the terminal ceiling shrouds itself in semi-darkness, the canopies provide a warm, inviting glow, marking the lounge as a destination point in its own right. Perhaps their best facet, Milne says, "is the way the wing-like forms act as a metaphor for motion and flight."
Aspire Lounge's Can-Con elements start with the 100-foot panoramic digital mural of the Rockies that winds its way along one wall from reception to the back of the seating area. Still in this theme, a large chunk of locally quarried granite emerges at a right angle from the mural to stretch out over the reception desk. The desk and other finishings, including a central "runway" that rises to form a communal table, are made from clear-matted oak crafted by Executive Millwork, a local shop situated about a mile away from the airport. Scattered close-up photos of area flora and custom boxes of native grasses planted among polished river stones add to the prairie atmosphere in a way "that brings the outdoors indoors, without being corny or heavy-handed," says Milne.
Even though this was the first lounge DMD has designed, Milne comments that it "wasn't that big of a leap" from their normal focus on retail. The client was impressed with the firm's understanding of meeting multiple customer needs, as well as by their manipulation of the unusual footprint. Indeed, Swissport so liked the unique flavour of the final result that they have already asked DMD to design their next lounge, in San Diego. And the Calgary Airport Authority so liked the new Brody chair that it has bought a grouping of them for its own seating areas.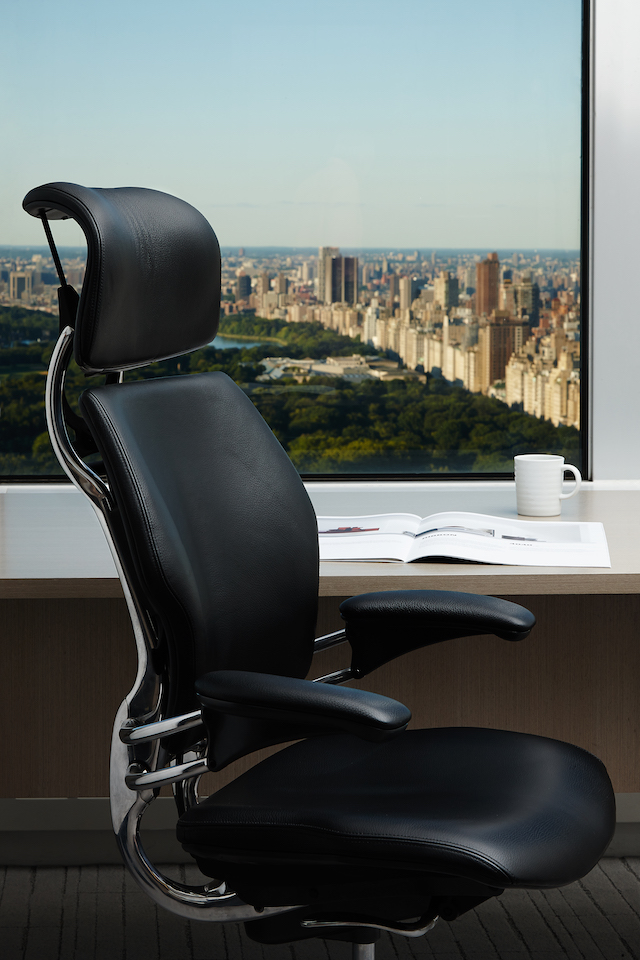 Admission to both Aspire and the Maple Leaf lounges does come at a cost, most often a priority pass or the possession of a premium ticket, although Aspire will accept a $40 fee for entrance. Once inside their comforting cocoons, however, most or all of the amenities are gratis. That does seem a small price to pay for an airport experience that is the exact opposite of annoying.
---
Photography by: David Watt Photography (Air Canada lounge) / DMD – Design Making a Difference (Swissport Aspire Lounge)