Ins and Outs
The industry's newest window and door products favour affordability, easy installation and as always, attractive visual design.
SRT system | PC350
This sliding door system has been constantly evolving over the last 15 years, through its inception as a product offering to replace typical swing door applications. A top track mounted sliding door system with an integrated soft open and close technology, SRT accommodates various glass thickness and weights along with locking and non-locking hardware, and as with all PC350 product lines is easily customizable, effortlessly fitting unique designs and spaces. Celebrating 45 years as a proud Canadian manufacturer for interior design and construction, PC350 isn't resting on the SRT system's laurels, with new upgrades and improvements in store.
Mullion Smart Reader | Openpath
Responding to the modern trend of always having a smartphone in hand, Openpath's new Mullion Smart Reader makes office access in the digital age both easy and secure. The cloud-based system eliminates the need for traditional keycards by unlocking and opening doors through Bluetooth when employees' smartphones are in range. Compatible with existing keycard system wiring, the Mullion Smart Reader is easy to install and discreet in design, allowing it to conform to any office space.
3M DiChroic Architectural Window Film | Levey Industries
Levey Industries' architectural film can be self-applied to add visual interest to partition walls, windows and doors. Producing a true DiChroic look at a fraction of the cost, the easy-to-install polyester film plays with light to reveal a natural colour spectrum that changes appearance at every angle. The result is a dynamic and decorative dressing, available in both cool and warm tones, that enhances the presentation of glass (and some plastic) surfaces. 
Tek Vue | Teknion
Among Teknion's newest interior products is Tek Vue, an architectural office system that offers acoustic privacy and a strikingly clean, minimalist design. Easily integrated into existing office spaces, the Tek Vue wall system can be customized with laminated or tempered glass, and pivot or barn doors, according to preferred style or need. The walls are even compatible with Teknion's existing (and future) wall programs and can be installed with low-profile electrical programs to meet a variety of office needs.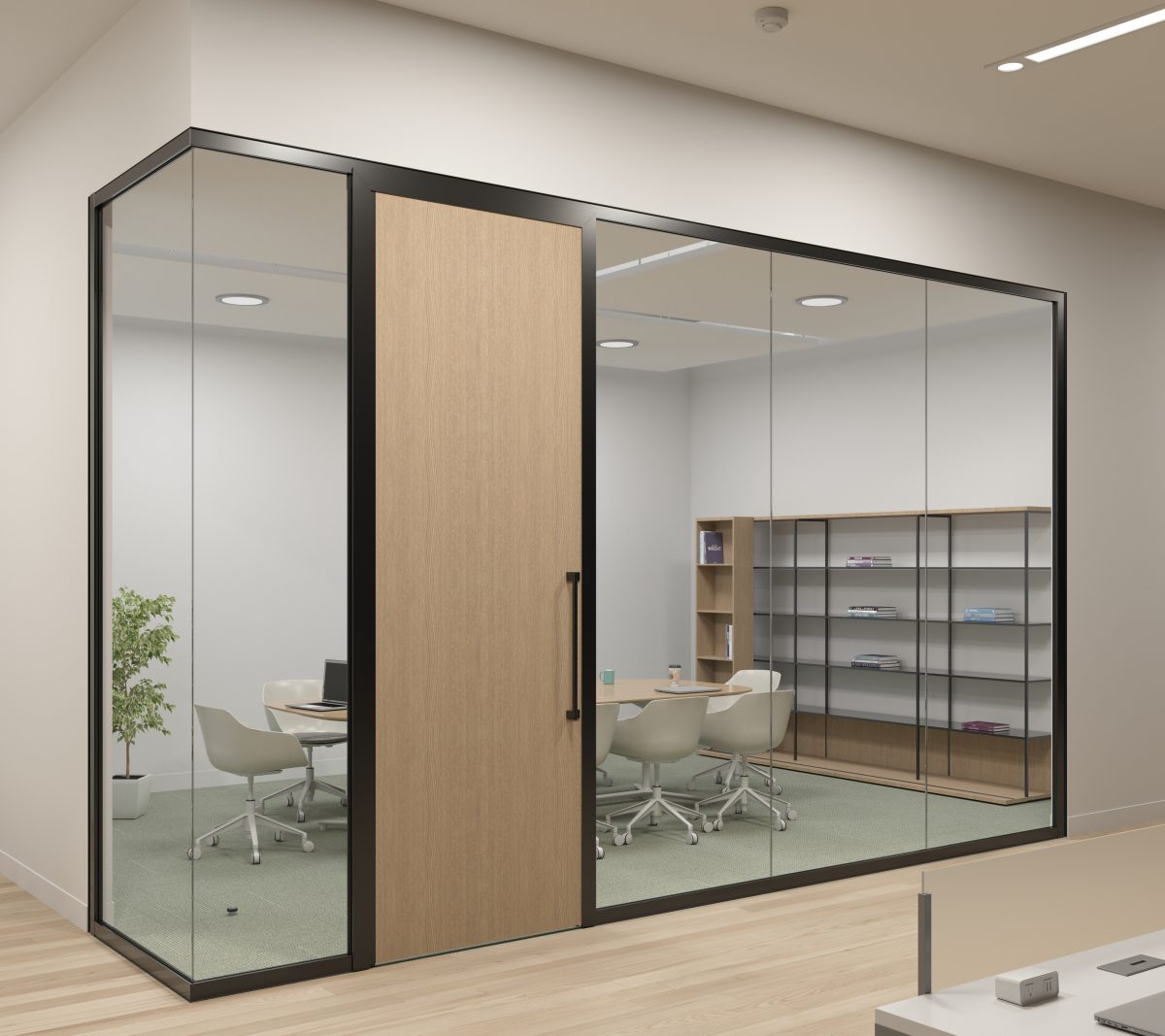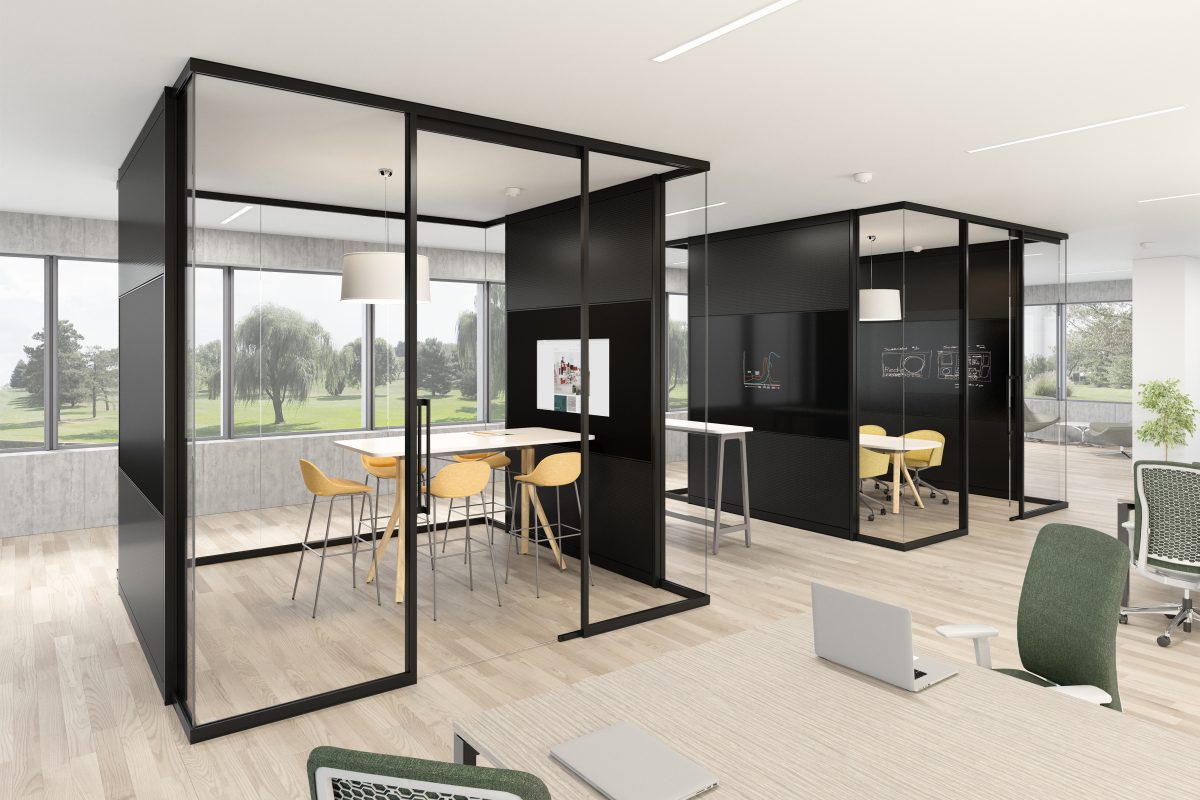 Linework | Skyline Design
Winner of the 2018 Best of NeoCon Editor's Choice award and developed in collaboration with Gensler, this interior- and exterior-friendly architectural wall system offers both privacy and division of space. Available in five linear patterns that vary in density, scale, directionality and tone, the walls can be executed in opaque, translucent or transparent options. For those wanting a touch of colour, seven selections are available, from cerulean to red ochre, indigo and black.
AXES | Maars Living Walls
Winner of a 2018 Best of NeoCon Silver award, these new doors pivot rather than slide, for an unobtrusive architectural design. Made of environmentally friendly steel, the doors can be rotated into open, semi-private and private positions, resulting in flexible options for spaces that require a wide range of use. In addition to their seamless appearance and excellent acoustic properties, the doors adhere to LEED, WELL and BREEAM standards.
 L6T Retractable Glass Wall System | Lumon
This retractable glass wall system allows users to enjoy the comfort and convenience of their outdoor living spaces all year long. The easy-to-deploy walls, available in framed or frameless options, protect against wind, rain, sun and other elements while still allowing for maximum natural light. They require little maintenance, and in addition to increasing privacy, actually reduce noise, making them ideal for late-night entertaining in the close quarters of city and suburb living.
Kevo Touch-to-Open Smart Lock | Weiser
With a refined user experience, more sleek design and added security, the second generation Kevo Touch-to-Open Smart Lock by Weiser allows homeowners to lock and unlock their doors with a simple touch of a finger. Activated when your smartphone is nearby, users can share electronic keys with trusted friends and family and manage access through a special mobile app. Available in satin nickel and iron black, the electronic locking mechanism can even be connected to Amazon Alexa, Apple Watches and Android Wear devices to allow home access without a phone.