Royal Alberta Museum
Dialog's new Royal Alberta Museum showcases the unique synergy between humans and nature.
Majestic, swooping, beckoning, brilliantly bright: a dozen accolades could be used to describe the new Royal Alberta Museum (RAM), which opened last October in downtown Edmonton's Arts District. The $375.5-million, LEED Gold-certified development designed by Dialog encompasses 22,000 square metres of built environment set in an additional 8,446 square metres of meticulous landscaping, doubling the footprint of the old natural history museum it replaced. RAM is now the largest museum in western Canada, dedicated to telling the tales of human and natural history that have formed the province of Alberta. These stories come from over 5,300 displayed objects in freshly designed exhibits, and there are another 2.4 million objects waiting in the wings.
This mammoth undertaking literally houses the cast of a woolly mammoth in its five-metre-high lobby, along with an Albertosaurus skeleton, and the airplane of WWI ace and bush pilot pioneer Wop May. Even more eye-catching is the impressive liquid flow of the feature staircase made from cast-in-place concrete, its subtly tinted blue river of a guard-rail carving through the canyon of space up to the second-level natural history gallery.
The museum boasts several different exhibition galleries, open-to-the-public curatorial and research sections, a third-floor live bug room (immensely popular with children) as well as a private fourth-floor greenhouse that grows the plants for the bugs to feed on. There is also a special circle-shaped gallery wholly dedicated to the Manitou Stone (papamihaw asiniy or "flying rock" in Plains Cree), an ancient meteor sacred to the region's indigenous peoples. All of this is in addition to vital back-of-the-house storage, office and support areas, many of which are accessible to public viewing thanks to looky-loo floor-to-glass walls and see-through dividers.
But it is the delightful children's gallery that perhaps speaks most to the project's overall sensibility highlighting the community of manmade and natural elements, transparency married to protection, discovery forged by fascination.
It sits, separate but not apart, in its own curvilinear structure, lovingly enfolded by two figurative arms: one in solid bronze-shaded metal, the other in white powder-coat metal with a laser-cut abstraction of fallen aspen leaves. Real aspens sway outside, along with planters of Rocky Mountain Lodgepole Pine and Black Spruce bordering a curved pathway. Despite this screening, passersby on the street can glimpse the building's colour and warmth through its two-storey glazing; inside, rotating exhibits give visiting children plenty to see and do. The gallery's visual cues suggest a kids' tree fort, with the roundness of a tree canopy, dappled light filtering through the laser-cut façade, and not-perfectly-straight exterior support columns that resemble tree trunks.
Dialog principal Donna Clare (herself a product of Northern Alberta) cites her firm's seamless melding of architecture, where she took the lead, interior design under the direction of principal Michele Sigurdson, and landscape design headed up by Doug Carlyle as a major factor in the project's success. Toronto-based Michael Lundholm, a highly regarded museum planner, proved instrumental, as did expertise from the construction group Ledcor and an enthusiastic client team.
"Alberta is a province very connected to its natural environment," Clare says. "From the profoundly rich culture of its native peoples, to pioneer settlers on up to present day, humans have had to learn how to adjust to its variety of landscapes and wildlife, so there is much to see and learn about."
Clare has helped tell a portion of that history with her mathematical alignment of the museum. Much of the built space, like much of the province's own infrastructure, is set along British Cartesian grid lines oriented to true north. But the main galleries' wing is offset by 17 degrees to honour the seigneurial grid pattern of early French settlers that paralleled the site's North Saskatchewan River frontage. Still other instances, such as the curved staircase, the children's gallery and several of the planted pathways, reflect the twists and turns of the river that winds through present-day Edmonton.
In her turn, Michele Sigurdson told connecting stories inside the space. A huge back-lit perforated panel outside the feature gallery charts the region's rivers and lakes. A similar curved panel above the adjacent main lobby desk represents eerily similar forks of lightning, a familiar sight to prairie people used to high drama in their skies. At the group arrivals area down one corridor, suspended white-coated metal panels recall ice breakup on the river. These drift down the wall to form part of the reception desk, while overhead, white Bocci light globes represent drops of water. White too is used as the main colour throughout the museum because its neutral base allows displayed artifacts to pop, giving them extra animation.
No matter where you look — inside, outside, just around the corner — the Royal Alberta Museum speaks to its visitors. This is us, it's saying. All of this made us who we are today.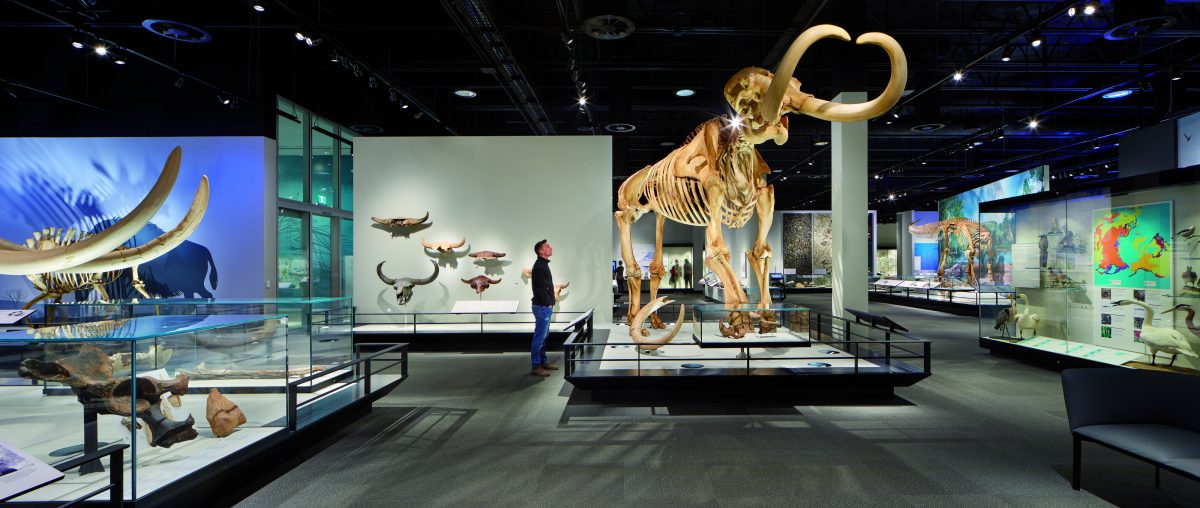 Photography by Tom Arban