Headlining Questlove on one end and absorbing what used to be IIDEX Canada on the other, the Interior Design Show  (IDS) seemed intent on casting a wide net to draw in audiences of trade construction, design professionals and affluent consumers who fancy themselves design aficionados.
 Loft Series│Cosentino
Adding to their natural quartz line, this new range of colours is inspired by the aged, industrial character of concrete. The first two shades of the series are Brooklyn and Silver Lake: the former identified by an intense grey finish and random contrasts; the latter colour set on a pure white background and superimposed with soft gradations of grey.
MoonLight│Partisans
The Toronto-based firm partnered with 3D-printed lighting platform Decimal to create MoonLight (.015). According to Partisans, the design came out of an exploration of "the formal process of employing bubbles to create voids within a traditional spherical pendant light." The result is a laser sinstered polyamide orb measuring 12 inches in diameter.  /
MasterCool II│Miele
Debuting at IDS is the newest generation in Miele's refrigeration series. The WiFi-enabled MasterCool design now includes: a metallic look to the rear panel of the interior cabinet and the inner door face; a lighting concept of narrow LED light strips, which flood the cabinet with light; and Push2Open/Pull2Open selections continue the handleless trend in kitchens.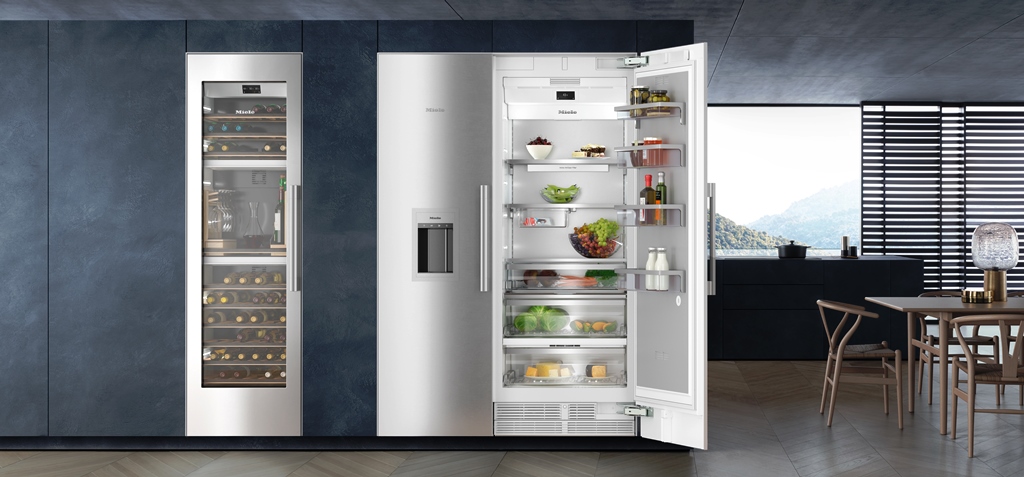 Empira White│Caesarstone
The quartz surface company certainly brought their A-game with an eye-catching show floor installation by Dutch "eating designer" Marije Vogelzang. But many may not have noticed that Caesarstone also launched its first new colour for 2019 at IDS: Empira White, a classic base meant to represent nature, while also fitting in smoothly with two-tone kitchen designs.
Haven│Tangible
Dominating the floor of IDS Contract (née IIDEX Canada), these inflatable pop-up environments were meant to be entered for moments of quiet respite, something most people learned the hard way by mistakenly sitting on them first. Still, the Vancouver-based studio behind them succeeded in bringing some much-needed whimsy to a fair looking for solid footing.  (photo by David Lasker)
Vanity Chair│Vako Design
Iowa City resident Vako Darjania showed part of his Narcissus collection, in a booth shared with Justin Bailey Design, who does lighting. Drawing inspiration from the Art Deco and Memphis Modern eras of design, his Vanity Chair's asymmetric layering of surfaces and volumes complements vibrant, lush tones of velvet and wood.
Bloom Collection│Hollis+Morris
Even if they didn't have premier placement in front of the stage, Hollis+Morris would have stood out with their new Bloom Collection, which introduces frosted glass spheres to their design repertoire. The solid wood and glass Willow pedant is one strong example, where "circular leaf buds are nestled into the wooden branch creating a soft glow gently highlighting the wood grain."
Bathroom Collections│LIXIL Canada
To employ a simple "show everything" strategy but avoid having it feel like a warehouse, LIXIL Canada tapped several Canadian designers (Halifax-based Jonathan Legate, and west coast design studios Angela Robinson Design, Kendall Ansell Interiors, AK Design Vancouver & Madeleine Design Group) to create bathroom vignettes incorporating collections from American Standard, DXV, and Grohe into 100-sq.-ft. conceptual spaces, such as the Studio S (shown).