Flooring's New Directions
From carbon-neutral programs to resilient materials, biophilic designs and antimicrobial finishes, this year's flooring products take a stylish and sustainable step in a new direction.
nora | noraplan environcare
The German flooring manufacturer has relaunched this line with 48 new shades in a modern colour palette. The chemical-free, fire-retardant rubber flooring allows for impressive acoustic properties, improved indoor air quality, slip resistance and noticeable comfort underfoot. Defined by nora's signature granule finish, all shades in the line are suited for high-traffic areas, including healthcare, education and office spaces.
Antolini | ALLIGHT Collection
By leveraging a careful and meticulous manufacturing process that cuts natural stone extremely thin, the flooring is rendered virtually translucent; augmented even further by placing spotlights underneath the slabs to create a diaphanous, glowing effect. The result is an entirely unique flooring experience that celebrates the complexity, irregularity and beauty of natural stone.
Mirage | Admiration Collection
Two new textures have been added to this collection: Brushed and Engraved. The first is a textured oak surface that easily conceals scuffs and marks, whereas Engraved brings bold colour and texture variations to a maple hardwood floor. Both styles are available for pairing with the collection's popular Charcoal, Rio, Savanna and Isla colours, as well as its silky DuraMatt finish.
Shaw Contract | Forum
With its subtle tones and rich calligraphic lines, the Forum collection is at once bold, geometric and unique. The 17 broadloom and 10 carpet tile patterns allude to sisal, jute and natural handwoven products, whereas four rugs add shape and form to the mix. Together, the collection offers a contemporary and clean, yet tactile and tangible feel.
Interface | Second Story
Interface's Second Story collection quietly adds texture and dimension to a space without overwhelming the eye. Four patterns in eight colour groupings complement one another through common tones and subtle changes in scale and contrast. Like all Interface products, Second Story is part of the company's carbon-neutral flooring program, which zeroes out the carbon emissions associated with the life cycle of its products.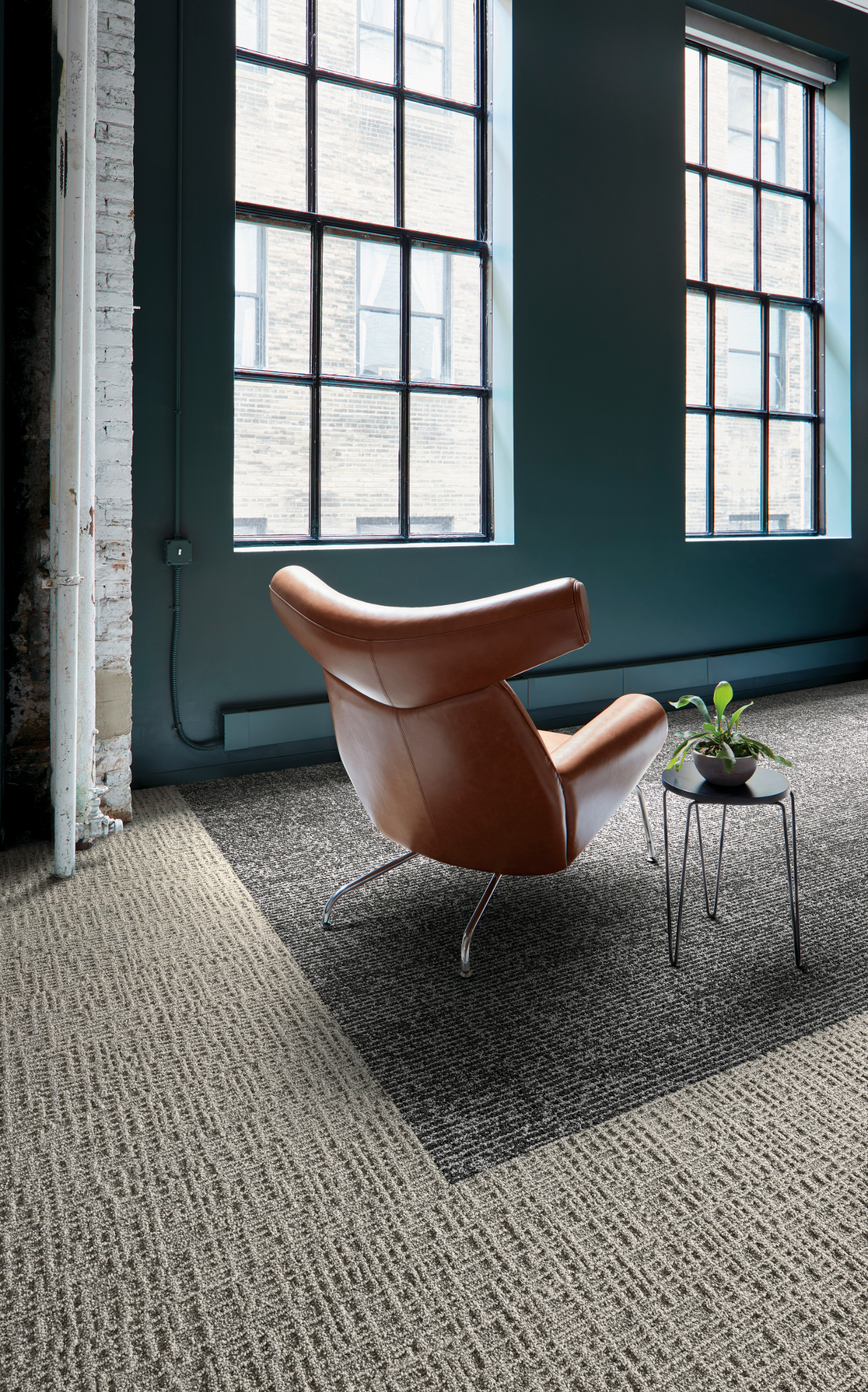 Patcraft | Creative Code
Available in 15 refined colourways in both neutral and bright tones, this new vinyl tile collection is easily customizable to fit any commercial interior. Both scratch and stain resistant, the high-durability, 12" x 24" tiles can be mixed, matched and colour-blocked for branding and wayfinding purposes, or to meet specific design goals.
Brintons | Materialize
Brintons newest line under the Stacy Garcia Axminster Collection, Materialize mirrors the visual patterns that are revealed when a magnifying glass is taken to different material surfaces, such as wood, wool, paper and paint. Complete with bold colours, stylized medallions, floral accents and trompe l'oeil compositions, the woven carpet collection is full of texture and tact.
Tarkett | Scale Study Series
Designer Suzanne Tick's newest line finds its inspiration in the openness and fluid movement of Zaha Hadid, Luis Barragan and Frank Gehry's architectural façades. Featuring large-scale graphics, solid textures and angular accents, the soft surfaces are ideal for both public and private realms. The line also contains a special Luxury Vinyl Tile hard surface option manufactured using digital printed technology.
nanimarquina | Outdoor Rugs
The brand's first-ever outdoor rug collection, the rugs are water and weather immune and combine different thickness and fibre blends to achieve a range of textures and styles. In addition to adapting their most successful collections for the line, nanimarquina has introduced a new style: Oaxaca, a simple checkerboard pattern combined with brightly coloured flowers and fruit for a traditional-meets-contemporary design.
Illulian | Sottosopra 2
Reminiscent of 3D sidewalk drawings produced by talented street artists, Illulian's new Sottosopra 2 rugs by Italian architect and designer Fabio Novembre bring optical illusion to the living room floor. Knotted and carded by hand using high-quality wool and silk, the rugs play with perspective to establish quirky conversation pieces that double as comfortable flooring decor.
Mohawk Group | Pivot Point
The multiple award-winning, carbon-neutral tile comes in wood, textile, terrazzo and natural stone styles, as well as various colour and size options. When combined with a sleek urethane finish, the biophilic-inspired tiles are at once resilient and attractive.
TORLYS | EverWood and EverTile
Ideal for damp basements, messy kitchens and wet bathrooms, the hypoallergenic and dent, water, and stain impervious flooring is manufactured using low-gloss, realistic wood and tile textures, providing a pleasing appearance without the need for meticulous care. Beneath the surface, the extra-thick flooring contains a special cork underlay for noticeable warmth and noise control.