HostMilano's 41st exhibition showcasing the rise of innovative hospitality
The next generation of catering and hospitality structures are heading towards sustainable, hyper-technological, experiential and personalised lifestyles. These trends are the upcoming must-haves that will be revealed at HostMilano's 41st hospitality exhibition, at Fiera Milano.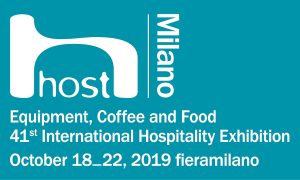 HostMilano is a hub of innovation, knowledge and culture that encourages their visitors to seize changes, and transform them into business opportunities. As an international trade fair of the Ho.Re.Ca, (foodservice, retail, mass-market distribution and hotel) industry, HostMilano focuses intently on the future of products and services.
According to HostMilano, unconventional eating out is leveraging the future of hospitality. The HostMilano Observatory has identified trends from market analysts that observe the promotion of home deliveries, exportation, and automation in the catering arena.
Euromonitor recognizes a general trend of hyper-personalization, with individualized eating experiences and made to measure sustainable portions. Meanwhile, Forbes foresees a growth in healthy options for recreational eating at the cinema, shopping centres, or airports.
HostMilano also reports that Forbes perceives an increase in automation within catering, freeing human operators from mechanical and repetitive tasks, such as spreading the toppings on a pizza.
The Host Observatory suggests that this development in catering will be further driven by home deliveries that will increasingly involve independent local firms and chains.
This year will see seven Design Talks seminars, in collaboration with POLI.design. Topics will include cutting-edge solutions based on data, urban scenarios, and the customer experience.
The show is arranged according to the three macro areas of foodservice equipment including bread, pizza, pasta; coffee-tea with bar, coffee machines, vending machines, gelato/bakery; table-decor and technology.
The Food-Technology Lounge, in collaboration with EFCEM Italia and ANIMA and its associations, Assofoodtec, Fiac, Aqua Italia and Uida, will focus on the impact technology has on the sector, while Futurbar by Comufficio and Consorzio FIA will present a preview of the food establishments of tomorrow.
Hailing from 50 countries, 43 per cent of which are international, more than 1,650 companies have already registered, according to HostMilano.
Fashion comes to restaurants, kitchens and hotel rooms
The links between hospitality and the world of fashion are becoming increasingly evident. For some time now, top fashion designers have been expressing their creativity also through the world of hospitality, paying great attention to detail: from plates and tablecloths to flower arrangements and design items that embellish dining rooms and hotel bedrooms, visually welcoming guests and arousing their emotions.
What do the companies who work together with designer labels say about this collaboration? Caterine Alvarez, marketing manager at Vista Alegre says that their collaboration with fashion designers is "part of an international strategy to enter new geographies and in order to compete internationally with the best porcelain brands. In addition, these partnerships enhance Vista Alegre's prestigious positioning and brand awareness nationally and internationally." Every year, Vista Alegre launches one collection with Christian Lacroix. In 2019, Vista Alegre will also present new collections with Ross Lovegrove, Marcel Wanders, Arik Levy and Pineda Covalin. What does food design mean for them? "Expectations for plating evolve over time, which means continuing to explore new recipes and also the way food appears on the plate and on the table. For Vista Alegre it is crucial to be always close to the chefs to develop and innovate every year, create new dishes and add value to them.
Plating has changed over time, shifting from the classic French service with silver trays and plates to simple white porcelain that offsets the colours and the sauces. "Today, the trend towards using stone with new forms and textures conveys a more naturalistic and organic sense to customers, and some chefs also use fossil wood or even the table itself as plates."