Kimpton Saint George Hotel
The interior design of Kimpton's Saint George Hotel, by Mason Studio, conveys a relation of local pride, diverse heritage and contemporary culture that celebrates Toronto's layered history.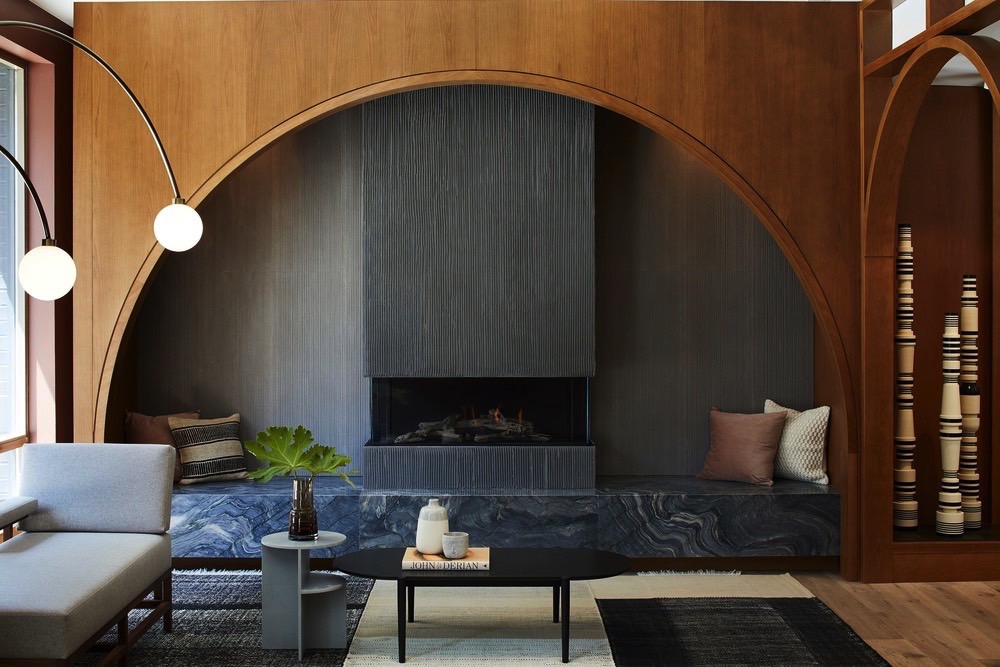 Located in the heart of the Annex neighbourhood, the 14-story hotel gives visitors the experience of being a guest in their own well-appointed apartment.
The property provides accommodations that include 188 guest rooms, 20 suites, a Presidential Suite, a meeting and event space, and a fitness centre.
An exterior black wood with small pin like lights spelling Kimpton, awning at the main entry, delivers a street presence to the hotel. The lighting is a subtle nod to the marquee signs that once occupied the neighbourhood.
A 10-storey-high hand-painted mural on the west-facing facade of the building is the most visually striking element on the outer surface. Interior design team, Mason Studio, commissioned street artist BirdO to create a surreal geometric bird that projects the interior detail to the exterior.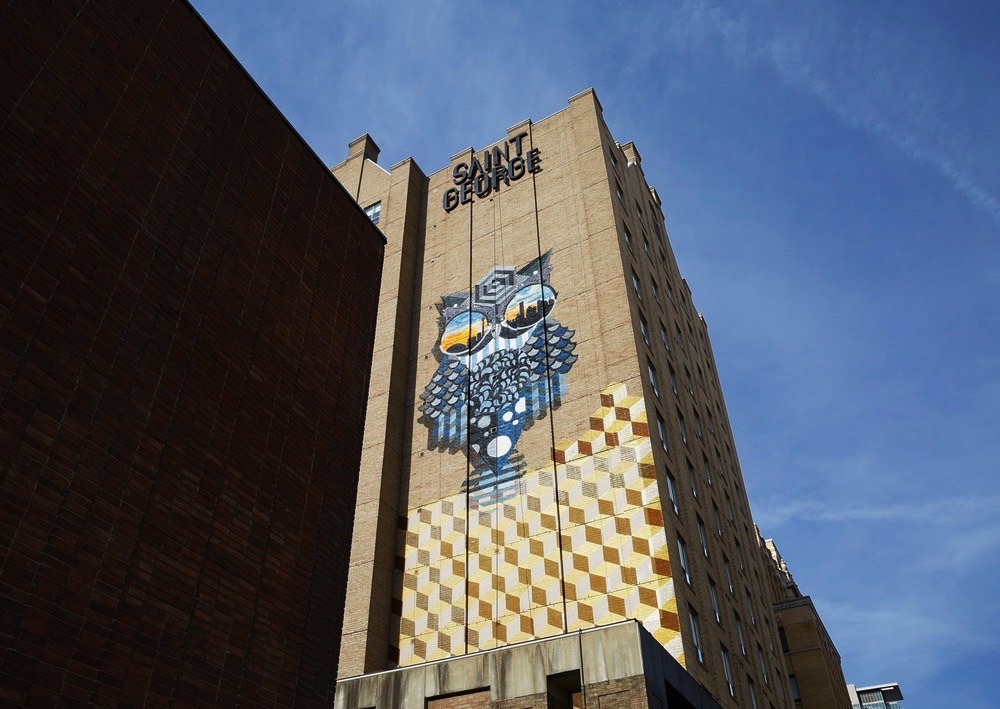 The reception area features a marble desk framed with wooden arches, backdropped by a hand painted mural of a misty Toronto-inspired scene.
Next to the reception is a guest lounge that was designed to feel like a living room with a collection of bespoke furniture, artwork, lighting and objects crafted by local makers.
Arches are used throughout the hotel as a physical indicator of moving from one experience to another.
A 400-square-foot lounge, with a custom bar and beverage area, on the main floor is realized in darker, more saturated tones. By contrast, the Peregrine Room is a bright and spacious 1,100-square-foot meeting space. The change in mood between the lounge and the meeting room reinforces the concept of distinct neighbourhoods within the city.
On the guestroom levels, a collection of original, small vintage black-and-white photographs from a couple's vacation to Toronto appears at each entry.
Designed with a residential approach by housing a collection of art and custom furniture, the suites are a continue to acknowledge the layered heritage of the neighbourhood. Every element in the suites is carefully crafted to provide guests an alternative to more traditional hotel accommodations.