Attraction Montreal: Closer to Home
A cavernous space is turned into a micro-city for Montréal creatives.
As soon as you walk into the reception area of the media production company Attraction Media, you can smell there's something different in the air. To the right of the rough-hewn pine reception, a barista is in full swing pulling espressos that leave scent trails through the open-concept space. Staff are soon drawn to the bar, grabbing their afternoon pick-me-ups before sitting down at lounge areas created with mid-century-modern armchairs and long sofas crafted in-situ using readily available pine boards. It's a first impression that signals that this workspace is as much about feeling at home as it is about feeling energized.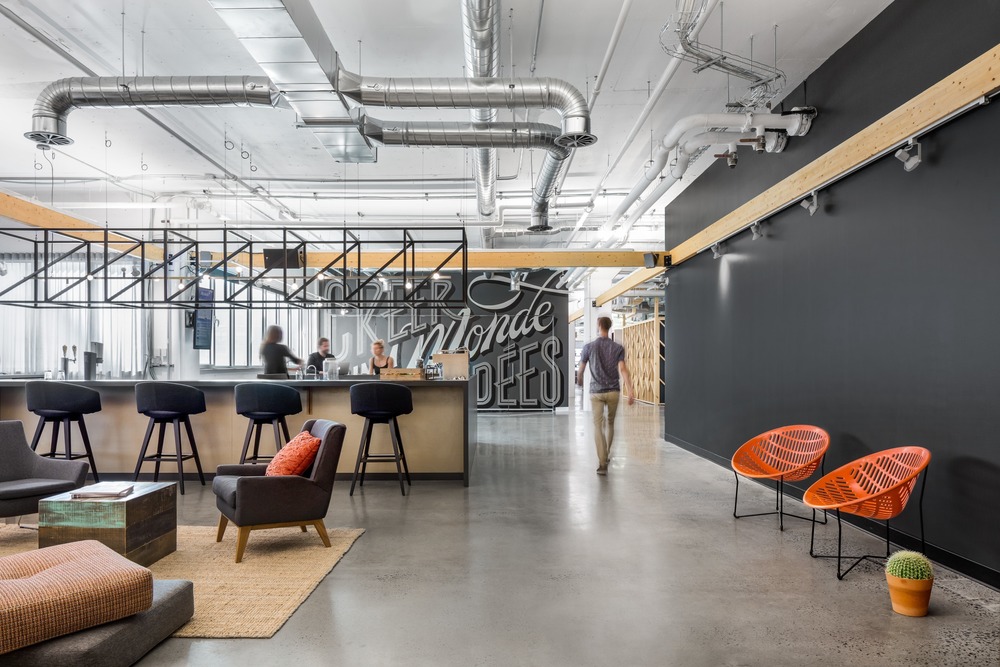 Indeed, when the Montréal company — a group of creative firms producing television shows, feature films and advertising campaigns under the Attraction Media umbrella — decided it was time to pull everyone from separate offices and gather them under one roof, it specifically wanted a space that would exude a "positive vibe immediately upon entering." It also sought a design capable of creating a lively environment that would at once be unified and heterogeneous. Attraction Media had its mind set on a scheme that would enable the happy union of a group of companies with distinct cultures, moving them from separate offices with fully divided work areas into a fruitful coexistence in a single, consolidated space. 
Enter Imperatori Design. The Montréal-based interior design firm has made a name for itself with workspaces that make the most by dialling into the distinct personalities of its clients, be it a cutting-edge gaming studio or a conservative law office — or, as here, a multi-talented collective of artists, creators, copy writers and performers, whose numbers fluctuate somewhere around 200 to 300 people, depending on the production seasons particular to the entertainment industry. "What we do is a bit like design in reverse," says Joanne Imperatori, the firm's principal. "We look at the client first, then at how we can create a space that suits their personality and culture," she says. "It's different from conceiving a space that the client then has to adapt to or fit into. This approach makes the design process more interesting," she adds, "because it is about people, about identity."

To bring together firms with disparate identities, Imperatori Design's project team, led by Chantal Ladrie, embarked on an ideation process that would take the openness of the new office space and make it into a material or building block in and of itself. Before the move to the new workspace, Attraction Media occupied a number of conventional, closed offices spread out over two floors in a former garment-factory building in Montréal's Mile End neighbourhood. For the new office, located in the same building but on a single floor, the client wanted a design where the various identities could mingle. "They did not want a traditional set-up," says Ladrie, "but a space that would exude and allow for personality." The challenge was to come up with a space honouring these differences while also drawing those personalities together in a 53,000-sq.-ft. space. So Ladrie, Imperatori and team used the openness that dominated the new space as a connective tissue where the sightlines between areas — from one cluster of workstations to another, from person to person, from the reception desk to the ping-pong and foosball tables beyond — serve as the threads that hold it all together.

But while the open concept was the overarching theme, the designers didn't want the office to feel like an empty, hangar-like hall. So they subdivided the floorplate by dropping in smaller work areas, semi-private meeting rooms and break-out nooks, bringing the otherwise cavernous footprint to human scale. There are offices with only three walls; phone-booth-type cubbies partitioned using glass or translucent polycarbonate panels; banquet seating on raised platforms; and cafés and lounges that open to the main circulation space. What's more, these defined yet mostly open areas ensure that even during slow production periods, when the number of staff on site goes down, the office doesn't feel empty.

To enhance a sense of cohesion among the different company personalities, Imperatori Design came up with a scheme that mimics a city with a succession of airy, interconnected neighbourhoods. The wide circulation areas, then, are the streets that flow from one neighbourhood to the next, such as from the lunch area to the pop-up offices and studios in the back, or from the administrative corner around to the front of the office. It's a device that responds to the client's brief that there should be no closed doors. "We created a sequence of offices that are open to the common areas," says Ladrie. "But staff can still find privacy; sure, other than the editing studios, there are no fully enclosed rooms. Instead, we inserted nooks." Still, some smaller cubbies have been fashioned with sliding doors, and heavy velvet curtains that riff off the stage curtains in old theatres offer privacy, as does a double corridor that delineates the space occupied by the administrative team. Indeed, strolling along the main street that connects and flows through this series of workspace typologies is a bit like walking through a city with different zones — or even floating between the public and private areas in someone's home.

And like a home, Attraction Media's new office is created with different moods and atmospheres. "The atmosphere was different between the companies and their former work areas," says Ladrie, explaining that the firms under the new Attraction Media roof still display different work styles, which called for flexibility in the design to meet varying requirements. There are the staff that need more silent space, such as the IT department, and so a corner was carved out for them where they can close doors in order to concentrate during troubleshooting. And the creative types, who might be tossing around ideas openly and loudly, can do so without interrupting the quieter work taking place in enclosed editing studios and semi-private offices. So even with the open concept, there are multiple opportunities for retreating into individual, cocoon-like nooks, including a library and a felt-partitioned room referred to as the "chalet," for private conversations and downtime.

While the openness itself allowed for a rhythm to flow across the floorplate, that rhythm was enhanced by the strategic use and placement of materials. The laminated pine beams inserted close to the 12-foot ceilings connect the different "neighbourhoods" throughout, while adding a material warmth and serving as the attachment point for LED light fixtures that bounce light off the ceiling. Allowing sightlines to be preserved, screens made of wood or felt, or both, repeat in multiple areas. And a series of large ceiling light fixtures  from Luminaire Authentique also help to bring spaces together. To keep to a tight budget, the bulk of the materials employed, from felt to wood to metal studs, are off-the-shelf, such as the standard-size pine 2x4s and beams the designers used to create pergolas; the pine slats for screens and dividers; and the rough-hewn pine logs stacked to form the hefty reception desk, setting a down-to-earth feel. Much of the old, white melamine workstations have been reused in the new space, but here the designers added slender metal partitions that conceal wiring brought down from the ceiling and hold planters with greenery that offers a sense of privacy.
The open design also makes room for flexibility that allows for modifications that adjust the space to the number of people working at any given time. Attraction Media sees much of its work happening on a cyclical basis, with TV shows, for instance, being produced in late fall and summer for winter and early fall show launches. A lot of the collaborators and contributors work on those shows on a contract basis, so there is a constant ebb and flow through the year of staff. This necessitated a flexible office space that can accommodate an influx of people during certain times, and not feel empty when those freelancers are gone during slower periods.
But perhaps more importantly, the open design is itself open to interpretation and adjustments. Each time Imperatori and Ladrie have been back since Attraction Media's move-in this past fall, they've noticed a change or something new, such as a wall that has been moved, new seating or shelving that wasn't part of the original design. "It's not what we had envisioned, but it shows the client and their staff have adopted the place as their own. We gave them the structure; they ran with it," says Ladrie. Imperatori agrees. "Our role was to bring the client into a space they didn't expect but that would make them feel at home," she adds. "And that's the biggest reward for us: when the client is comfortable enough with our work that they feel free to modify it to their evolving needs." If Attraction Media wanted a design where companies of different personalities and people of individual mindsets could come together to shape the imaginary lives of others — as well as their own working lives right in the office— it looks like they've got what they were asking for.
---
Photos by Stéphane Brügger.