Notes from Milan – Euroluce (ciao, PTSD!)
The fairground alone was a zoo, with 386,236 (official number) bodies cramming aisles to see a couple thousand exhibitors split among the Salone Internazionale del Mobile, Euroluce, Workplace3.0, and S.Project. Add entire neighbourhoods like Brera, Tortona, 5vie, La Triennale and Ventura Centrale with twice that many gawkers, and it's natural to wonder where they put the trauma centres to help deal with the PTSD (post-traumatic Salone disorder).
Leria│Arturo Álvarez
The newest addition to his Artwork series, the stainless steel mesh faces of Leria illuminated by LED come in three modalities: a table format that rotates due to magnets; a pendant where five pieces hang on threads and talk to each other; and a composition where the faces are integrated with the light source, causing the faces to be projected on the floor and ceiling.
Interweave│Artemide
Designed by Pallavi Dean, suspended cylinders fixed to the ceiling or wall guide a flexible LED light line through sinuous holes, evoking a theme of connections as well as paths created by water. The cylindrical bodies come two sizes, and can have the sole function of supporting the line of light or become the base for spotlights or devices such as speakers and sensors.
Demì | Linea Light Group
Part of the MA[&]DE Collection and already a Red Dot 2019 winner, this semicircular dome is as interesting when the light is off as on: off, the device is completely transparent; on, the LED circuit housed within a central ring of painted aluminium on top of the dome emits light through micro-engravings on the surface of the diffuser.
Belle de Jour│Foscarini
Ten new products by the likes of Tord Boontje, Andrea Anastasio, Ferruccio Laviani, Marc Sadler and others jammed their booth. My fave was Belle de Jour, an impressive floor lamp in technical fabric by Ilaria Marelli that cleverly explores asymmetry using floral concepts. The irregular hexagonal base develops vertically like a stem, opening corolla-like at an angle over the diffuser, like a blossoming flower.
Parrot│Tobias Grau
One of two new completely cable-free designs represents a whole new genre for the German brand, combining sculptural form with impressive mobility. Inspired by Giacometti's Walking Men, the lamp provides up to 100 hours of battery life, as well as height-adjustable body, integrated touch dimming and warmDIM colour adjustment.
74│Bocci
This new LED spotlighting system designed by Omer Arbel is intended to rival conventional track-lighting systems. Using a system of polarized cables anchored to various points in a room, magnetic attachment points in spotlights housed inside spun metal and cast glass mirrored spheres grant users control over light trajectories.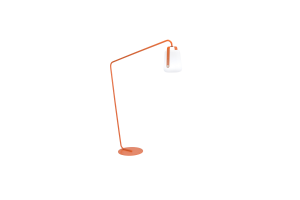 Balad with Upright/Offset Stand│Fermob
French designer Tristan Lohner's lamp family and it cool accessory stands are a clever addition to outdoor spaces. The detachable and portable lamp, with battery life of up to 14 hours, is available in two sizes, multiple colours variations and with its three light setting is able to create different moods for your exterior soirée.
Samara│LUUM
The London-based lighting studio's 2019 collections are all intently geometric, for example the intersection between two disk shapes seen here. While the effect is graphic, the light is inspired by the natural shape of the papery winged seeds that fly from maple, ash and elm trees. Available in wall, pendant, table and chandelier versions in custom sizes and finishes.
Nuvem│Slamp
"We didn't make a lamp, we made a ceiling," is how Miguel Arruda describes his work with Slamp. The modular system started as a sculpture he did in 1980, which Slamp's R&D department transformed into folded and jointed metre-long hexagonal modular sections, illuminated by bidirectional spotlights.