Bosch Home Appliances Maximizes Freshness with New Refrigeration Line
Fresh by Design collection is Bosch home appliances' latest refrigeration line, which takes cues from consumers to maximize freshness and reduce waste.
"Bosch has always understood that innovation and quality go hand in hand to enhance everyday living," says Steve Preiner, Director of Marketing at Bosch home appliances. "Together with conscientious consumers, we also understand the importance of global and local efforts in curbing food waste. We all should expect more from household appliances to deliver on this notion. I'm pleased to say Bosch's new FarmFresh System in the Fresh by Design collection is truly refrigeration, reinvented."
Fresh's freestanding French Door Bottom Mount collection utilizes a four-point FarmFresh System to keep the freshness in food up to three times longer.
These units are also integrated with Home Connect to notifying consumers that their refrigerator or freezer door is open via smartphone or device.
The collection takes the guesswork out of the food preservation process by making it easier to see and store items to prevent them from becoming lost or buried.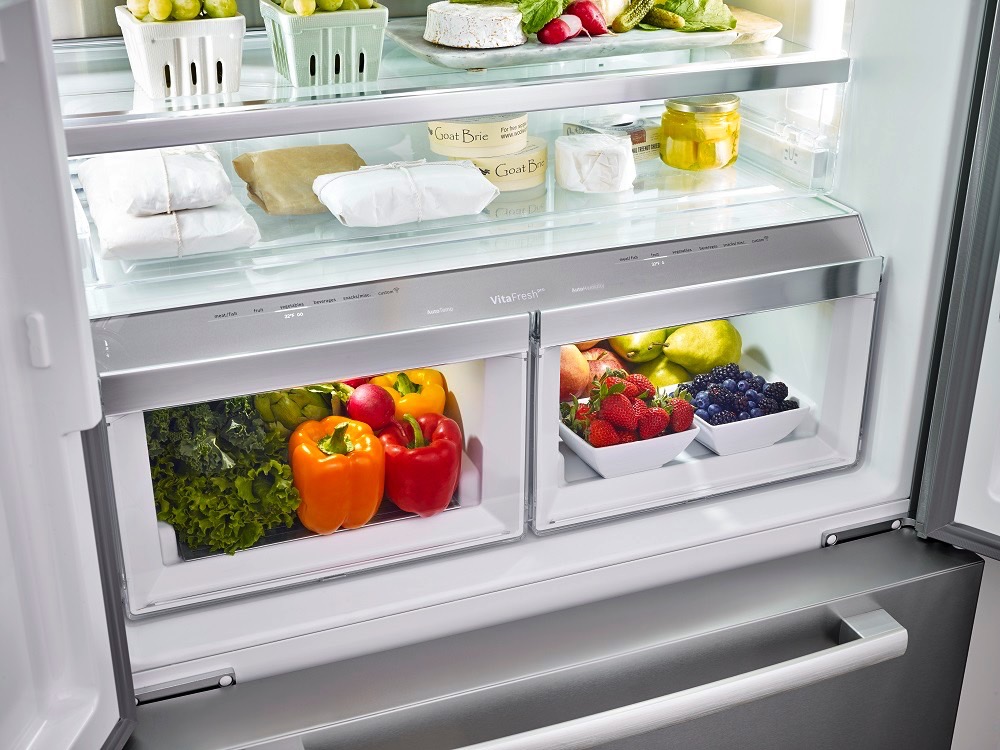 From the FlexBar, which provides a first-of-its- kind solution to make use of unused space in the upper refrigerator cavity, to Full-Width Chiller Drawers, Gallon Door Bins and Upscale Shelving Systems, these units will seem like a gift that keeps on giving.
In addition to the collection's smart-features, VitaFreshPro is an automatic temperature and humidity control drawer that pre-programs freshness settings, while FreshProtect decreases produce waste by slowing down the ripening process through its Ethylene filter.
Meanwhile, the AirFresh Filter works together with MultiAirFlow to create a continuous, consistent cool environment and keep odours away.
The 24-inch deep cavity offers the look of a built-in model in a freestanding format with durable doors extending closer to the ground, infinity glass shelving lined with stainless steel, and a stainless-steel back wall.
A number of exterior features are situated within the interior cavity, including the Interior Water Dispenser, an UltraClarityPro Water Filter and Interior Ice Maker.
Fresh is available as of September 2019 with 800 Series counter-depth models in fingerprint resistant stainless steel and black stainless- steel finishes.