IDS Vancouver Installations Utilize Sustainable Concepts
On September 26-29, IDS Vancouver's design fair took place at the Vancouver Convention Centre West with a theme that encouraged exhibitors to utilize sustainable methods to present their products.
After this year's Milan Fair, Jody Phillips, director of IDS Vancouver, couldn't help but think what happens to these stalls after each design week? Considering the majority of them get thrown away in landfills, Phillips felt compelled to use her position to help change the industry by creating a green statement precedent.
As a result, the biggest trend coming out of this year's IDS Vancouver was the multipurpose booths. IDS exhibitors had the option to donate all their installation's reprocessed materials to Habitat For Humanity after the fair was recycled.
Lock and Mortice Zero-Waste Portal
In partnership with IDS Vancouver, Lock & Mortice reconfigured parts from their modular steel shelving system to create their own modular display system. The steel frame holds a 98 per cent recycled, FSC-certified honeycomb paperboard, which serves as the exterior, interior, and projection surfaces. The wood frame of the structure is built out of beams to be cycled back into furniture production as table legs and other components.
Restock – Bar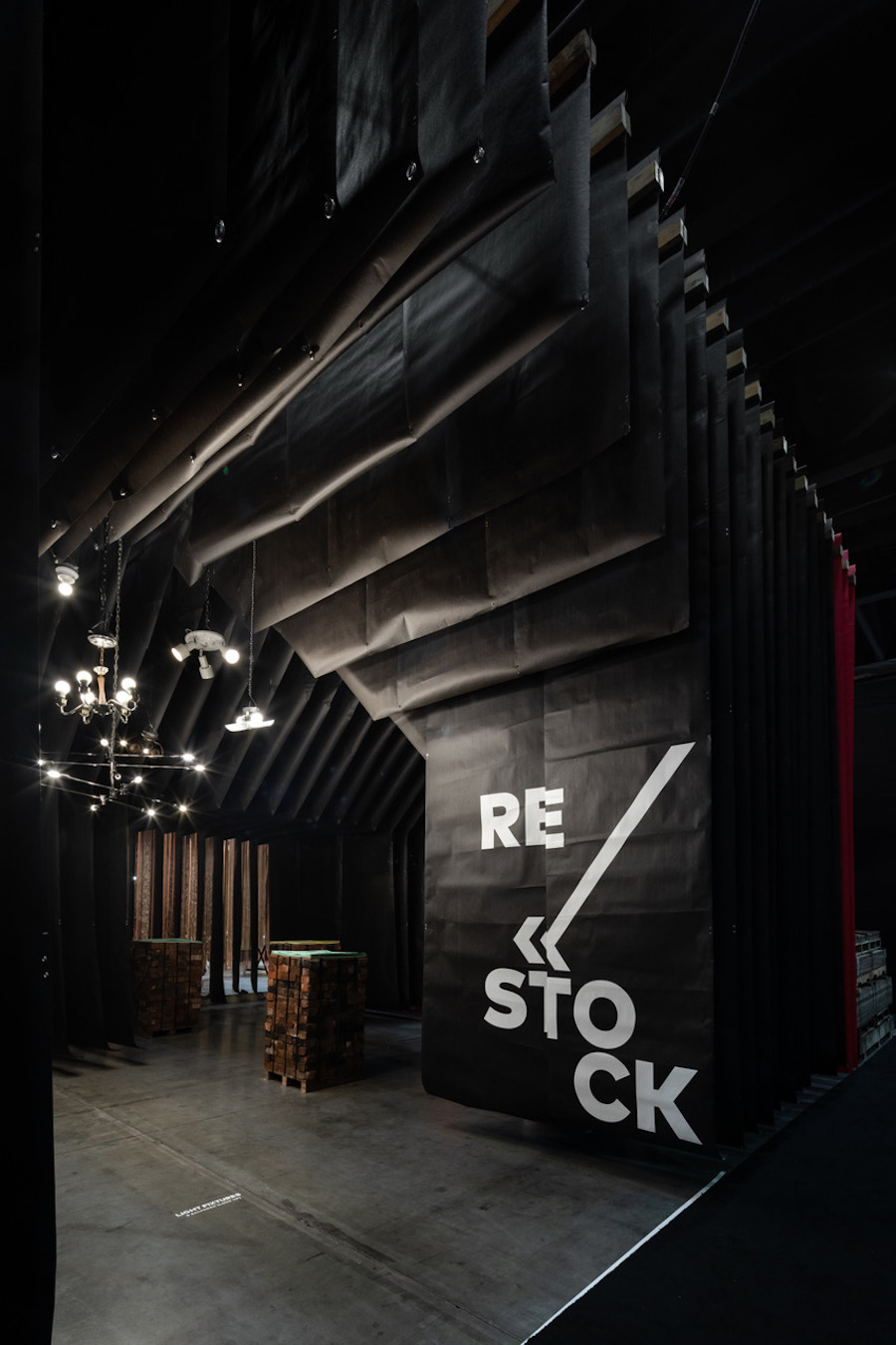 Measured Architects designed IDS Vancouver's central bar feature, Restock, in partnership with Unbuilders and Powers Construction. The bar pavilion was designed to show a "proportionally accurate visual account" of the materials removed from a standard Vancouver lot. Fifteen per cent of the exhibit was made from salvaged old-growth-timber, and 80-85 per cent from black building paper representing recyclable materials. Red PVC sheets made up the last 5 per cent of the bar feature, representing materials that are not able to be recycled and are destined for landfill.
Caesartsone
The SEEDS exhibition by Dutch food and "eating" designer Marije Vogelzang, in collaboration with quartz brand Caesarstone, took show-goers on a sensorial journey as they were asked to choose—and swallow—one of two seeds (referencing the red or blue pill scene from The Matrix). Through audio dialogue, the seed then talked to the participant, from their belly, as he or she moved between the different exhibition pods. To reach each pod, participants had to wind through a "forest" of thick ribbons, hung from above. One of the pods was a grinding table, where the seed got quite upset at the idea that its "friends" were being ground. "I like to make these childlike fantasies. Places to explore," says Vogelzang.
The Apartment
The Apartment at IDS Vancouver showcased a collection of lighting, furniture, and accessories by Menu, Reform, Bang & Olufsen, Please Wait to be Seated, and Tekla, curated by Casestudy Studio, in celebration of Danish design.