Coming soon: Architecture & Design Film Festivals in Vancouver and Toronto
After the successful run of its 11th season in New York City this past September, the Architecture and Design Film Festival (ADFF) is coming to Canada to debut two new festivals in Vancouver and Toronto, showing the best films from around the world that bring design and human stories together plus Q & A's and panel discussions with industry leaders.
ADFF Vancouver runs from November 7 to 10 at Vancity Theatre and Scotiabank Dance Centre.  The full line-up and tickets can be found here. https://adfilmfest.com/site/vancouver2019
ADFF Toronto runs from November 14 to 17 at TIFF Bell Lightbox.  The full line-up and tickets can be found here https://adfilmfest.com/site/toronto2019 and use the code CanInt for a discount on tickets here. 
Both festivals will open with a screening of City Dreamers, a film by Montréal director Joseph Hillel, which explores the lives of four trailblazing female architects: Phyllis Lambert, Blanche Lemco van Ginkel, Cornelia Hahn Oberlander and Denise Scott Brown.
At each festival, a selection of films will include a post-screening Q&A, bringing together subject-matter experts, film creators and architects to speak on the issues highlighted in each film and bring them into a Canadian context.
For their inaugural year in Toronto, ADFF partnered with the Toronto Society of Architects (TSA) to curate the panel discussions, and a list of film screenings where TSA panel discussions and Q&A's will be taking place can be seen here. Among this list, Canadian Interiors editor in chief Peter Sobchak will be moderating  a post-screening panel for Frank Gehry: Building Justice (Saturday, November 16 | 6:00 PM) and will be joined by:
Dr. Jennifer Kilty, Chair of Criminology, University of Ottawa
Rachel Fayter, PhD. Candidate, Department of Criminology, University of Ottawa
Edward Chan, Zeidler Architecture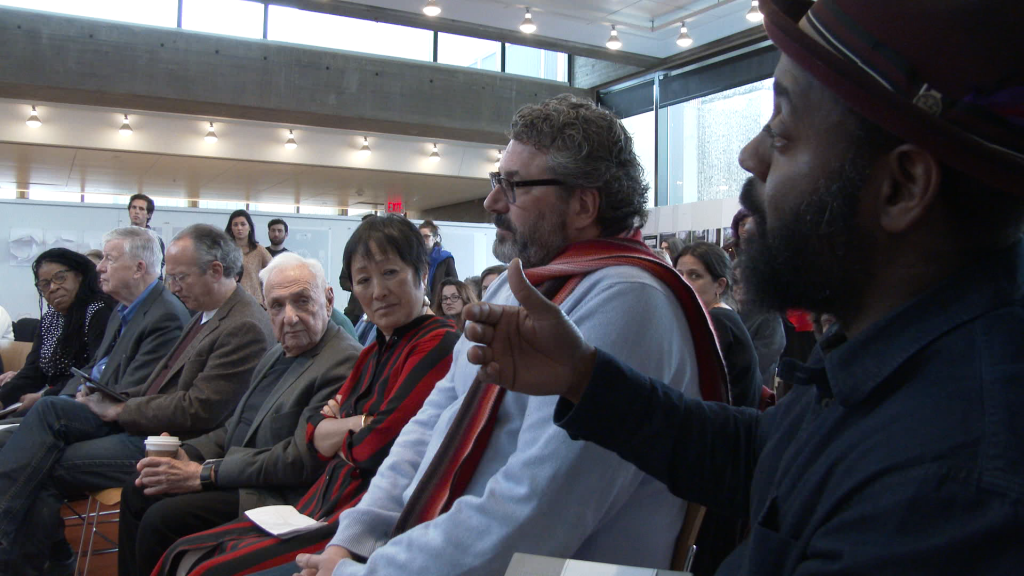 Both festivals will be sharing a similar roster of films, and highlights include:
Director: Christoph Schaub
2019 / 86 min / USA
Temporality and age are inherent in every object and creature and, depending on one's outlook, may transcend to infinity. How can this be imagined? What goes beyond it? The filmmaker Christoph Schaub starts his personal journey through time and space in his childhood, when his fascination with sacred buildings began – and his wonder at beginnings and ends.
Screening with the short film : James Turrell: You Who Look
Director: Joseph Hillel
2018 / 80 min / Canada
Phyllis Lambert, Blanche Lemco van Ginkel, Cornelia Hahn Oberlander, Denise Scott Brown – four trailblazers who became accustomed to being the only woman in the room. Each has an extensive list of accomplishments in architecture, planning and landscape architecture dating back 60+ years and has taught, mentored and inspired generations of professionals.
Director: Joseph Hillel
2018 / 80 min / Canada
Design Canada follows the transformation of a nation from a colonial outpost to a vibrant and multicultural society. What defines a national identity, is it an anthem? A flag? Is it a logo or icon? How do these elements shape who we are? In the 1960s and 1970s, these questions were answered by an innovative group of Canadian designers, who used design to unify the nation.
Screening with the short film: Form and Place – Patkau Architects
Douglas Cardinal: Architect of the Future

Director: Andrée Cazabon
2019 / 30 min / Canada
Architect Douglas Cardinal's path in life has seldom been as smooth as the lines on the buildings he designs. An Anishinaabe raised in Blackfoot territory, Cardinal's curvilinear vision has produced instantly-recognizable monuments to Indigenous culture in the national capitals of both Canada and the United States to world acclaim.
Screening with the short film: Gathering Circle
Director: Ultan Guilfoyle
2018 / 56 min / USA
Architect Frank Gehry and philanthropist George Soros teach a series of master classes at the Southern California Institute of Architecture in which they examine what it would mean to re-design the American prison for a time in the future, a time of low incarceration in the United States.
Screening with the short film: A Place of Second Chances
Director: Ultan Guilfoyle
2018 / 56 min / USA
Bruce Goff was one of the greatest American architects of the 20th century. His unconventional perspective challenged stigmas about the Midwest's inability to produce innovative work. A peer to Frank Lloyd Wright, his work had a profound influence on the next generation of architects, including Phillip Johnson and Frank Gehry.
Director: Ultan Guilfoyle
2018 / 56 min / USA
The documentary The Human Shelter is an anthropological and poetic journey, which investigates how we, as human beings, create our homes. In a sentient and playful way, the film explores our idea of the concept of 'home'.
Director: Joseph Clement
2016 / 62 min / Canada
After Euclid, Toronto's Jim Stewart is the most published mathematician in the world. Stewart spent a decade building the home of his dreams to reflect his two obsessions: curves and music. A stunning architectural gem of subtly curved wood and vast, evocative spaces, the house stands in Toronto's Rosedale neighborhood and is considered by many one of the city's best performance spaces.
The Man & The Architect: Jørn Utzon
Directors: Lene Borch Hansen & Anna von Lowzow
2018 / 90 min / Denmark
At the age of 37 Jørn Utzon designed The Sydney Opera House – a structure destined to be the most famous building in the 20th century, propelling him to the status of stardom in the world of architecture.
Screening with the short film: A Day in the Life of the National Arts Centre
Directors: Loretta Dalpozzo & Michèle Volontè
2018 / 78 min / Switzerland
This documentary directed and produced by Loretta Dalpozzo and Michèle Volontè is a rare, in-depth artistic journey into the work of internationally acclaimed Swiss Architect Mario Botta. The film explores Botta's ever growing curiosity and reflections on the contradictions of society, through his sacred spaces.
Directors: Loretta Dalpozzo & Michèle Volontè
2017 / 68 min / USA
Narrated by Chazz Palminteri, Miracle on 42nd Street is the untold story about the history and impact of the Manhattan Plaza apartment complex in New York City. Starting with the facilities' initial commercial failure in the dire 1970s, the film recounts how the buildings were "re-purposed" as subsidized housing for people who worked in the performing arts.
Screening with the short film: What it Takes to Make a Home
Directors: Damien Faure & Caroline Alder
2018 / 59 min / France
This film tells the story of The Open City (Ciudad Abierta), a utopian community just north of Valpriaso that was founded by Chilean architect Alberto Cruz and the Argentinian poet Godofredo Lommi.
Screening with the short film: Studio in the Woods
Director: Fredrik Gertten
2019 / 92 min / Sweden
PUSH is a new documentary from award-winning director Fredrik Gertten, investigating why we can't afford to live in our own cities anymore. Housing is a fundamental human right, a precondition to a safe and healthy life. But in cities all around the world, having a place to live is becoming more and more difficult. Who are the players and what are the factors that make housing one of today's most pressing world issues?
Screening with the short film: The EastPoint Project
Director: Gary Hustwit
2018 / 70 min / USA
Rams is filmmaker Gary Hustwit's new documentary about legendary designer Dieter Rams. For over fifty years, Rams has left an indelible mark on the field of product design with his iconic work at Braun and Vitsoe, and his influence on Apple. So at 86 years old, why does he now regret being a designer? Rams is a rumination on consumerism, materialism, and sustainability.
That Far Corner: Frank Lloyd Wright in Los Angeles
Director: Christopher Hawthorne
2018 / 56 min / USA
During his time in Southern California in the 1910s and early 1920s, Frank Lloyd Wright accelerated the search for an authentic L.A. architecture that might be experimental but also responsive to the city's history, culture and landscape.
Screening with the short film: A Building Shaped by Light: Austin Central Library