The weather outside may be frightful, but with a list like this what's under our trees will be delightful.
Holiday Oranments│Alessi
Alessi has expanded their holiday decoration category with five more Fleurs de Jorì ornaments, extensions to the Nativity scene and Bark collection, which include the "Bark for Christmas" tree now in green in a larger size and in white and a gold-plated version in a smaller size. Here, its branches can be decorated using seven magnetic decorations, each produced in ceramic and has a scratchproof protection designed to maintain the tree's polished surface.
Located in the tony Toronto neighbourhood of Yorkville, this boutique specializes in a full-sensory experience of not only purchasing this line of hand-poured candles presented in custom-blown glass vessels crafted once a year in Poland, but offering customers a chance to make them as well.
Sky Hip Flask│ Georg Jensen
Part of the strikingly contemporary Sky bar set designed by Aurelien Barbry and inspired by the organic shapes of clouds this stainless steel flask carries a small amount of liquid and is so ergonomic it is almost sculptural, with its shiny surface contrasting sharply with a tactile leather strap.
Zhuang Desk Accessories│Paltrona Frau
In Chinese 'zhuang' means to protect something precious. The collection of Zhuang containers designed by Neri & Hu consists of a series of stackable treasure chests with a minimalist and ultra-contemporary design.
Holiday Collections│ Lowe's/RONA
Reindeer tabletop decorations and Scentsicles scented ornaments made of all-natural, biodegradable, recyclable paper and infused with pure fragrance are but two examples of a vast array of new holiday décor items available on-line or in-store.
Coast Drink Stones│EQ3
Used in place of ice cubes, these chilly glass items décor not only ensure that a drink will not get watered down, but also happens to have a marbled exterior to make the beverage even more visually appealing.
Biggins Collection│Balzac's Coffee Roasters
This six-piece custom homeware capsule collection is the result of a partnership with Kate Golding that goes back to 2017, when Balzac's president and founder Diana Olsen approached the artist to create custom wallpaper for Balzac's Powerhouse Café location. This wallpaper design is now not only used in cafés, on delivery vans and coffee packaging, but also mugs, tote bags, dishtowels and trinket trays.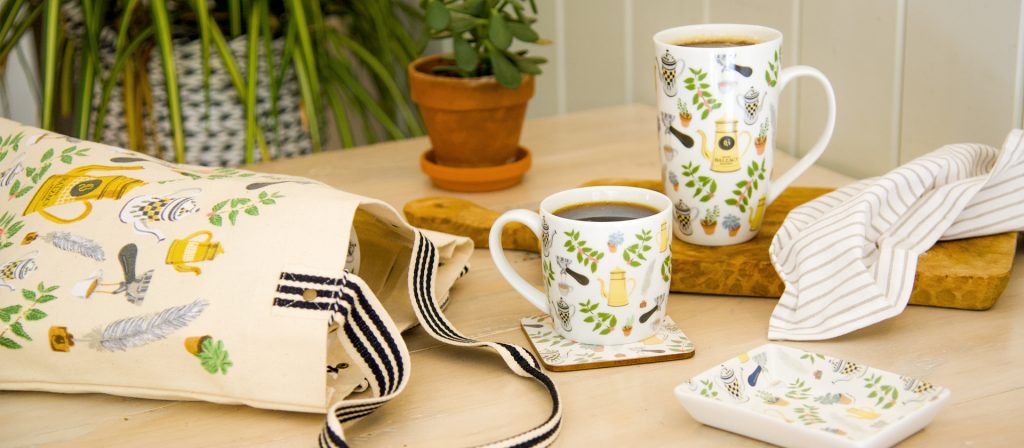 Home Fragrance Collection│Alessi
Two new scents and an incense burner designed by Marcel Wanders have been added to the fragrance collection. Called Ohhh and Uhhh, the scents are dedicated to the sun and the moon, and can be displayed in Lily, an incense burner comprised of a round base in ash wood with laser-engraved motif and an 18/10 stainless steel cone reminiscent of a calla lily, a soft flower with a colorful pistil.
Coffee-To-Go Cup | Dibbern
The new Coffee-To-Go series by family-run German company Dibbern is an environmentally sustainable product that challenges our distressingly disposable culture with a portable, reusable 350mL porcelain cup equipped with a lid and sleeve made of BPA-free thermoplastic elastomer and polypropylene. The Coffee-To-Go cup is dishwasher-safe and comes in seven mouth-watering shades: lemon, sage, pink, indigo, brick, pearl and anthracite. (by Leslie Jen)
La Specialista | De'Longhi
This elegantly designed and professionally inspired manual espresso machine effortlessly brews handcrafted espresso-based beverages, with features including: exclusive sensor grinding technology; Smart Tamping, allowing users to pull the lever to tamp ground beans to the optimal pressure for consistent and clean results; two independent heating systems, one thermoblock for extracting coffee and an independent heating system for steaming milk or frothing; advanced latte system creating any style of froth, from hot milk and microfoam frothing to latte art and cappuccino froth.
Atlas of Furniture│Vitra Design Museum
Essentially a furniture bible, this a comprehensive overview on the history of modern furniture design is over 1,000 pages and is purportedly the most extensive book ever to be published on the topic. Perfect for the collectors and furniture lovers on your list, it features over 1,700 objects by ~550 designers, with over 2,800 images from detailed object photographs and historical documentation such as design sketches, interiors, art, and architecture (everything from Art Nouveau and Secession style designs to iconic designs by Le Corbusier, Rietveld, Marcel Breuer and Sottsass).