Diamond Schmitt Reveals Design for Ottawa Library and Archives
The design for the Ottawa Public Library – Library and Archives Canada Joint Facility by Diamond Schmitt Architects and KWC Architects has been revealed. The facility will be a city-wide resource that offers all Canadians access to a national collection.
"We are very proud to be revealing the design for an iconic building that truly represents the evolution of libraries as centres of knowledge and culture around the world. It's also a great joy to share this design with the thousands of residents and Canadians who provided so much inspiration at each stage of the process. This has been a wonderful experience for all of us," said Donald Schmitt, Principal, Diamond Schmitt Architects.
Located at 555 Albert Street, the library will include a genealogy centre, children's discovery centre, reading rooms, creative centre, meeting rooms, and cafés.
The development represents a public co-design process called Inspire555 that asked residents, Indigenous communities, and Canadians from coast to coast to provide input and comment at every stage of design.
Public input informed the shape of the building, its entrances, the interaction and location of its spaces, the interior look and exterior material, as well as sustainable features.
"The reveal of the design of OPL-LAC Joint Facility illustrates the power of connections between institutions and the contributions of more than 4,000 people who came together to inspire all aspects of the design, inside and out," said City Councillor Tim Tierney, Chair, Ottawa Public Library Board.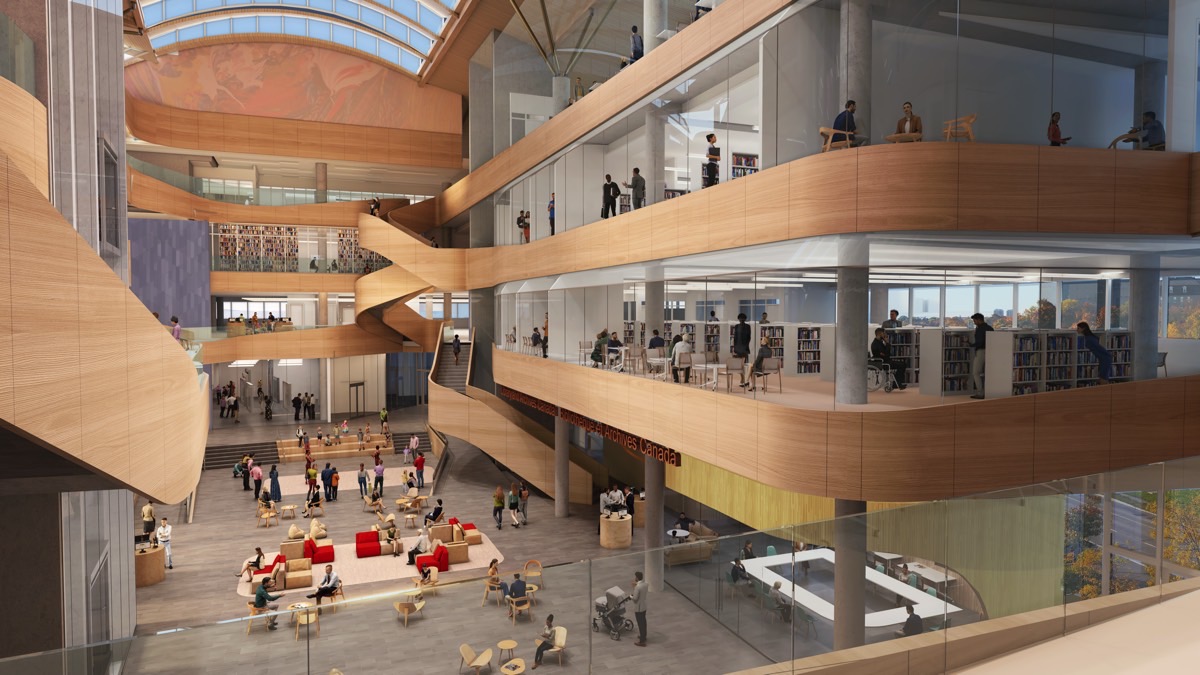 The design connects the facility to Ottawa's rich history with a dynamic form reminiscent of the nearby Ottawa River; the stone and wood exterior reflect the adjacent escarpment and surrounding greenspace on the western edge of downtown. The windows, top floors and rooftop offer views of the Ottawa River and Gatineau Hills in Québec.
Once the proposed design has been approved jointly by the National Capital Commission's Advisory Committee on Planning, Design, and Realty (ACPDR) and the City's Urban Design Review Panel (UDRP) as well as the project's Executive Steering Committee, the architects and design team will begin work on the construction documents. Ground breaking is scheduled in 2021.