When the miserably run-down other half of their downtown Toronto semi-detached home came up for sale, architects Rick Galezowski and Maggie Bennedsen had to make a snap decision: suffer through someone else's major construction project next door, or take control of the situation themselves.
A week later, they had purchased "the old heap of bricks on the other side of the wall". Suddenly, and unexpectedly, they had become the Owners, Developers, Architects, and Neighbours, of an intensive design & construction marathon, culminating 18 months later with the completion of Bellwoods Lodge – a uniquely personalized new-build residence for their young family, and the simultaneous launch of architecture firm GREAT LAKE STUDIO.
"The house has our DNA baked into it," says Galezowski, "perfectly tailored to our own particular lifestyle". "We wanted a private living room up in the treetops, so we flipped the house upside down. We wanted to nurture a close family life, so the house is arranged on split levels, interconnected across an interior 3-storey light well". This creates an interesting balance of separation and closeness: While the family may be individually occupied with remote activities throughout the home (cooking, lounging, working, playing), they are always easily engaged with one another.
Previously, Rick and Maggie spent 4 years travelling around the world on bicycles, living out of a tent, and sleeping under the stars. More recently, their young family spends as much time as possible exploring the Great Lakes region by canoe.
"We are both lifelong wilderness enthusiasts. We spend a lot of time outdoors", says Galezowski. "We wanted to bring that home with us; invite it into our city lives". In response, each of the three principal living spaces expands outward, into separate exterior areas with their own distinct function and atmosphere.
The Living Room opens to a private roof terrace, offering easy enjoyment of the surrounding tree canopy, sunsets, and the night sky. An intimate Library spills out to a sunny reading terrace hovering above a small garden.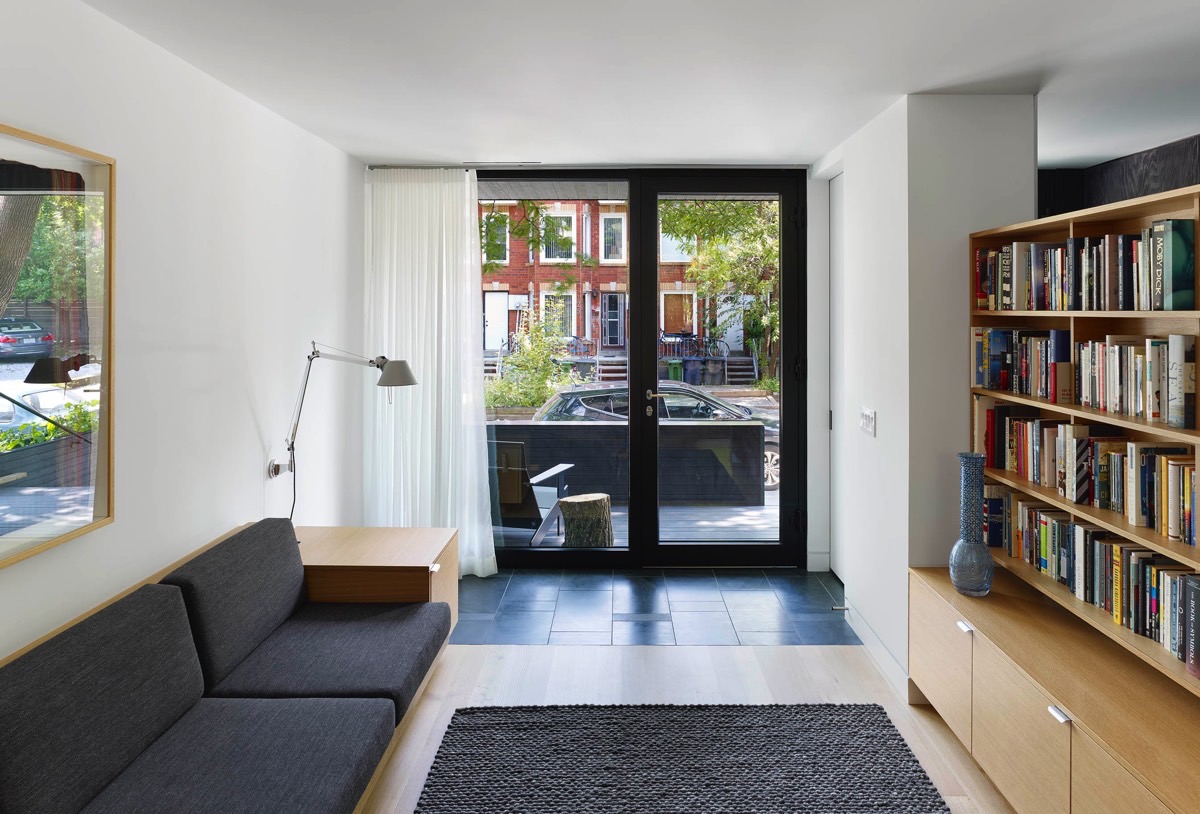 The Kitchen & Dining areas open out to a secluded and densely treed yard with fire pit, evoking an intimate campsite in the heart of the city. The light well also serves to draw sunlight, and moonlight, deep into the house. "We refer to it as Bellwoods Lodge because of its location (in Toronto's Trinity Bellwoods neighborhood), and because we really do think of it as a Lodge – a retreat, deeply immersed in the natural world, even though we are in the heart of the city".
With the completion of Bellwoods Lodge, Rick launched his Toronto based architecture practice, GREAT LAKE STUDIO. Previously, Rick acted as Lead Architect on large scaled and complex underground transit facilities for Metrolinx, and Transit Authorities abroad. "It was an exciting adventure for a while, but designing our home re-focused our attention on everything we value and love most: thoughts about family life, home life, and a close connection with the natural world. With GREAT LAKE STUDIO, Rick has refocused his career on more intimately scaled projects dedicated to exploring these ideas.