Cross-Pollinator: Michaela Macleod
Founder at Polymetis
Moncton-born and Waterloo-educated, Michaela was awarded the OAA's Guild Medal Award and the Prix de Rome in Architecture for Emerging Practitioners. Her studio's site-specific temporary installations are popular at events such as Winterstations, Icebreakers, Winter Light at Ontario Place, Jardin des Métis, and Nuit Blanche, and highlight an interest in experimental material applications, phenomenology, and the fusion of manual and digital means of representation to inspire new fields of exploration.
---
I'm just going to present two projects and early work and kind of our latest work to bookend this kind of cross between art and architecture that our studio does.
As Peter mentioned, I'm one half of Polymetis that I work with my partner Nicholas Croft. We met in New York and I was working at a landscape firm and he was working at an art firm. We came from these architecture backgrounds and then we were both looking and working at these of adjacent firms: landscape and art. Our firm was really founded on the idea that "poly" obviously means many and "metis" means loosely translated crafts or trades.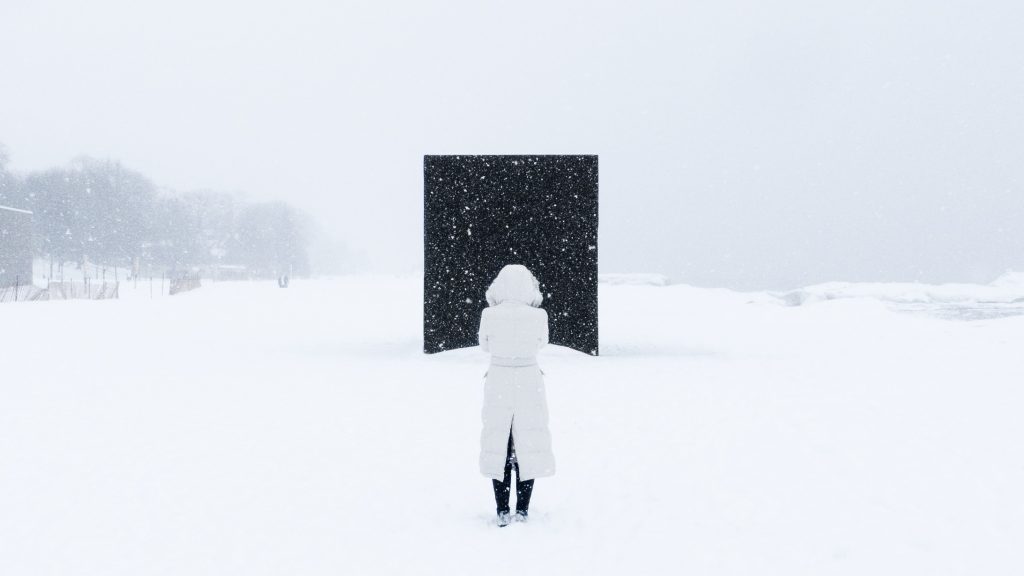 So, this was only our second project which we did four years ago as Peter mentioned in the Beaches. This was the proposal. I'm just going to go over it and show our influences. To the right there was this chamber or hall that you went through and you entered into the central space with an oculus. The typology was influenced mainly by the form of the project. I'm from New Brunswick, so growing up in a Maritime setting I would go with my grandfather to the Saint John River and go with his buddies and we would icefish. Ice fish huts can be anything — usually made by two by fours, you can just drape it over with tarps, and then there's a hole in the ice. In addition to being an architectural typology, it's also a social ritual in the Maritimes.
Because this is about cross-pollination and these ideas that we borrow or are influenced by, everyone's favourite space movie, 2001: A Space Odyssey — what we liked about that image was this other worldly object sitting in direct contrast with the landscape. So you're at the beaches its vast and you want a marker to move through or towards so we created this kind of mystery box in a way. The inside was directly influenced by these sound chambers that are echo free. The exterior of the building is wrapped in an EPDM which is a roofing membrane. And then the interior of the building is wrapped in this soft foam. So you have this contrast between the harsh exterior rubberized which stops the wind and then this warm interior, which kind of engulfs you and creates warmth, all centred around this oculus that lets you enjoy the winter.
One of the main focuses of the project was to create this moment, sheltered from the conditions of the harsh winter inside [with] this oculus, which was directly influenced by the work of James Turrell.
Our most recent project again in an Arctic theme was a monument to Arctic phenomena and a concept space for Canada Goose to launch their new line Branta. We were given this print on the right by artist Diane Bercow and this was the print that they were going to use in the jackets. So that was the client brief. And this was, you know, a difficult translation for us because usually were used to creating spaces more abstract, but the client brief said you need to use this print. So what we did was abstract the geometry of the print and created a large platform.
The phenomenon of the Arctic featured heavily in the project: this influence of Sea Smoke on the left and then the Borealis on the right. This project was mainly just influenced by the formations of snow and ice in the Arctic and the Canadian Arctic, and that atmosphere that you can only get in the winter: that light and that those colours.