Two Canadian projects chosen as 2020 Tile Competition winners
Confindustria Ceramica (the Italian Association of Ceramics) and the Italian Trade Agency have announced the winners of the 2020 Ceramics of Italy Tile Competition. After reviewing a record number of projects from across North America, an international jury of design experts selected four winners and three honorable mentions. The chosen projects demonstrate creative use of Italian ceramic tile, representing all three built project categories – commercial, residential and institutional – and one student category. For the first time this year, the competition also featured a People's Choice Award. Following a two-week period of public online voting, the honor was given to a multi-family housing project that garnered an overwhelming total of 396 public votes.
Joining the ranks of esteemed past winners like Gensler, Snøhetta, Renzo Piano Building Workshop and more, the 2020 Tile Competition winners were revealed during a virtual press conference hosted by Coverings . The winners will also be honoured during an awards ceremony in Bologna, Italy at Cersaie taking place in the fall. In addition to this 5-day, CEU-accredited trip, built project winners will also receive a check for $2,000. The contractor and distributor teams involved with each winning project will be awarded an additional $1,000.
COMMERCIAL WINNER
Firm: Ruscio Studio
Project: Garden City Shopping Centre
Location: Winnipeg, MB, Canada
Tile Manufacturers: Alfalux; Casalgrande Padana
Distributor: Italbec
Contractor: Fabris & Watts
Photographer: Kyle Thomas, Mart Design Company
The Garden City Shopping Centre in Winnipeg had not been renovated since 1989, so in 2017 Ruscio Studio was tasked with developing a sleek, contemporary new design that would stand the test of time. Using floral upholstery, Canadian oak wood, and colorful lounge areas, the designers created a modern space that plays into the "garden" theme. Stone-look floor tiles by Alfalux Ceramiche were installed in various colorways and configurations throughout the mall, serving to visually separate and connect different spaces. A uniform installation in the main aisles creates the appearance of wider corridors, while a patterned installation in the center court represents the convergence of shoppers as they flow from one aisle to the other. Finally, black Casalgrande Padana tiles were selected for the bathroom floors. Ruscio Studio was very careful to choose timeless, durable floor tiles that could withstand the next 20 years of heavy pedestrian traffic.
RESIDENTIAL WINNER
Firm: Bolivar Arquitectos
Project: M+B Residence Club de Golf la Herradura
Location: Monterrey, NL, Mexico
Tile Manufacturers: Florim; Provenza
Photographer: Francisco Álvarez, The Raws
RESIDENTIAL HONORABLE MENTION
Firm: STUDIOSC
Project: 426 Tompkins Ave
Location: Brooklyn, NY, United States
Tile Manufacturers: Fioranese; Ceramiche Refin
Distributor: Highstyle Stone and Tile
Contractor: ABF Tile Installation
Photographer: Heidi Solander
INSTITUTIONAL WINNER
Firm: Perkins and Will
Project: NYC Healthcare Clinic
Location: New York, NY, United States
Tile Manufacturers: Laminam; Saime Ceramiche
Distributor: Nemo Tile; Stone Source
Contractor: Wilkstone
Photographer: Dave Burk
INSTITUTIONAL HONORABLE MENTION
Firm: uoai architects
Project: Nathan Phillips Square Bicycle Station | Archive 513
Location: Toronto, ON, Canada
Tile Manufacturer: Lea Ceramiche
Distributor: Ciot
Contractor: Thin Tile Canada
Photographer: Scott Norsworthy
Situated one level beneath Toronto City Hall, Nathan Phillips Square Bicycle Station | Archive 513 is a key component in the revitalization of Canada's largest city square. This subterranean facility provides 200 secure bicycle parking spaces, which are separated from the adjoining car parking garage by a panel of metal mesh. Challenged with creating a unique way to display archival materials from the 1958 New City Hall International Design Competition, uoai architects worked with Lea Ceramiche to produce 22 custom-printed, large-format ceramic slabs. These yellow, 3.5mm-thick tiles cover the walls inside the station's two-story central vestibule, featuring excerpts from the 1958 competition brief and high-definition images of the original design proposals submitted by 513 international entrants. Using over 60 linear feet of digitally-printed ceramic, this project explores the intersections between contemporary urban infrastructure and a pivotal moment in Toronto's modernist architectural history.
STUDENT WINNER
Entrants: Carolina Cardona, Gabriela Mesquita, Rachael Cowan, Mariapia Sierra
University: Florida International University (FIU)
Declared Major: Interior Architecture
Project: …sensuum spa
Tiles Used: Valentino by Ceramiche Piemme; Abitare la Ceramica; Rondine; Ceramiche Coem; Italgraniti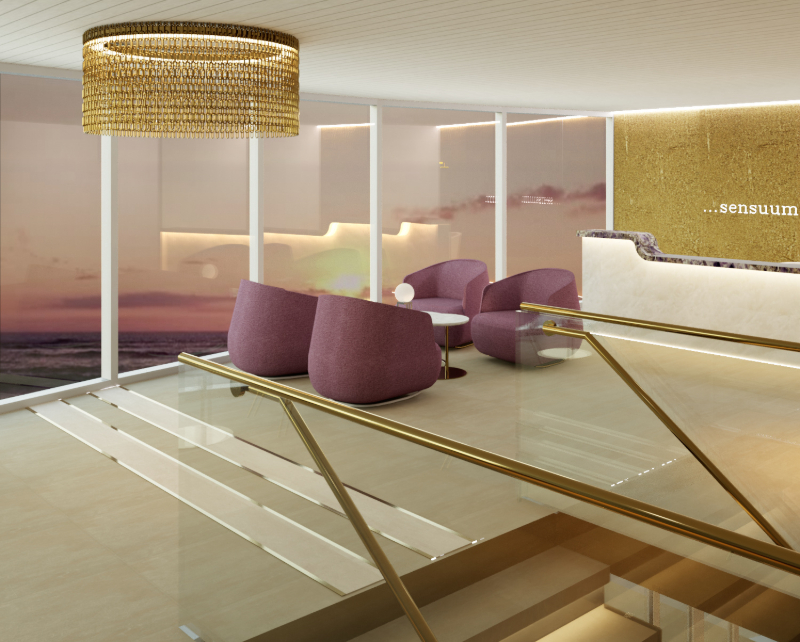 PEOPLE'S CHOICE AWARD
Firm: Vida Design
Project: The Rodney
Location: Portland, OR, United States
Tile Manufacturer: Appiani
Distributor: Statements Tile
Contractor: Floor Solutions
Photographer: Shelsi Lindquist Photography