Pacific Blue Cross (PBC) occupied a purpose-built space for 22 years that was dated, inflexible and at odds with the vision for growth and change embraced by PBC's dynamic leadership team. A project plan included very detailed programming to fully understand PBC's changing business model and growth expectations.
As a health insurance provider it was critical to Pacific Blue Cross that their renovated office promote health and wellness. PBC's dated premises was reinvented to be a technologically advanced and healthy working environment that supports collaboration and community. The office is future-proofed by incorporating a modular wall system and standardized workstation and office footprints throughout.
This workplace project involved a complete gut & redo of 120,000sf over 6 levels, completed in 5 phases over 18 months. Further complicating this challenging project was the limited budget and the need to build out swing space to relocate staff during the phased renovation.
PBC's program includes new interconnecting stairs to promote energy, movement and facilitate ease of departmental interactions. The space includes Reception, Customer Service Centre, Client Innovation Centre, Fitness Centre with Showers & Change Rooms, Full-Service Cafeteria & Staff Servery, Incoming / Outgoing Mail, Print Shop, Auditorium, Boardroom, Meeting Rooms, Training Rooms & Team Huddle Spaces, a Call Centre, Learning Lounge, and Offices & Open Work areas for 800 staff.
Shadowing LEED building principles, SQ1 designed PBC's office to encourage employee engagement, activity, health and well-being. Updated planning has opened up the building allowing visual connectivity providing access to natural light throughout. Internal communication is enhanced by the increased visual field. New interconnecting stairs have been integrated to promote connectivity, creating a dynamic environment. Workstations with low panels are located at the building perimeter allowing light to penetrate to the interior.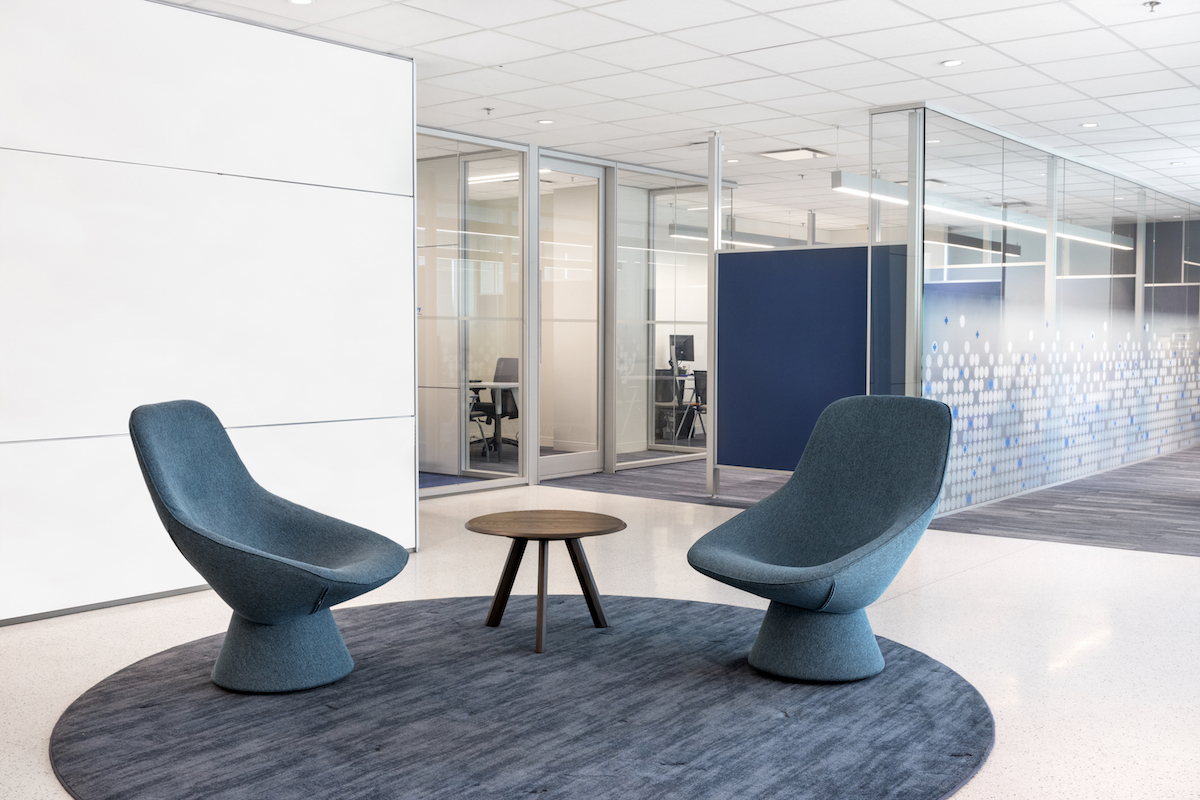 Expansive glazing on meeting rooms and offices ensures each employee has access to daylight. A variety of meeting spaces and team-focused huddle zones facilitate a collaborative working environment. A modular wall system has been incorporated throughout to meet deadlines in the tight construction schedule and facilitate future-proofing. By standardizing and right-sizing office and workstation sizes, required growth has been accommodated in the existing building footprint.
PBC's brand has been reinvented through a comprehensive graphics package that integrates health + wellness lifestyle imagery seamlessly within design elements.