Canadian Interiors enters the podcast arena with Bevel
Canadian Interiors is proud to launch its new podcast series, titled Bevel: Canadian Interiors Conversations, available now for listen or download on the magazine's website here as well as on a variety of streaming platforms, including: Spotify; Google Podcasts; RadioPublic; Breaker; PocketCasts; and Anchor.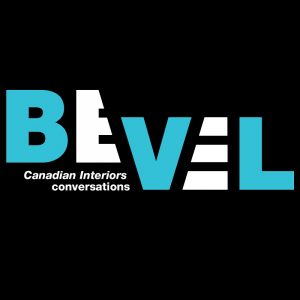 "Bevel is a podcast where we step away from the photographs and talk with interesting folks about interesting ideas and issues facing the design world today," says host and editor-in-chief Peter Sobchak. "This thought-provoking series draws its name from two definitions of the word. The first, which designers undoubtedly recognize, is a surface that does not form a right angle with adjacent surfaces. But an older definition, drawn from the Old French word baivel, or baïf, means 'with open mouth.' I want this podcast to be a forum where lovers and practitioners of design speak openly about their thoughts and experiences in the industry; call out problems and debate solutions; and ultimately ignite creativity for those in a discipline always interested in making things better."
The first season of the series features discussions with forward-thinking experts culled from a range of design backgrounds on a variety of topics, including ones in the COVID-19 shadow such as re-opening and re-designing the office; and participating in the changing design trade show landscape. Also included are elevating conversations on topics such as the current state of design education; the intersection of film and architecture; embracing inspiration from alternative creative industries, and more.
Check back regularly to catch new episodes or subscribe to any of the streaming platforms.