New mixed-use building to integrate and restore the Canary Restaurant
Dream Unlimited and Kilmer Group have teamed up with Elastic Interiors and BDP Quadrangle to introduce Canary House. As the latest addition to the Canary District in Toronto, a 35-acre master-planned community, Canary House marks the fifth mixed-use residential building in the community.
At 13 storeys, Canary House  honours the building fondly remembered as the Canary Restaurant. Dream and Kilmer will be restoring and transforming the landmark to once again become a commercial destination.
The historic building, which dates back over a century and a half, has served as a base for a school, hotel and restaurant. Additional retail commercial space at grade will also be introduced, bolstering the robust amenity offering at Canary House to 25,000 sq. ft.
London-based design firm Elastic Interiors was brought in by Dream and Kilmer for its expertise in weaving together textures, patterns and materials to craft refined atmospheres. Internationally renowned for its work in luxury hospitality design, Elastic Interiors has created some of the world's most distinguished spaces, including the Aman Resorts, Nammos at the Four Seasons Dubai and Mitsis Rinela Beach Resort in Greece.
"Elastic Interiors has built an international reputation for its mastery in designing beautiful, serene spaces that enrich the guest experience. We've long believed in world-class design at Canary District, and we're so proud to introduce Elastic Interior's unparalleled expertise to the Canadian market and to condominium residences for the first time," says Krystal Koo, Head of Sales & Marketing at Dream Unlimited.
Interior spaces create an authentic feeling of being surrounded by nature, offering a reprieve from bustling downtown city life. The lobby sets the tone for this intimate atmosphere with handcrafted, artisanal materials refined with natural textures and finishes, such as natural woods and locally sourced stone. Throughout the lobby, distinct spaces are designed to exude different energies, which invite occupants to relax with a warm beverage or get to know their neighbours.
"Our goal was to create a sense of warmth and comfort the moment residents and guests enter the lobby," says Elastic Interiors Partner Enrique Mangalindan. "We worked tirelessly to create a sense of 'home' by crafting a special atmosphere and energy through every detail of the building."
Each Canary House suite ushers in serenity through simple and natural finishes, contrasting colour palettes, and gentle interplay between high and low natural lighting.
A fitness studio with a panoramic city view, a theatre and entertainment room, cozy library, open-concept communal kitchen, and a multipurpose studio allows residents to entertain large groups, work from home, or enjoy a quiet, relaxing day. On the ninth floor, a private dining room opens out to an expansive rooftop oasis complete with gardens, a sun lounge, a fireplace and outdoor dining spaces, providing beautiful views of downtown Toronto's skyline.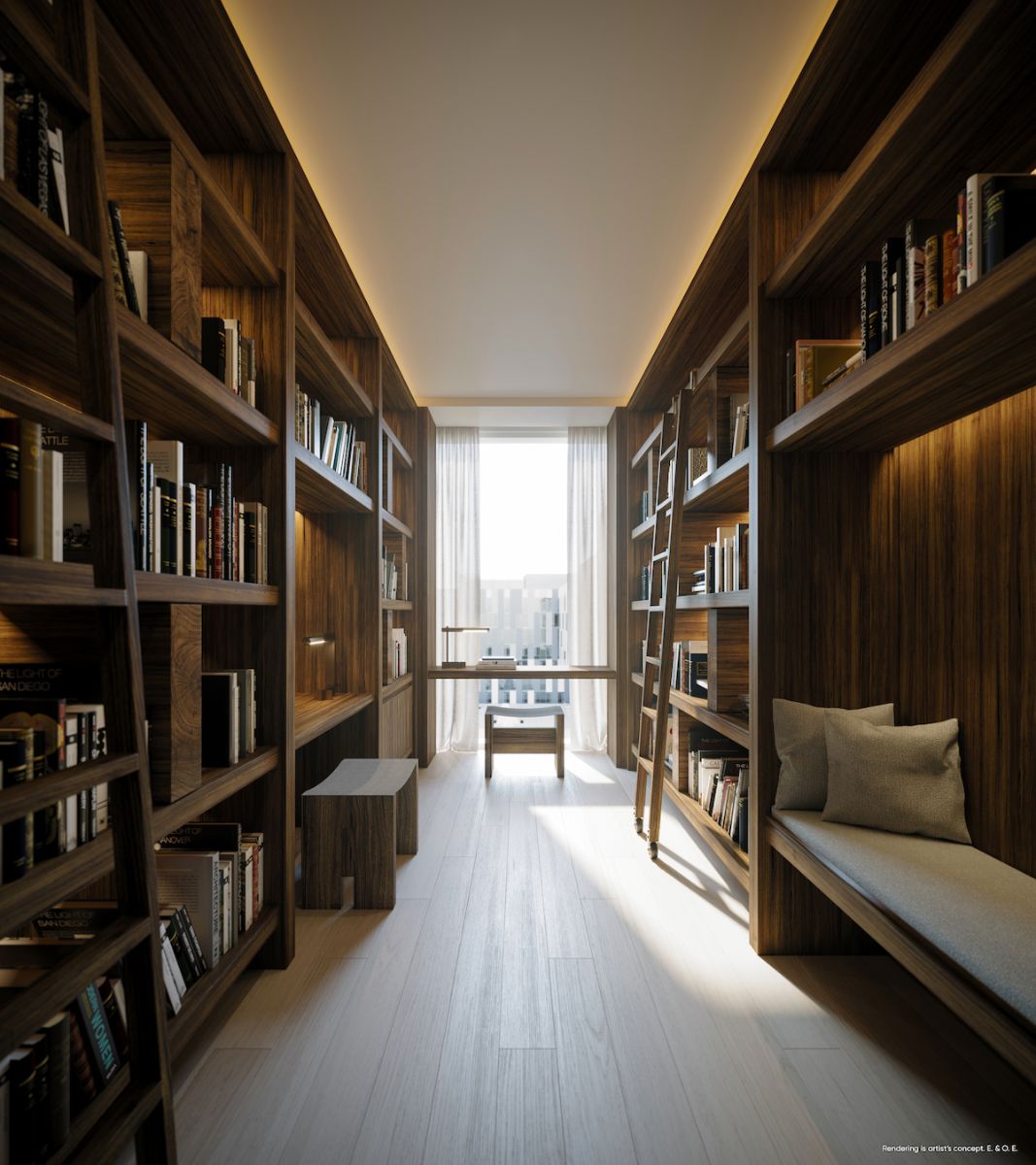 Local award-winning architecture and design studio BDP Quadrangle honoured the site's history, thoughtfully integrating Indigenous culture and values. Working in consultation with Indigenous-owned architecture firm Two Row Architect, the result is a sensitive yet contemporary design that features an earth-based podium, curved building corners representing clouds, and pebble walkways emulating river stones from the adjacent Don Valley River.
"The cultural history of this location inspired our team to envision a community-oriented space that acknowledges and celebrates the land it sits on," said BDP Quadrangle Principal and Co-Founder Les Klein. "We took great care to ensure each detail was authentic and respectful. As soon as you step foot onto the Canary House site, you will feel that you are in a special and inclusive place."