Cinema-inspired elevator designs raise spirit and body
"The lift cabin as a design space in which to create a microcosm of details, games and stimuli" — this is the spirit with which Milan-based CaberlonCaroppi studio designed POP UP, the second lift in the Ad Hoc line for IGV group, an Italian vertical transport company.
"In a sector characterized by anonymous and excessively standardized production, we intend to demonstrate how the lift, with its functional role, can be reinterpreted and become an integral part of the architectural project from both a structural, formal and design point of view," says Michele Suria, CEO of IGV Group.
"For the inspirations we worked on different fronts, thinking about the function of the lift but also what materials and combinations could offer a new interpretation of the cabin interior. The three options that have emerged are built of a specific story," says Chiara Caberlon.
The first, Belle Epoque, dreamlike and elegant, expresses a clear reference to the 'poetics' of Wes Anderson's films.
The second, called Golden Age, is inspired by old black and white films, where there was a "lift boy" who accompanied guests to their floor. Executed in two versions, this elegant space is strongly characterized by geometric wallpaper (taken from the Eterea collection for Zambaiti Parati) and complemented by mirrors and metals that enhance its depth.
For the third story, Home Sweet Home, the studio conceived a more intimate space, as if the inside of the elevator were a sort of 'foyer' of the floor. Thus the walls are decorated with boiserie enriched with mirrors and frames, creating a bright chromatic interplay, and the floor, clad in parquet, gives warmth to the environment with the presence of a sofa to sit or place objects on.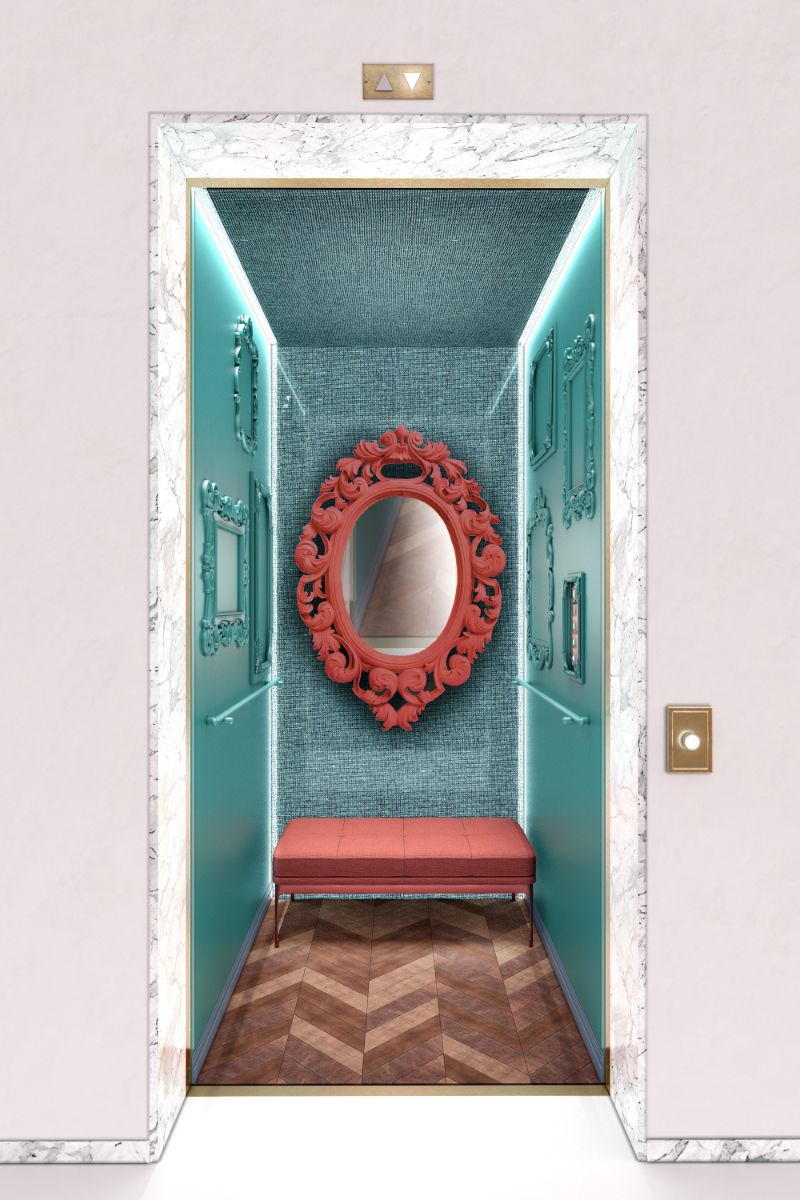 "The idea of furnishing an elevator, of having carte blanche, of trying to interpret a space that has always been taken a bit for granted, was on the one hand fun and on the other a confirmation that companies are increasingly aiming to differentiate themselves through uniqueness and creativity with interesting projects and new perspectives," says Ermanno Caroppi.