Alphabet Launches a New Spring Collection
Montreal design studio Alphabet presents a series of ten new home pieces that share a focus on beauty and material integrity – notably the solid oak and textiles that tie these items together.
The Serra dining room set is handmade from solid white oak with clean lines — some straight, some slightly angular. As for the Serra table, the use of wood joints made it possible to put the legs at the extremities to offer more legroom and space.
The rounded corners of the tabletop and the legs add a certain softness that balances the linear silhouette of the structure. The precise curve of the Serra chair back panel shapes itself to the contours of your back, and the Serra bench, like the chair, features foam padding and textile with a wavy design.
The Dune armchair has generous proportions, with enveloping seat depth and inviting armrests. The painted steel frame folds gently to welcome the built-in cushions. Arranged like geometrical building blocks, the cushions are stuffed with foam layering of various density. Sophisticated but designed for comfort, it almost feels like it is floating above the ground.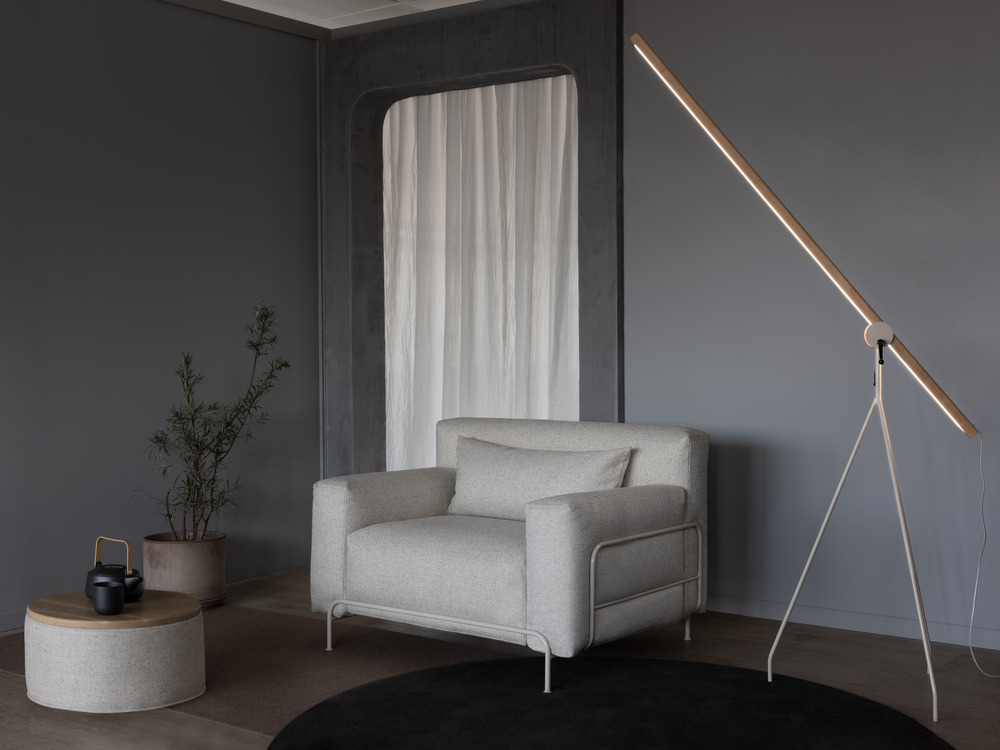 The Minuit bed is handmade from solid wood and assembled with a traditional mortise and tenon technique. The natural character of the wood meets pleasant lines, calling to mind the quiet beauty of private spaces. The subtle angle of the headboard makes it comfortable in a seated position. Available in maple or solid white oak, in different sizes.
The Archipel coffee table features a massive white oak tabletop supported by a hand curved steel base. This sophisticated yet simple round table, whose design highlights the material from which it is made, is ideal for either minimalist or more elaborate spaces. This table is part of the Archipel living room set, which also features the ottoman of the same name, which can be used as a seat or as a side table, depending on your needs.
Made from a single piece of solid white oak, the Sud lamp is an everyday object halfway between art and design. Depending on its positioning, it can either create a soft ambiant light, or a directional lighting. Near a bed, it emits dim, calming light without causing dazzle. The light source is a dimmable LED strip, covered by a light diffuser, for a 50,000 hours operational life.
The Horizon lamp is handmade from a single piece of solid white oak. It's designed as a centerpiece showcasing the material from which it is made. Its simple lines and elegant profile, in addition to the wood, create a warm atmosphere. Above a kitchen island or dinner table, it will brighten conversations.